John A. Dutton e-Education Institute
2217 Earth & Engineering Sciences Building (mailing address)
418 Earth & Engineering Sciences Building (office address)
University Park, PA 16802-6813
Assistant Dean for Distance Learning and Director: Ann Taylor, atb3@psu.edu, 814.863.9070
Director of Learning Design: Stevie Rocco, stevier@psu.edu, 814.863.1560
Administrative Coordinator: Tina Vancas, tqs5@psu.edu, 814.863.1590
Fax: 814.863.1564
Directions
The Earth-Engineering Sciences Building is located on West Campus, near the IST bridge. Here is a map of our surroundings. Or find us on Google Maps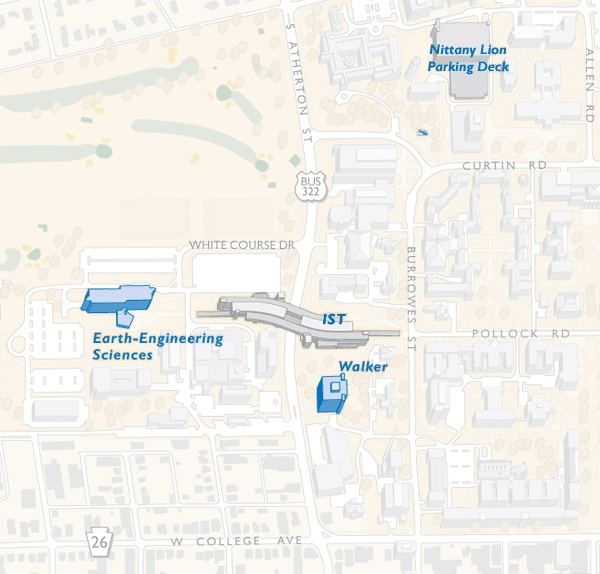 Parking Information
The parking lot next to the Earth-Engineering Sciences Building requires a Red Penn State parking permit. From 4:00 p.m. – 7:30 a.m., Monday-Friday, and all day Saturday and Sunday, the lot is open to all faculty/staff permits. Visitors have a number of parking options, whether you are a Penn State permit holder or not (these options apply to both):
Purchase an $8/day permit from the parking kiosk that is located just as you enter White Course Drive from Atherton St. (Bus. 322)
Park in the Nittany Lion Parking Deck, located next to the Nittany Lion Inn ($1/hour). From there you may either walk to our office or take the Red Link bus (free) from Kern Building (located on the other side of the Nittany Deck) to our building.