Print
Superstorm Sandy: October 2012
Sandy, technically Superstorm Sandy because it merged with another low-pressure system before making landfall in the US, was the largest hurricane ever reported with a diameter of 1400 kilometers (1000 miles)! The storm is known for the damage it inflicted on the New York City region, costing a total of $65 billion. It was notable for two main reasons in addition to its size: first, because it was such a late storm, making landfall on October 29th, 2012, and second because it traveled so far north of typical hurricane country before hitting land.
While a hurricane, Sandy inflicted massive damage in Jamaica, Haiti, the Dominican Republic, and Cuba. In Haiti, the storm was especially destructive and responsible for at least 50 deaths. Sandy had a northerly path and after crossing Cuba and the Bahamas, the storm went out over open waters for several days before taking that dramatic left turn due to its interaction with the low pressure and slamming into the New Jersey coast near Atlantic City.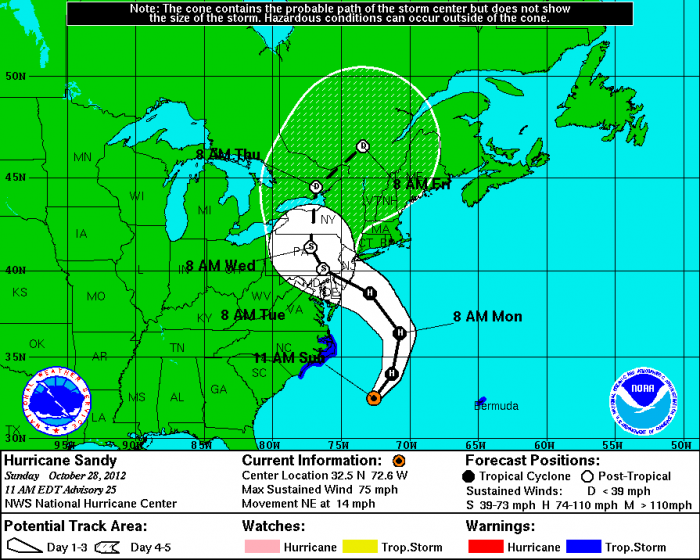 Credit: National Hurricane Center; NOAA (Public Domain)
Credit:
NASA
image courtesy LANCE MODIS Rapid Response Team at NASA GSFC (Public Domain)
Coastal communities had plenty of time to prepare. New Jersey forced mass evacuations in low lying areas and New York City closed bridges and tunnels and covered subway openings. Sandy's winds at landfall were 80 mph with gusts up to 90 mph, but most of the damage was done by the storm surge which measured up to 3 meters (9 feet) in New Jersey and 4 meters (14 feet) in Lower Manhattan. Some areas received a foot of rain. The surge flooded city streets and the subway, including traffic tunnels under the river. Raw sewage was also released into city streets and tunnels. Most of New York City lost power for days. Flooding also occurred along the waterfront on the New Jersey side with devastating flooding in Jersey City and Bayonne. The New Jersey shore bore the brunt of the damage with whole towns ravaged by the storm. Close to 350,000 homes were damaged and 22,000 permanently destroyed. This destruction was largely flooding with wind damage at the shore. Significant beach erosion occurred with on average 9 to 12 meters (30 to 40 feet) of shoreline removed by the storm and Sandy carved new temporary inlets along the shore. Up to a meter (4 feet) of sand was dumped on barrier island streets. Piers collapsed into the ocean. The damage was so extensive in some locations that residents were not allowed back for months. In all, 24 states were impacted by Sandy and there were 71 deaths in nine states. A total of six million people were without power right after the storm. At the time it was the second-costliest hurricane (after Katrina) but has now been surpassed by Harvey and Maria.
Hurricane Sandy
These videos show the damage after Sandy.
Video: Hurricane Sandy: As It Happened (7:40)
Video: Most dramatic footage of Superstorm Sandy (3:15)
There are many lessons from Sandy. The New Jersey coast is one of the most developed shorelines in the world, with a booming real estate market. The shore has been developed since the 1940s, originally with small and simple family cottages. However, over the last 20 years or so, small homes were bought out in many areas, bulldozed, and large luxury mansions were built in their place. The shoreline contains billions of dollars of expensive homes often built too close to the shorefront. As we discuss in Module 10 a lot of the blame for this overdevelopment rests with federal and state governments who resisted passing sensible flood control laws numerous times. This failure resulted in development in areas that flood frequently. The lack of flood control was exacerbated by the National Flood Insurance Program that repeatedly bailed out homeowners, local governments, and the state. The program is supposed to include controls over where rebuilding can take place, but regulation has been loose. Today, NFIP covers 70-100 percent of rebuilding after hurricanes. Environmentalists and others have pushed for much stricter regulation and an end to bailing out homeowners who build in risky locations, but developers and the construction industry have won out (see more detail in Module 10). These failures resulted in homes rebuilt in harm's way, in some cases multiple times. Environmentalists warned about the devastating impact of a Sandy event for many years and the storm proved them right. However, once again the government paid for everything after Sandy!
Extensive damage in New York City was also a wake-up call. low lying downtown Manhattan and the waterfront on the New Jersey side of the Hudson River contains some of the most coveted real estate in the world and is a global financial center. Sea-level rise over the coming decades will make the area even more vulnerable to storm surge with potentially truly devastating financial implications. For this reason, Sandy inspired renewed discussions about a major investment in flood control that would protect lower Manhattan and the New Jersey waterfront from storm surge in a future Sandy. There has been considerable planning into what this structure might look like with the most extreme cases involving 8 kilometers (5 miles) of concrete and steel surge "gates" extending from New Jersey all the way to Long Island across the harbor and another gate along the west of Long Island Sound. Each structure would involve miles of shore fortification at the ends of the gates. The system would cost in excess of $120 billion.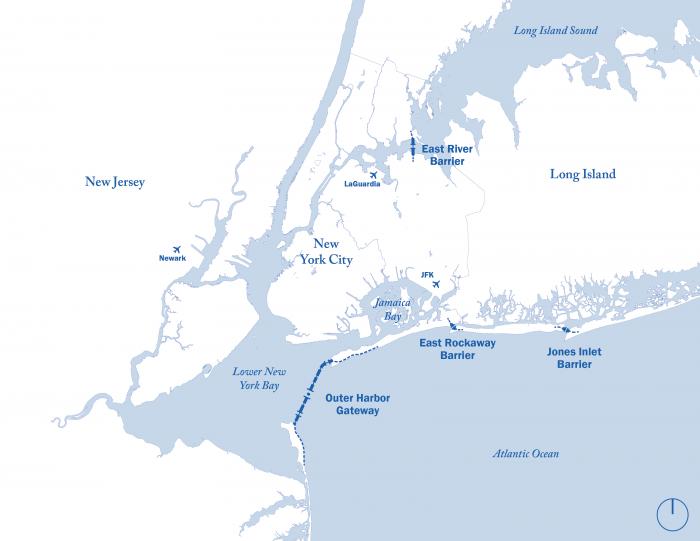 Read the latest on the proposed system here in this New York Times article: The $119 Billion Sea Wall That Could Defend New York … or Not
The final lesson from Sandy is that climate change will cause powerful hurricanes to move further north and extend the season into October. It is still debatable whether Sandy was a result of climate change, though the Atlantic waters were warm unusually late in 2012. The New York metro area and the New Jersey shore have seen their share of powerful hurricanes and Sandy may just have been a late-season anomaly. However, it is certainly reasonable with climate change to expect earlier and later storms and for stronger storms to make landfall further north. The large northeastern "megalopolis" extending from Washington DC to Boston and including Baltimore, Philadelphia, New York City is home to some 50 million people with $3.6 trillion in economic output per year. Sandy likely foreshadowed the future and this region better prepare for the eventuality of more large storms.