Print
Welcome to Coastal Processes, Hazards, and Society!
We have three teams of professors teaching the course this semester.
Pennsylvania State University
Ethan Davis, PhD Candidate in Geography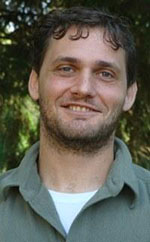 I use a geo-spatial perspective to better understand the environmental impacts of our food and energy systems in terms of land use, deforestation, climate change, and water. I am currently completing my Ph.D. at Penn State. Prior to this, I worked at the Union of Concerned Scientists as an Energy Analyst and as a research assistant at Oak Ridge National Laboratory. I have a M.S. (Engineering) in sustainable energy planning and management from Aalborg University (Denmark), and B.S. from Cornell University.
Dr. Timothy Bralower, Professor, Department of Geosciences
Tim Bralower was born in Armonk, NY but moved to London at the age of four. Tim attended Oxford University and received a BA in Earth Science. Tim followed his undergraduate degree with a PhD in Earth Science at Scripps Institution of Oceanography at the University of California San Diego. Although a classically trained marine geologist, Tim's specialty is calcareous nannoplankton, a group of marine plankton that leave an exquisite fossil record. The nannoplankton allow us to tell time or date ancient sediments back to 225 million years ago, and, in addition, inform us about environments in the past. Recently Tim has focused his research on ancient time periods when climate warmed rapidly. In particular, he is interested in what happens to life during these episodes. The motivation for this research is to predict what will happen in the future as the ocean continues to heat up. He is also interested in mass extinction, in particular the same event 65 million year ago that led to the demise of the dinosaurs, which almost eradicated the nannoplankton. The extinction and subsequent recovery of life in the ocean gives us a worst-case scenario for how modern plankton may respond to drastic environmental change.
Tim started his academic career as an Assistant Professor at Florida International University in Miami before moving to the University of North Carolina at Chapel Hill where he was rose through the academic ranks to become Chair of the Department of Geological Sciences. Tim moved to Penn State in 2003 and until recently was Head of the Department of Geosciences. Tim's research has taken him for fieldwork in Italy, much of the Western US, the Andes and four two-month ocean drilling expeditions.

Dr. Brent Yarnal, Professor, Department of Geography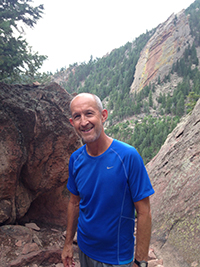 Brent Yarnal grew up north of San Francisco in Sonoma County, California. He got his bachelor's degree from the University of California, Davis, master's degree from the University of Calgary, Alberta, and doctorate from Simon Fraser University in Vancouver, British Columbia. Although his graduate training was in physical geography focusing on climatology, geomorphology, and glaciology, today his research bridges the physical and social sciences and integrates climate change, natural hazards, and the use of environmental information in decision-making. He is especially interested in what makes individuals, groups, and communities vulnerable to climate extremes and coastal hazards. His recent work has focused on planning for present and future hurricane storm surges in Florida, local and regional climate action planning in Pennsylvania, and the role of climate information in water resource management in Florida, Pennsylvania, and Maryland.
Brent's is Penn State's Will and Ruby Miller Professor of Physical Geography. He is also North American Editor of Progress in Physical Geography, and Associate Editor of Physical Geography. Brent teaches undergraduate courses in physical geography, climate change, and natural hazards. He has served as Director of Penn State's Center for Integrated Regional Assessment, and as Undergraduate Officer, Graduate Officer, and Associate Head of Geography. He is past Chair of Penn State's University Faculty Senate.
Li-San Hung, Ph.D. Candidate, Department of Geography

Li-San Hung is born in Kaohsiung City, Taiwan. He received both his bachelor's degree and master's degree from Department of Geography, National Taiwan Normal University. He is a broadly-trained human-environment geographer with research foci in the human dimensions of natural hazards, human/environment theories, and conservation issues. For his dissertation, he uses a mixed-method approach to examine how intra-household and gender dynamics affect household hurricane preparedness of married, heterosexual couples in Sarasota County, Florida.
Shippensburg University of Pennsylvania
Dr. Sean Cornell, Associate Professor, Department of Geography & Earth Science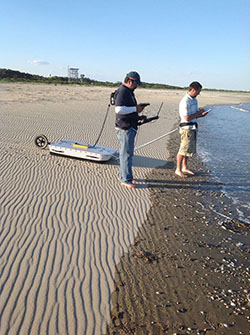 Born and raised in Northern New York on Lake Ontario, Sean divided his summers between working on his family's dairy and maple products farm and exploring Lake Ontario and the St. Lawrence River regions of New York and Ontario, Canada. Sean's parents were members of the U.S.. Coast Guard Auxiliary and spent many summer months serving at multiple Coast Guard stations in the region aboard their own 36' twin inboard Chris Craft. Water rescues in severe weather and high waves were not an uncommon experience and together with his family, Sean observed first hand the significant impact of coastal processes (storm flooding, erosive wind waves, waterspouts, huge ice dams, shoreline and bluff retreat, etc) on the Great Lakes and learned how these environments are so beautiful, but also occasionally destructive.
After high school, Sean attended the University of Rochester and earned a bachelor's degree in Geology and a minor in Biology. He went on to complete two advanced degrees (M.S. and Ph.D.) at the University of Cincinnati where he focused on the analysis of sea level change during a time of major climate transition in the Late Ordovician an event that led into one of the largest mass extinctions. In order to understand the sedimentary record of the ancient seas and climate system under which they were influenced, Sean spent a significant amount of field time analyzing the rocks of eastern North America from Tennessee to Virginia northward to Minnesota and Ontario, Canada. As part of this research, he also went to modern oceanographic settings in the Bahamas, and Curacao in the Netherlands Antilles where analogous sediments are being deposited today. By coupling the analysis of modern depositional environments with their oceanographic processes it is possible to accurately reconstruct ancient depositional systems to better quantify the linkages between the physical, climatic, and biologic systems that make up earth's diverse ecosystems and understand the rates and scales at which sea level changes occur.
Since graduate school, Dr. Cornell's teaching and research efforts have focused on projects on the Mid-Atlantic Coast of Virginia in the area of Assateague, Chincoteague, and Wallops Islands. In these locations, Sean and his colleagues use data sensors and geophysical techniques including Ground Penetrating Radar to measure changes in barrier island aquifers and monitors soil parameters in maritime forests that are undergoing major dieback. Storm surge, overwash and other processes are being explored as possible causes for the loss of forest habitat. Made possible through Shippensburg University's membership in the Chincoteague Bay Field Station of the Marine Science Consortium, in addition to research, Sean now teaches summer field classes in Coastal Environmental Oceanography and Coastal Zone Resources Management. In addition to these summer field classes, at his home campus he teaches a diverse array of courses in Geology, Oceanography and Environmental Hazards, including a field studies course to Curacao every other winter. Sean is currently an Associate Professor in the Department of Geography & Earth Science at Shippensburg University.
University of New Orleans
Dinah Maygarden, M.A., Research Associate, Department of Earth and Environmental Sciences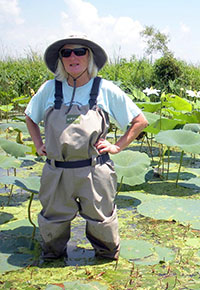 Dinah Maygarden, Research Associate and Director of Coastal Education Program in the Pontchartrain Institute for Environmental Sciences at the University of New Orleans, received a B.Sc. from the University of Wales and a M.A., Science Teaching from the University of New Orleans. Dinah has worked in these and other capacities for 20 years at UNO. She works to secure funding to implement educational projects that address science education needs, particularly those pertaining to increasing young people's and teachers' understanding of Louisiana's coastal zone. By working closely with research faculty and utilizing the assets of UNO's Coastal Education and Research Facility (CERF), Dinah brings real world, relevant science problems to K-12 and college students, teachers and community members. She hosts field workshops for these audiences at CERF and elsewhere, and also coordinates summer geoscience field trips for minority high school students as part of the Minority Awareness Geoscience program in the Department of Earth and Environmental Sciences.
Dr. Ioannis Georgiou, Associate Professor, Department of Earth and Environmental Sciences
Ioannis Georgiou was born on the small island of Cyprus in the Mediterranean Sea, where he grew up and lived until the age of 21. He received the diploma of Civil Engineering from the Higher Technical University in Cyprus and later moved to the United States to continue his education. He received his Bachelor's degree in Civil Engineering with a minor in Environmental Engineering from Louisiana State University, and completed a Master's in water resources and surface hydrology from the University of New Orleans. In 2002 he received his PhD in Engineering and Applied Sciences with a focus in coastal and estuarine hydrodynamics and sediment transport and minor in coastal geology at the University of New Orleans. After a short career in the industry he returned to the University as an Assistant professor Research to join massive efforts to better understand earth surface processes governing wetland loss in the Mississippi River Delta Plain and ways to offset loss. From 2003 – 2007 he served as associate Director of the Freeport McMoran Center for Environmental Modeling, developing numerical tools to study and apply coastal restoration practices in the northern Gulf Coast. In 2007 he joined the department of Earth and Environmental Sciences as a tenure-track faculty and in 2012 was promoted to Associate Professor. Since 2007 he has been director of the Coastal Hydrodynamics and Sediment Transport Laboratory and in 2013 assumed duties as Director of the Pontchartrain Institute of Environmental Sciences, a multidisciplinary Institute at the University of New Orleans. While classically trained as a Coastal Engineer, his research took a parallel path dealing with sand and mud transport in the Mississippi Delta, and was the stepping stone to quantitative geomorphology and sedimentology. Since then a big part of his research focused on linking surface processes with their modern deposit, and ultimately the stratigraphic record. He completed work in wetlands, barrier islands, estuaries, rivers and deltas, utilizing both field observations and numerical modeling tools in the analysis of these systems. Presently, he is involved with various aspects of the coastal restoration of the Mississippi River Delta Plain through observation and documentation of surface processes driving erosion (wetland/land loss) and deposition (wetland/land development).
Dr. Mark Kulp, Associate Professor, Department of Earth and Environmental Sciences
Mark Kulp grew up on a dairy farm in southeastern Pennsylvania and received a BS in Geology from Juniata College in Huntingdon Pennsylvania. He then completed a M.S. in Geology at the University of Kentucky where he documented the depositional environments of 450 million year old rocks that are present in the central Kentucky Bluegrass region. During the final several months of his masters research Mark became involved in a project that was focused on understanding how regional crustal subsidence contributes to relative sea level rise along the north-central Gulf of Mexico and ultimately how the process of subsidence contributes to regional land loss in that area. Mark expanded this effort into a Ph.D. research topic and completed his Ph.D. in 2000. He then moved to the University of New Orleans Department of Earth and Environmental Sciences as an Assistant-Professor of Research and he become involved in more studies of north-central Gulf of Mexico coastal land loss, the processes driving the land loss and the north-central Gulf of Mexico geomorphology and shallow sedimentary framework. In 2003 Mark joined the tenure-track faculty at the University of New Orleans as an Assistant Professor and in 2006, shortly after losing his house to the flooding caused by Hurricane Katrina, was promoted to Associate Professor. In the last 8 years Mark has served the University as the Department chairperson, Director of the Coastal Research Laboratory, and Associate Director of the Pontchartrain Institute for Environmental Sciences. He continues to conduct research on the regional geomorphology and has completed numerous research projects that contribute to the regional coastal restoration projects that are underway across the rapidly deteriorating Mississippi River delta.