Print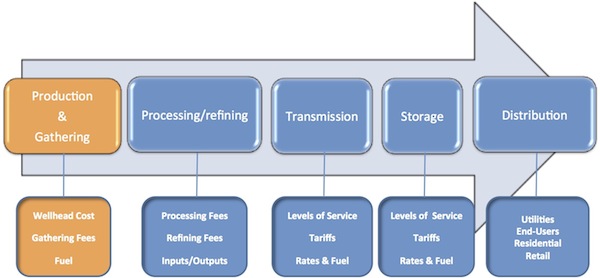 The first step in the movement of natural gas from the "wellhead-to-burner tip" is to determine the "deliverability," or sales volume of the well and then get it connected to a pipeline. This is normally done by midstream companies who gather wells together and deliver the gas to processing plants or directly into transmission pipelines.
The following mini-lecture explains these concepts in detail.
Key Learning Points for the Mini-Lecture: Gathering and Compression
While watching the mini-lecture, keep in mind the following questions:
Why is the "deliverability" of a well important?
What functions are performed by the Gatherer?
Who are Producers and Operators?
What are Compressors and how/why are they used?
Mini-lecture: Gathering & Compression (9:25 minutes)
Credit: Tom Seng, John A. Dutton e-Education Institute
Optional Viewing
A History of Natural Gas by Chesapeake Energy (11:58 minutes)
Credit: Chesapeake Energy