Print
1.1 War of the Currents: A Brief History of the Power Grid
Electric power in the United States is a $350 billion per year business and touches literally every corner of the economy. The "power grid" in North America is massive in scale and scope. By plugging a computer into a wall socket to read this lesson, you are connecting yourself to a stupendously complex network of hundreds of large power plants and many thousands of miles of transmission wires. The scope of the North American grid is shown in the figure below.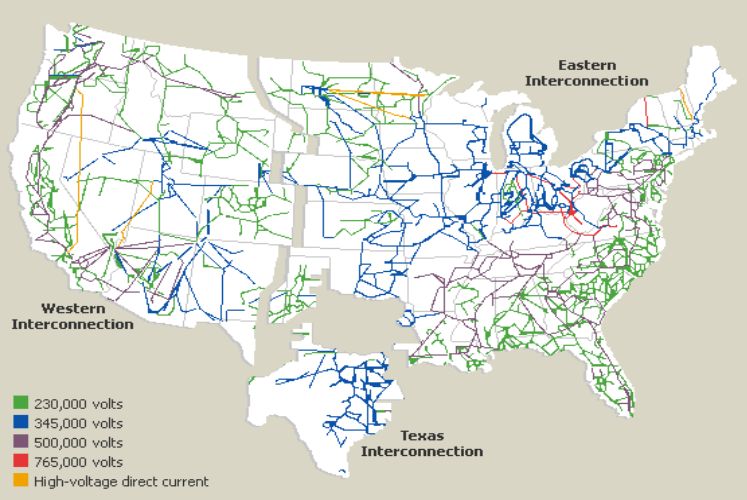 Source: North American Electric Reliability Council
There are, broadly, two ways of generating electricity. One way, known as Direct Current or DC electricity, involves creating a voltage difference in two parts of a loop or "circuit," which causes electric current to flow. If you are adventurous you can create a simple DC circuit in your home using a potato.
Direct current electricity shares many analogies with moving water through a pipe. Water flows through a pipe if there is a difference in pressure between the two ends of the pipe. This pressure difference can be caused by a difference in height at each end of the pipe or by some force (like a pump that pushes water into the pipe).
Alternating current or AC electricity, which is how most of our power grid works, is radically different and much more complicated. The principle behind AC electricity is rooted in the linkages between electricity and magnetism, which you may have learned about in a high school physics class. In a power plant that produces AC electricity, a coil of wire is rotated at high speed inside of a magnetic field. This induces an electric field and the flow of electric current into a conductor called a transmission line. That electric field exerts a force on the things connected to the power grid (like houses and even other power plants), and the force bounces back and forth between the power plants and the end-use devices that consume electricity. So the current goes back and forth along the transmission lines in an AC power system, whereas in a DC power system the current goes only in one direction.
The video below has a somewhat more technical explanation of how AC power works.
The reason that we have an AC power system is one of the most interesting stories in the history of energy. Please read the following web articles (and have a look at the videos associated with the articles):
As you read the articles, think about the following questions:
Why did Thomas Edison develop the first power plant (how would it help him make money)?
What were the problems with Edison's DC power technology?
How did Nikola Tesla's idea for AC power technology solve these problems?
How did Edison try to discredit the AC power technology?