Print
The architects of electricity deregulation in California had what seemed like an ingenious idea: break up the state's large electric utilities and force their power plants to compete with each other in a statewide market, allow individual electricity customers to purchase power generation from companies other than the utility, and create a new entity to run the state's power grid.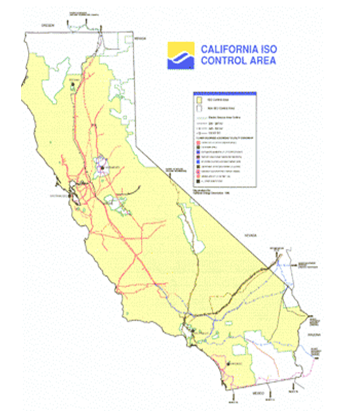 Source: California ISO
Deregulation in California involved the state's three largest investor owned utilities: Pacific Gas and Electric (PG&E), Southern California Edison (SCE) and San Diego Gas & Electric (SDG&E). Most municipal utilities and electric cooperatives decided not to participate (and under California law could not be forced to). As shown in the figure below, this covered most of the highly populated areas of the state except Los Angeles and Sacramento, which were served by city-owned electric utilities.
The process of electricity deregulation in California had six important aspects:
Generation divestiture: electric utilities were forced to sell off most of their power plants to independent power producers. This was needed because otherwise the state's two largest utilities, Pacific Gas & Electric and Southern California Edison, would have controlled 90% of the market for power generation.
Stranded cost recovery: The term "stranded costs" refers to investments that utilities made under state regulation that would not have been made in a competitive market. In California, this referred primarily to investments in nuclear power plants. Utilities were allowed to refinance their debts and were allowed to recover those debt costs from ratepayers over a period of several years.
Retail rates frozen at 10% below 1996 levels during a several-year period of transition: This was meant to give electricity consumers a kind of guarantee that rates would not rise during the transition to full competition, even though the utilities would be recovering those stranded costs. The thought was that competition would drive electricity costs to very low levels, so California's deregulation law mandated that electric rates would be determined by the market following this transition period.
Mandate for IOUs to purchase all power through a new "spot" market: An entity called the California Power Exchange (PX) was created to run a statewide market place for electricity. It was modeled on the highly successful New York Mercantile Exchange, which had successfully created liquid futures markets for natural gas and crude oil. The PX would take supply offers and demand bids and clear the state market for electricity on an hourly basis as if it were an auctioneer. The market clearing would determine which power plants were scheduled to run in that hour. The actual dispatch of power plants was run by another entity called the California Independent System Operator (Cal ISO). An important aspect here is that it was the requirement that the state's utilities buy all of their power from the PX market, and that all of those purchases happen on a spot basis. The state's utilities were prohibited from signing long-term contracts out of fear that they would use their buying power to keep competitive retailers out of the state's market.
Retail competition for generation service: Originally all end-use or "retail" customers had to buy generation, transmission and distribution service from the utility. Under California's deregulation plan, any customer could buy generation service from a company other than the utility. Transmission and distribution charges would still be assessed by the utility. These non-utility retail generation companies, called Electric Service Providers or ESPs, were allowed to sign long-term contracts. The belief was that these retail generation companies would attract customers away from the utilities either because they could offer better prices or because they could offer a differentiated product (like power produced from renewable energy).
The last two aspects of California's deregulation plan may seem particularly crazy. One of the fundamental tenets of risk management is that long-term contracts are good ways to spread risk. So why prohibit the utilities from signing long-term contracts and leave their customers exposed to the spot market? The answer was that California expected the vast majority of retail customers to stop buying generation service from the utilities and to start buying it from these ESPs, as shown in the figure below. Those customers that chose not to buy generation service from the ESPs would indeed be totally exposed to the spot market. This exposure was, however, judged to be okay for two reasons. First, the expectation was that spot prices would be driven down to low levels because of competition. Second, if high spot prices made generation service through the utilities too expensive, customers could always switch to an ESP.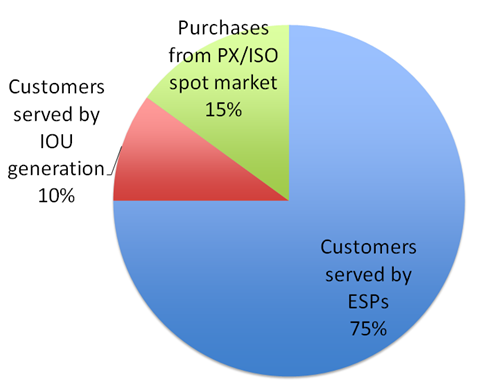 Source: Seth Blumsack
The reality turned out to be quite different. While California expected roughly 75% of the state's customers to purchase generation service from ESPs, the reality was that only 10% of electricity customers in the state chose a generation service provider other than the utility, as shown in the figure below. This meant that electricity consumers in the state, and the utilities, were much more highly exposed to the spot market than originally intended.