Print
8.5 LMP on a Three Node Network, Linear Marginal Cost
Now we'll work through an LMP calculation problem on a three node network when generator marginal costs are linear. The principle here is basically the same - we'll find the economic dispatch, adjust that dispatch to avoid overloading transmission lines, and then calculate the LMPs based on that adjusted dispatch.
The figure below shows the three node network with marginal costs and 10 MWh of demand at Node C. The marginal cost of generator A is and the marginal cost of generator B is . As an exercise for yourself, show that the economic dispatch (using the method for linear marginal costs from Lesson 4) is ; , and also show that the flows on the three transmission lines are , and . The System Marginal Price, in this case, would be $10/MWh, which is the marginal cost of either generator at the economic dispatch point (use the marginal cost functions to verify this).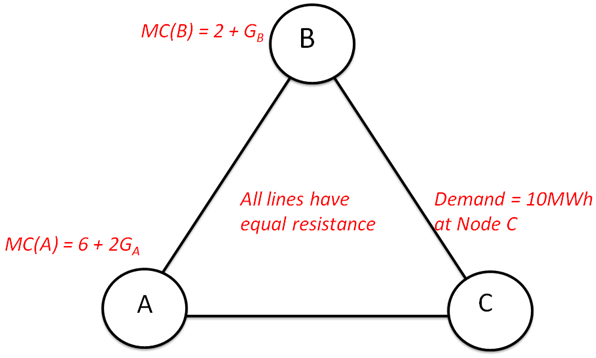 Source: Seth Blumsack
Now let's congest the network. We'll set the following constraints on the transmission lines:
Suppose that demand at Node C increases to 11 MWh. How should the RTO re-dispatch the generators? What are the LMPs?
What we need to do is to find a way to adjust the economic dispatch to satisfy two conditions:
Using the distribution factors for the network and the fact that , we get:
The adjusted dispatch is thus GA = 4 MWh, GB = 7 MWh. You should check for yourself that the flows in the network become: FAB = -1 MW, FAC = 5 MW, FBC = 6 MW.
Now we'll move on to calculating LMPs. As with our previous example, the LMPs at the generator nodes will be equal to the marginal cost of generation at the adjusted dispatch point.
To calculate the LMP at node C (the demand node), realize that the marginal demand at Node C is served partially by an increase at GA and a decrease in GB. By the same logic as in our first three-node example, the LMP at node C will be:
When we evaluate this using the numbers in our problem, we get:
Note that we have evaluated the marginal costs at the adjusted dispatch rather than the original economic dispatch that did not consider transmission constraints.
We can use the LMPs to calculate payments in the market and the congestion revenue collected by the RTO.
The RTO pays the following to generators:
The RTO collects 11 MWh × $19/MWh = $209 from the customer at node C.
Congestion revenue is thus $209 - $119 = $90.