12.3 Microbial Fuel Cells
A microbial fuel cell is a bio-electro-chemical device that can convert chemical energy directly into electrical energy. But first, let's go over what a fuel cell is. A fuel cell is a battery of sorts. So, what is a battery? A battery is when two different types of metals are connected together through what is called an electrolyte. One metal is an anode, which is a metal that "wants" to give off electrons when under the right conditions. One metal is a cathode, which is a metal that "wants" to accept electrons when under the right conditions. When these two metals are in close proximity, and there is a fluid that will conduct the electrons (an electrolyte), then the flow of electrons from one metal to the other can occur. And we can capture that flow to extract electricity. Batteries that we use in remotes for televisions will eventually get used up and need to be replaced. This is an example of a primary battery. Figures 12.6a-12.6c show a generic cell, a stack of cells using zinc and copper, and a picture of a Voltaic cell as created by Alessandro Volta (inventor).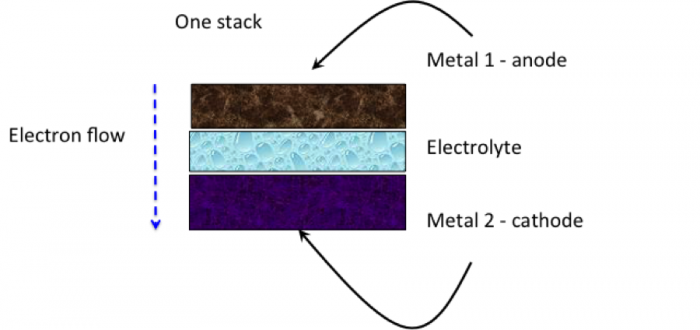 Credit: Dr. Caroline B. Clifford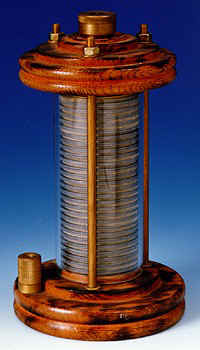 We can also have secondary batteries, where the flow of electricity is established to provide electrical energy, but we can also apply electricity to the battery to reverse the flow of electrons and regenerate the life of the battery. While regenerated batteries don't last forever, you can definitely get your money's worth because you can regenerate them.
Fuel cells are also a sort of battery, but the materials are different and flow continuously to produce electricity. Figure 12.7 shows a generic fuel cell. As with a battery, it has an anode, cathode, and electrolyte. The anode typically uses hydrogen as the fuel, on the left side of the figure, and oxygen as the oxidant used in the cathode, on the right side of the figure. The electrolyte contains a fluid but also a membrane that removes the protons from the hydrogen, leaving the electrons to flow, and allows oxygen to accept the protons to form water. Typically, these cells are run on hydrogen and oxygen, but we get electrical energy out rather than heat from burning hydrogen and oxygen.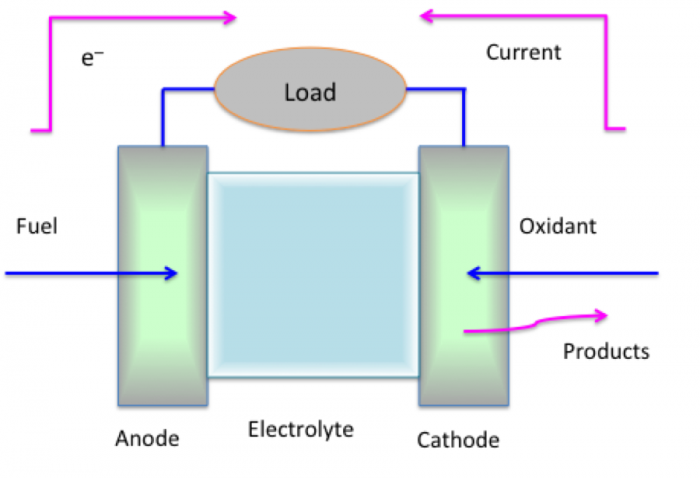 Credit: Dr. Caroline B. Clifford
At the anode, hydrogen reacts as shown in reaction 18:
(18) H2 → 2H+ + 2e-
This is an oxidation reaction that produces protons and electrons at the anode. The protons then migrate through an acidic electrolyte, and the electrons travel through an external circuit. Both arrive at the cathode to react with the oxidant, oxygen, as shown in reaction 19:
(19) ½ O2 + 2H+ + 2e- → H2O
This is the reduction reaction, where oxygen can be supplied purely or in air. Essentially, the total circuit is completed through the mass transfer of protons in the electrolyte and external electrical circuit. There will be a small amount of heat lost through the electrodes. The overall reaction is shown in reaction 20:
(20) H2 + ½ O2 → H2O + work + waste heat
The water and waste heat are the by-products and must be removed on a continuous basis. An ideal voltage from this reaction is 1.22 volts, but less than that voltage will be realized. Other issues include use of fuel different from hydrogen (methanol, hydrocarbons, etc.) and the fact that fuel cells produce direct current (DC) when most applications require alternating current. This little bit of background has been provided so a short discussion on microbial fuel cells can be had.
We are not going to go into great depth on microbial fuel cells, as some of the biochemistry can be complex. I will provide you with some generic information on how a microbial fuel cell is set up. These are bio-electro-chemical devices, which convert chemical energy directly into electrical energy. As we have discussed before, there are some steps that need to occur. Cellulose is hydrolyzed into sugars, i.e., glucose. The sugars are fermented into short chain fatty acids, alcohols, hydrogen, and carbon dioxide. Finally, electricigenesis takes place, producing electricity, and carbon dioxide is carried through. Electricigenesis converts chemical energy to electrical energy by the catalytic reaction microorganisms. The anode is anaerobic, and the anode chamber contains microbes and feedstock. The fuel is oxidized by microorganisms, which generates CO2, electrons, and protons. The cathode is the aerobic chamber, and just like other fuel cells, a proton exchange membrane separates the two chambers and allows only protons (H+ ions) to pass.
There are two types of microbial fuel cells (MFCs): mediator or mediator-less. The mediator type was demonstrated in the early 20th century and uses a mediator: a chemical that transfers electrons from the bacteria in the cell to the anode. Some of these chemicals include thionine, methyl viologen, methyl blue, humic acid, and neutral red. These chemicals are expensive and toxic. Mediator-less MFCs are a more recent development, from the 1970s. These types of cells have electrochemically active redox proteins such as cytochromes on their outer membrane that can transfer electrons directly to the anode. Some electrochemically active bacteria are Shewanella putrefaciens and Aeromomas hydrophila. Some bacteria have pili on the external membrane, which allows for electron production through the pili. They are beginning to find commercial use in the treatment of wastewater. I've included some YouTube videos explaining how the MFCs work. The first video is a brief but complete explanation of how an MFC works (2:03).
The next video is a little longer and goes into a little more depth of what was described above (7:23).
The next short video has Dr. Bruce Logan, a professor in the Civil Engineering Dept. at PSU providing a brief explanation on using these MFCs for wastewater treatment facilities (3:05).
And the last video, put together by Dr. Logan's group at PSU, shows how to construct three different types of MFCs (4:26).
MFCs can also be used in food processing plants and breweries, as well as being implanted as biomedical devices. There are technical challenges to MFCs. They have relatively low power densities, which means they don't generate much power. Therefore research continues to improve power densities. These devices have an incredible future, but still need more research to be commercialized at a large scale.