Print
Required Viewing and Reading
Log onto lynda.psu.edu. Use your PSU username and password to log on. Then use the search window to find "Writing a Résumé." Feel free to watch the whole course if you'd like, but you are required to watch Section 1, "Basic Components of a Résumé" and Section 2, "Customizing the Basic Résumé Components."
Additionally, review the Penn State Career Services website on résumés and Cover Letters.
Then, complete the exercise outlined below.
Résumé writing isn't what it once was; there was a time when you could put together your résumé, consider it done, and attach it to your carefully crafted cover letter and then wait by the phone. But nowadays, you are expected to customize your résumé to every position you apply for. This requires a good deal more time, but provides the employer with better insight into your experience, qualifications and writing abilities.
Did you know?
World Campus offers career counseling services through the Career Services office. Be sure to review the Career Services website. If you'd like to speak with a Career Counselor, fill out a Career Counseling Referral Form.
For this assignment, you will be job searching. You are expected to complete a cover letter and résumé. You can use the ad provided below, or you can find another job that you're interested in. If you use a different ad, be sure to include it in your submission.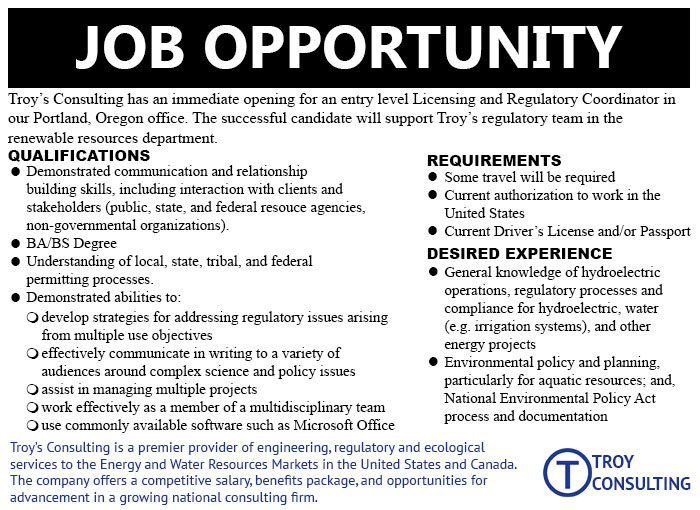 Activity
Create an updated cover letter and résumé.
Upload your completed résumé and coverletter to the Resume dropbox in Canvas.
Submit the cover letter and résumé via email to Lynn Atanasoff (lma100@psu.edu) at Career Services using your PSU email and copy the instructor on the email (hjs142@psu.edu). In the email, request feedback on your documents.
Grading
The Résumé and Cover Letter will be graded out of 50 points. A detailed rubric for the résumé can be found in Canvas. 
Submissions
Upload your file to the "Cover Letter & Résumé: Original Draft" dropbox in Canvas by the date specified on the course calendar. Once your original draft is graded, you will have an opportunity to edit your submission and resubmit for a higher grade. The updated submission MUST be submitted to the "Cover Letter & Résumé: Final Draft" Dropbox in order for it to be regraded.