Print
The Global Context of Shale Gas
North America is not the only location with substantial shale energy resources. Figure 4.2 shows an assessment of global shale gas reserves from the U.S. Department of Energy (the source is a report on global shale energy assessments). While some of these reserves numbers are highly uncertain, due to relatively few test wells having been drilled in many countries, the figure makes the point that the U.S. is not the only player in the global gas game. There is still plenty of natural gas from conventional formations in the Middle East, and trans-oceanic shipments of natural gas are growing. These shipments take place via "liquefied natural gas" (LNG) vessels – the gas is cooled to supercritical temperatures and stored at high pressures for transportation. It is then re-gasified in onshore facilities for injection into the pipeline network for consumption.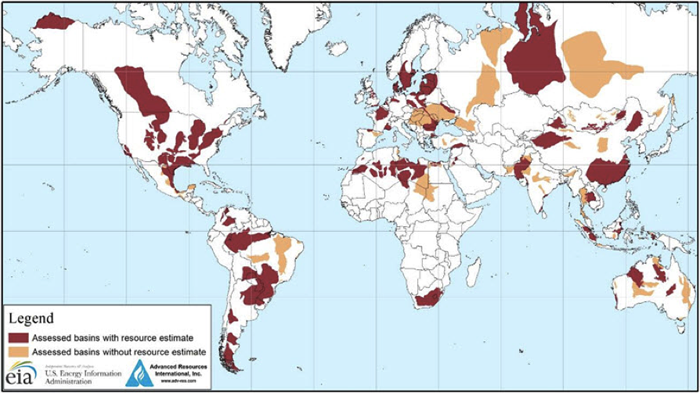 You might have noticed in the previous lesson that natural gas prices in North America have been plummeting for a few years now. But prices in Europe and Asia have remained high, as shown in Figure 4.3. In some cases, the price differences are substantial – a North American producer could make a lot of money selling to East Asia if only the LNG export terminals were there! Because of the soft market for natural gas in the U.S. and the potential (even the expectation, some might say) for large-scale exports to higher-priced markets, natural gas may be in the midst of a transition from a primarily continental or regional commodity to one that is traded more globally, much like crude oil.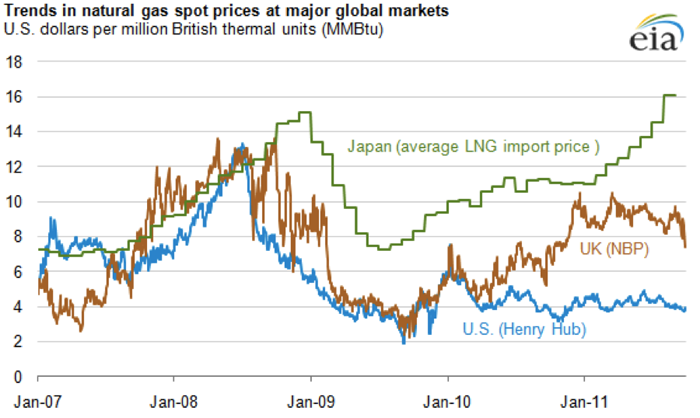 Credit: U.S. Energy Information Administration.
This has naturally raised some geopolitical concerns about a global natural gas market. Opinions on how the politics of a global natural gas market might impact regional markets has been a topic of substantial debate. A couple of perspectives on this appear in an article from The Economist, citing political scientist David Victor's research; and a report from the U.S. Energy Information Administration on the potential impact of LNG exports from the United States on natural gas prices in the United States.
Please read the piece from The Economist carefully. The EIA piece is longer, so please just try to get a sense of the conclusions reached by the report and how the analysts came to those conclusions.