Video 6.2 - Bilateral Markets Transcript
Areas of the US that do not have these centralized electricity markets do have wholesale trade of electricity between generators and buyers, between utilities and so on and so forth. These are what we call bilateral markets, and these bilateral markets actually existed long before electricity deregulation, long before the PJM electricity market and so on and so forth. The first of these was actually set up in the western US in the late 1980s. It was called the Western Systems Power Pool. It's actually still in place - so the market structure that was set up in the 1980s in the western states is actually still used there today.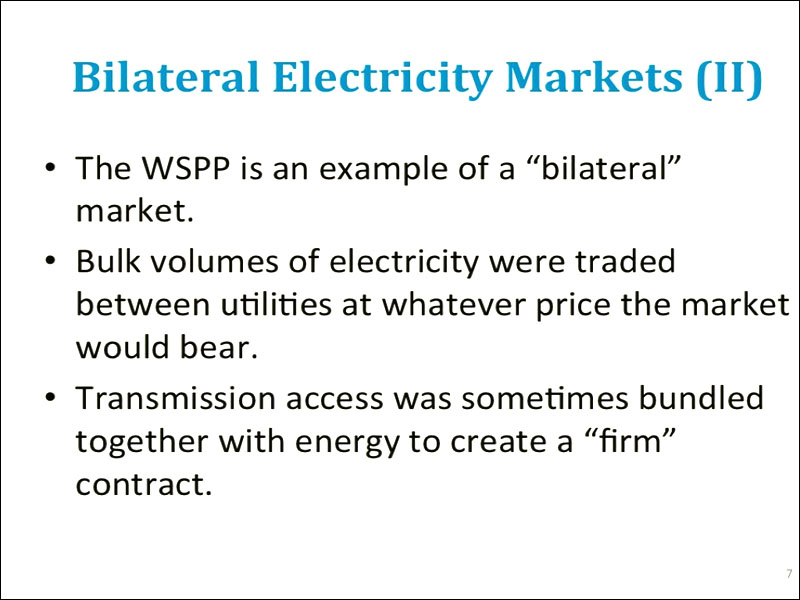 The way that bilateral markets work is that large volumes of electricity, sometimes called bulk power, is traded between utilities, between buyers and sellers, at whatever price the two counter parties agree upon. And how these trades actually occur is that potential counter parties actually call each other up on the phone. So I might be, like, Bonneville Power Administration and I could call somebody at SMUD (The Sacramento Municipal Utility District) and say, "I've got spare electricity to sell; do you want to buy any?" This is basically how the bilateral markets work. And sometimes, the energy that's purchased through these bilateral markets is coupled with access to the transmission grid so that you could actually deliver the electricity. This is sometimes called "firm" energy, as opposed to non-"firm" energy, which is sold without access to the transmission grid. These bilateral markets still exist today. Now, a lot of the bilateral trading takes place over electronic trading platforms. People don't call each other up on the phone as much; instead they might log in to some electronic trading platform, kind of like e-Bay or something like that. When we talk about centralized electricity markets, just keep in mind that places in the US that do not have centralized electricity markets still have trading of electricity through these bilateral markets.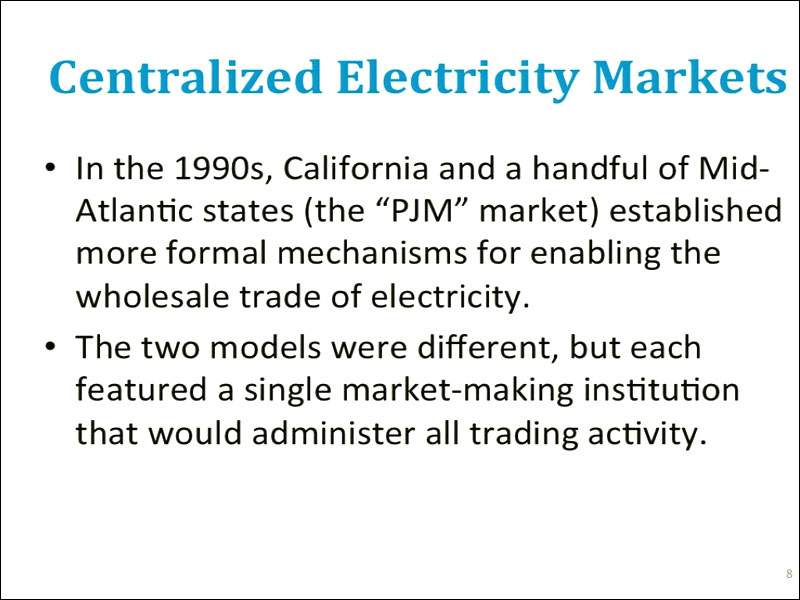 In the mid-1990s, California and a handful of Mid-Atlantic states (the "PJM" market, which stands for Pennsylvania, New Jersey, and Maryland), as part of a broader electricity market restructuring effort, set up much more coordinated, much more formal mechanisms for trading electricity. The California model was a little bit different from the PJM model, but the big similarity that they shared was that rather than people calling each other up on the phone, there would be a centralized exchange setup, kind of like something analogous to the New York Stock Exchange or the New York Mercantile Exchange, where crude oil futures are traded. And rather than buyers and sellers trying to find each other by calling each other up on the phone, everybody would go to this centralized market, or this centralized exchange