Print
Reading Assignment
SECS, Chapter 1 - Introduction (re-read, with renewed focus on The Ethics of Sustainability and Ecosystems Services)
C. Becker (2012) Sustainability Ethics and Sustainability Research, Chapter 3 - The Inherent Ethical Dimension of Sustainability – Toward a Relational Ethical Perspective (available on Canvas) pp. 17-20.
Underpinning your efforts to develop a solar project will be your motivation for engaging in solar energy project development at all. While energy tends to make money, is there a deeper ethical approach that we should be aware of for best practices?
Sustainability Ethics
The major work of research on ecosystem services came out of the Millennium Ecosystems Assessment from the United Nations. Even the synthesis report is a heavy read, so we have included it as supplemental reading. Here is an excerpt from the report that I considered to be highly appropriate in the context of developing large scale solar technologies globally:
Relationships between Ecosystem Services and Human Well-being (p. 49)
"Changes in ecosystem services influence all components of human well-being, including the basic material needs for a good life, health, good social relations, security, and freedom of choice and action (CF3). (See Box 3.1.) Humans are fully dependent on Earth's ecosystems and the services that they provide, such as food, clean water, disease regulation, climate regulation, spiritual fulfillment, and aesthetic enjoyment. The relationship between ecosystem services and human well-being is mediated by access to manufactured, human, and social capital."
This statement is closely linked to the "sustainability ethic" - the term that has been eloquently summarized by Dr. Christian Becker (former faculty in the PSU Department of Philosophy, and expert on sustainability and ethics) as the following:
"Acknowledge and seek solutions that respect a systemic and simultaneous moral obligation to 1) contemporary global communities, 2) future generations of human society, and 3) the natural community or environment supporting life and biodiversity on Earth."
We can see that this invokes a pretty deep perspective, and there is a lot of value encompassed within such a concise statement. I want you to consider several ways of how we might incorporate the sustainability ethic as a motivator into our working lives as professionals.
Embody your own conviction that corporate interests can be reconciled with social and environmental interests.
Advocate public participation in the decisions that affect environmental justice.
Make a business case for sustainable practices in the context of a particular energy business or utility.
Case Example: Keystone Solar Project
Location: Lancaster County, Pennsylvania
Developer: Community Energy
Owner/operator: EDF Renewables
Capacity: 6 MW (5 MW AC)
Construction: 2012-2013
PV Panels: ~20,000 (fixed tilt)

(Image Credit: Community Energy)
The folks at Community Energy and EDF Renewables in Pennsylvania have developed just such an approach to project development, in their Keystone Solar project. This 6 MW PV project was developed on Amish farmland, with specific research applied to the soil quality before and after the project installation. No concrete was used in the ground mount installation here. The design included vegetative buffering with native grasses, shrubs, and trees, allowing the solar installation to blend into the natural landscape. The project received a Project of Distinction Award at the 2013 PV America East Conference.
Several universities and other organizations signed up for a share of the renewable energy credits, including Drexel University, Franklin & Marshall College, Eastern University, Clean Air Council, the Philadelphia Phillies, Juniata College, Millersville University, and Marywood University.
Best practices were applied, and at the end of the contract employing the solar farm, the land owner will have the option to remove the entire installation and return the land back to farmland for agricultural crops. This is still not the norm in the industry, it is a best practice by a firm seeking to lead the industry.
Case Example: Penn State - Light Source BP 700 MW Solar Farm
" UNIVERSITY PARK, PA. — On Feb. 5, 2019, Penn State and Lightsource BP announced the development of a large-scale, ground-mounted solar array of over 150,000 solar panels near Penn State's Mont Alto Campus. This 70-megawatt, off-site solar energy project will support the University's Strategic Plan, helping implement the plan's "Stewarding Our Planet's Resources" key pillar and supplying up to 25 percent of the University system's electricity." (Verdi, 2019)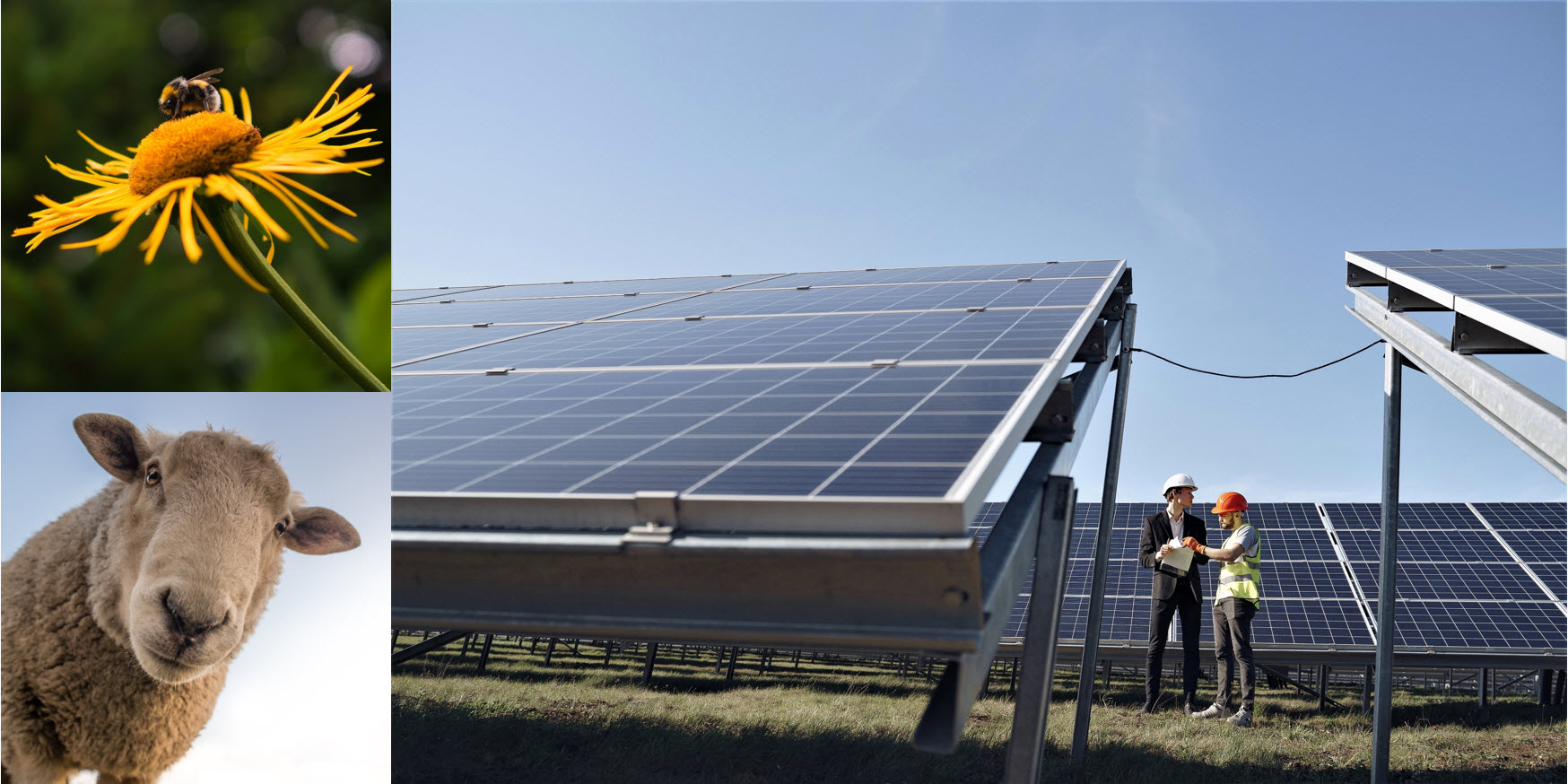 Source: Gustavo Fring/Skitterphoto/Pixabay via Pexels
Location: Franklin County, Pennsylvania
Owner / operator: Lightsource BP
Capacity: 70 MW (53.5 MW AC)
Annual energy: 102,000 MWh
Area: 500 acres

Construction: September 2019 – October 2020
Total Investment: $75M
PV Panels: 150,000
Contract term: 25 years
This project boasts significant environmental benefits due to shifting the campus electricity generation from fossil fuel based to renewable sources. It is estimated that, once implemented, the project will result in 57,000 metric tons of avoided CO2e emissions per year, which is equivalent to 12,102 fuel-burning cars of the road. The project helps Penn State exceed its goal of reducing carbon emissions by 35% by 2020 and also provides the university with $14M in energy cost savings over the 25-year term of PPA agreement. But that is not the end of it. From the very start, the intention was to demonstrate that utility-scale solar can be and should be developed in a sustainable way, with careful consideration of local ecological values.
The bidding process required developers to evaluate the potential impacts on the land and nearby ecosystems by using a mapping tool developed by The Nature Conservancy (TNC), a global environmental non-profit organization that advocates responsible use of land and sets priorities for conservation of sensitive and ecologically critical zones across all continents.
Lightsource BP is recognized for building solar farms that enhance environmental benefits to farm lands, preserving biodiversity and agricultural value of land. They worked together with Penn State's researchers to come up with "environmentally-conscious" system design, which included elements, such as created wildlife habitats, plant communities that promote pollination and help uphold honey bee population, and sheep grazing (Ludt, 2019). By design, the solar farm allows for co-location of the traditional agriculture benefits (crop and livestock growing) with additional ecosystem services.
The construction of the plant has been completed in 2020, and Penn State announced in October 2020 that the university had begun purchasing solar electricity:
Try This! Explore Resilient Land Mapping Tool
This web tool provides you with several metrics and interface to evaluate the environmental sensitivity of a region or site. If you consider developing a tract of land or re-purpose a natural area or farmland for solar installation, it is important to access the potential impacts on biodiversity, water ways, soil, species migration routes, and other factors. For example, it may help you to choose an area with the highest resilience or avoid areas that are prioritized for conservation.
First, it is helpful to understand the core concepts of terrestrial resilience. Visit this webpage to study the metrics used in mapping.
Zoom in the location of your interest. There are several options on the right hand menu to display different metrics on the map: Resilient Sites, Connectivity and Climate Flow, Recognized Biodiversity Value, and Resilient and Connected Network. You can try to switch between the options and interpret the markings based on the legend at the bottom of the menu.
Then try to "Sketch a Polygon" over a specific site (see button on the upper right). In a minute, the system will generate a profile report for that site, which gives you some quantitative information on ecological sensitivities in this area.
Think how this information can help you make a case for sustainable solar project. Feel free to use this tool for site assessment in your course project.