Exercise 4 Instructions
Work on the questions using MS Word, Excel, or PowerPoint and save your work as a PDF to submit to the assignment which accepts only PDF documents. Submit both parts of this exercise as one PDF document.
Part 1:
Using the problem definition given in Figure 5.3 below, calculate the n-C4 flow rate in the distillate product, if the debutanizer column has 18 (actual) plates.
Constraint:
The concentration of i- C5 should be <1 mole% of total C4's and lighter compounds in the distillate product.
Given:
Column efficiency =75%, Reflux correction factor =1.5
Mean tower conditions : 210°F and 110 psig
Select appropriate light and heavy keys, and use the K values for the corresponding key compounds using the chart given in Figure 5.4 at the mean tower conditions.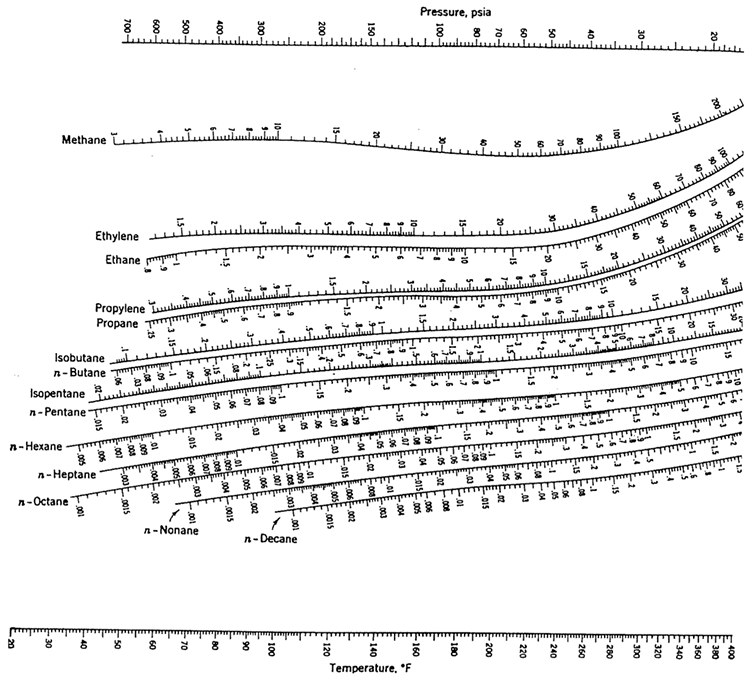 Part 2:
A refinery in Northwest Pennsylvania produces asphalt as an important product that brings revenue, particularly during the summer months. In late fall this refinery switches operations to produce more fuel oil from VDR for the coming winter months, producing still some asphalt, but in lower quantity. Explain which of the following switches will take place in the refinery in about a month, and why? 40 pts
a) Switch the deasphalting solvent from propane to pentane.
b) Switch the deasphalting solvent from pentane to propane.
Would the summer, or winter asphalt product be "heavier"? Explain why.
Instructions for Submitting Your Answers
Submit your answers as a PDF in the Exercise 4 assignment inside the Lesson 5 Module, showing all the steps in your calculations, indicate the K values you read from the nomograms, and state your assumptions, if any.
Important Note: You may submit scanned images or clear handwritten pages as a PDF that is less than 2 MB in size for this exercise. The scanned pages should relate to using the graphs for solving the problem. The rest should be type-written for ease of reading when grading.
Once you have a solution to the exercises you will submit your answers as a PDF by uploading your file to be graded.
Please follow the instructions below.
Find the Exercise 4 assignment in the Lesson 5 Module by either clicking Next until you find it or by clicking Assignments and scrolling down until you find it.
Make sure that your name is in the document title before uploading it to the correct assignment (i.e. Lesson5_Exercise4_Tom Smith).