Print
Required Films:
Glaser, J. and Lopez, D. (Directors & Producers). (2014). Banana Land: blood, bullets and poison. United States: Lazarus Films.
The following synopsis is taken from the documentary's website:
"For consumers, bananas are a delicious and nutritious start to to the day, a healthy snack and a fixture in our fruit bowls. For millions of residents in the banana lands, the production of bananas means social upheaval, violence and pesticide poisoning. Banana Land explores the origins of these disparate realities, and opens the conversation on how workers, producers and consumers can address this disconnect." -- bananalandmovie.org (2016)
When watching the film, consider the same question that was posed from last week's film: If you knew how your food was produced and where it was coming from, would that change how you viewed the final product? Is it the responsibility of the producer or consumer to be aware of how the product is handled at all stages?
TRIGGER WARNING: This film contains images of mass murder and discussion of rape.
TRIGGER WARNING: This film contains images of mass murder and discussion of rape.
If you are unable to play the video in the window above, the documentary may also available for free on YouTube.
Wolfe, A. (Director) (2007). King Corn. You are what you eat. United Stats, Mosaic Films.
This film examines how Farm Bill subsidies to corn drive our fast-food nation. Ian Cheney and Curt Ellis follow corn through the food system and discover it is in almost every food we eat. As you watch, think about the state of agriculture in the USA today and what it means for our food system. When watching the film, consider the following: What role does the family farm play in America's perception of itself? What does it mean for the U.S. that the family farm is giving way to industrial or factory farming? What could reverse that trend?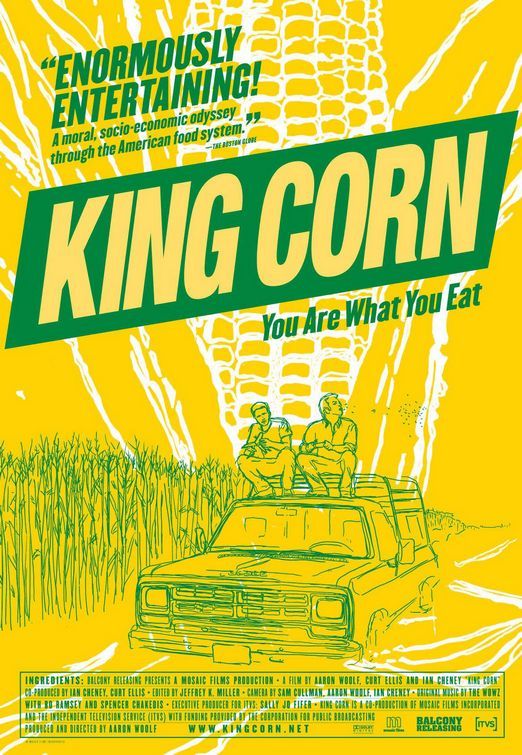 Credit: Mosaic Films
The film is available for Penn State students to stream through the Penn State Libraries. Use the following link to access the PSU library server where you will find a link to stream the Online Content: King Corn. The film can also be viewed for free online here on Tubitv.
More information on the documentary and how to support the campaign can be found on the King Corn website.