Print
Summer 2020 - Vivian Rodriguez Rocha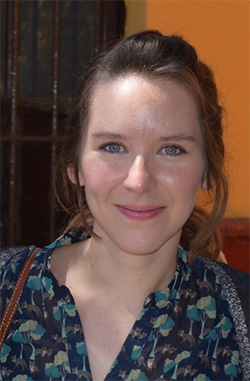 Hello and welcome! I'm Vivian Rodríguez-Rocha, your instructor this semester. Here's a little bit about me:
I am originally from Mexico City, where I earned a bachelor's degree in Latin American Studies at the National Autonomous University of Mexico (UNAM). I also hold a master's degree in Women's and Gender Studies from the University of Texas at Austin. Currently I am a Ph.D Candidate in the Department of Geography at Penn State.
Before coming to Penn State, I worked for several years with different NGOs in Mexico focused on the advancement of human rights across the country, including issues of displacement and land tenure for indigenous women. Some of my recent work focuses on the geohistorical transformations of the Mexicali Valley in Baja California, Mexico, from a desert to agricultural lands in the early 1900s, then a 'vice' town on the Mexico-U.S. border during the prohibition era, and, more recently, an industrial hub in the burgeoning city of Mexicali. My research traces how these processes relate to the production of cultural, economic, and political elites in the city, while simultaneously shaping differential access to land, services, and rights for the local population.