Print
Spring 2023
Dan Kasper
Hi, everyone! My name is Dan Kasper, and I will be your main instructor for this course. I am very much looking forward to working with all of you this semester! 
A Little About Me
I grew up in a very small town in Central Pennsylvania (Milesburg) about 10 miles from State College – believe it or not, the townsfolk are still waiting for their first stop light. I enrolled at Penn State with the intention of becoming an engineer, but after trying out a few majors ended up deciding on Earth Science because it interested me the most. After earning my BS at University Park, I spun my wheels for a few years bartending at the now closed Gingerbread Man and working at the Center for Environmental Informatics at Penn State. I focused mostly on basic Geographic Information Systems (GIS) work at the latter job. I continued to use GIS throughout my academic career. After a few years, my wife and I moved to Denver, Colorado, where I earned my MA in Geography from the University of Denver. We think very fondly of our time in Denver because we absolutely love the scenery, the people, and the active lifestyle there. (And we really miss the music scene as well.) I also spent some time in a Ph.D. program at the University of Delaware's Center for Energy and Environmental Policy (CEEP). In my time at CEEP, I engaged in a number of research projects, including analyzing a sustainable energy future for South Korea, a policy report on promoting personal food production in Delaware, and designing an energy education workshop series focusing on helping low and fixed income individuals take control of their energy use, among other topics. I now lilve in Wilmington, DE, very close to the Pennsylvania border with my wife and two daughters, now 13 and 9.
I worked as a curriculum designer and project manager for a weatherization training center in Philadelphia focusing on low-income clients and continue to consult in the energy efficiency and energy management fields. I serve onnon-profit board that address various low-income issues. I mostly focus on low-income energy services for them. I currently teach full time in the Energy Technologies Department at Delaware Technical Community College in Newark, Delaware. We offer degrees in Energy Management and Renewable Energy Solar, and I teach courses for both degrees. While at Delaware Tech, I have taught courses in Sustainability, Residential and Commercial Energy Efficiency, Human Geography, Renewable Energy, Solar Design, Energy Accounting, Energy Investment Analysis, and a few others. I currently lead a team of students in performing ASHRAE Level II energy audits in the state of Delaware.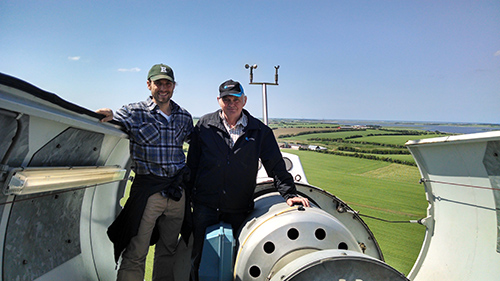 Credit: D. Kasper
I love to travel and I have been to Europe a number of times, and have traveled to various parts of the U.S. as well. I am the International Education Coordinator for my campus at Delaware Tech. I took students to Denmark a fews years back for a renewable energy course (here is my blog from the trip, if you are so inclined) and took students to Switzerland in 2015 (see my blog about that experience if you're interested), 2016, 2017, and 2019. I took students to Italy for a Sustainability class in 2018, and had planned on returning in the spring of 2020, but then Covid hit. I will return to Italy in May of 2023. We will see what 2024 brings. I have taken a few Penn State students with me on these experiences, as the associated course transfers to Penn State and may satisfy your foreign studies requirement (it definitely does for ESP majors!). As you read this, there should still be a few spots open to this year's Italy course. If you are interested, let me know and I'll see what I can do. Here is a basic itinerary, and here are photos from last time.
In the summer of 2019, I took Penn State students to Colorado for a CAUSE experience where we learned first-hand from a number of people that are applying sustainability concepts in interesting and impactful ways - including a little bit of policy. We were awarded funding to run it again this past summer. The scenery was incredible, and the people we visited were inspiring. Here is the itinerary, 
Credit: D. Kasper
My academic, professional, and personal focus has for a long time been on figuring out ways to live more sustainably and helping others to do the same while doing what I can to advocate for and establish socially just and ecologically responsible ways of living. I have helped establish multiple community gardens, and am a firm believer in harvesting the grassroots power of communities (sorry for the double pun). Over the years, I have realized that getting something done is mostly a two-step process: 1) Find like-minded people who also want to get it done. 2) Do it! There are, of course, a lot of devils in the details, and you don't always end up getting what you desired, but the journey is always worth it! I have served on a number of college and civic committees, all of which focused on various aspects of sustainability.
I have worked since I was very young and worked throughout college. I know that many of you are working and have families, and believe me, I can relate. I had my first daughter early in my Ph.D. program. You wouldn't believe how many papers I've written with an infant on my lap! Please know that I commend you for your decision to continue your education with so many other things begging for your time. I hope I can be helpful to you on this leg of your academic journey.
One of my favorite quotes is: "Climb to the top of the mountain so you can see the world, not so it can see you" (unknown author). I hope that this course, and I, can help you take some steps closer to whichever mountain top you are trying to reach.
Fall 2022
Brandi Robinson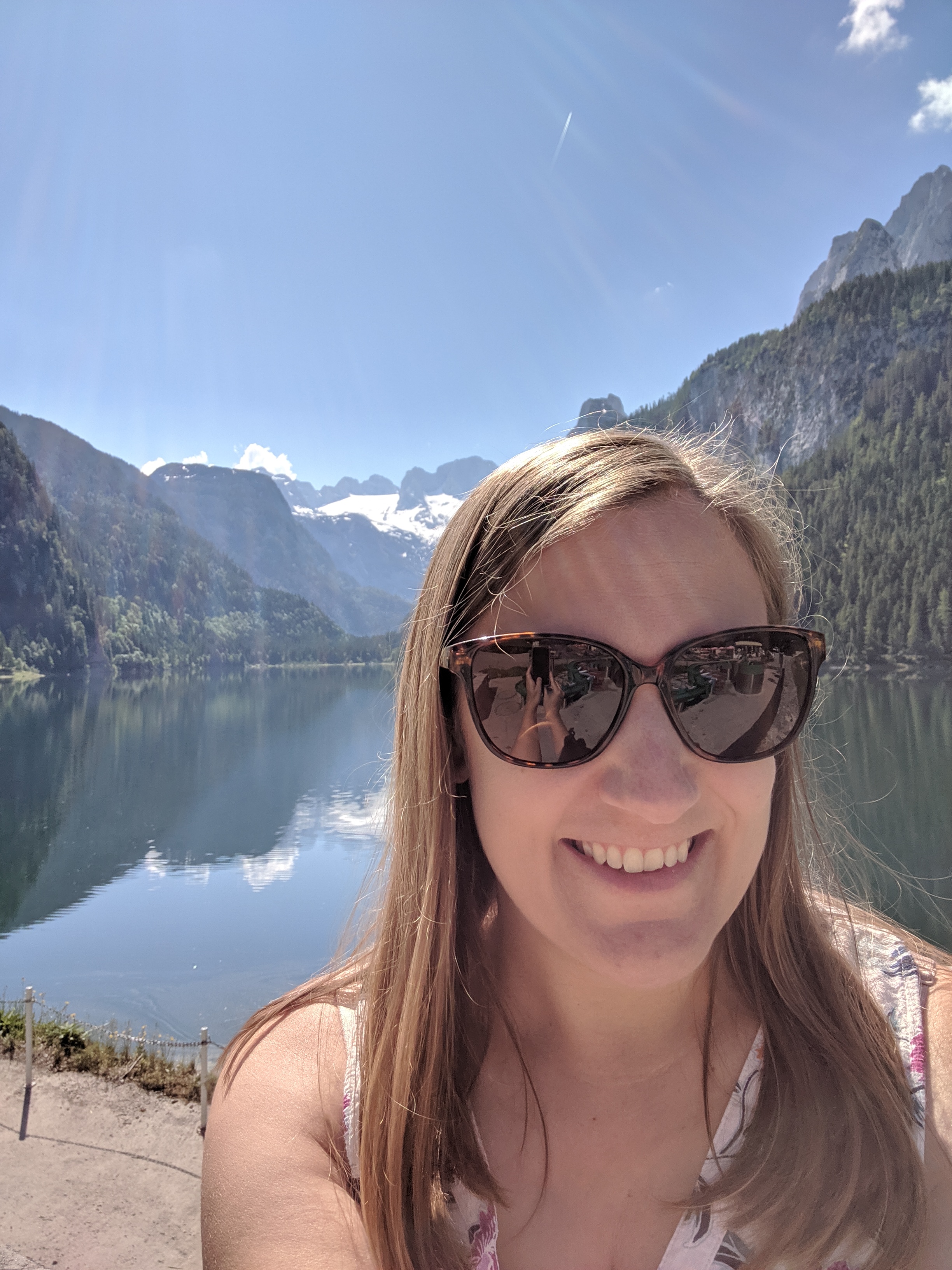 Credit: B. Robinson (good ol' selfie! 2019) Gosausee near Salzburg, Austria
Author & Instructor Brandi Robinson
Assistant Teaching Professor
Department of Energy and Mineral Engineering
College of Earth and Mineral Sciences
The Pennsylvania State University
To reach me: Please use the course Email system (Inbox) in Canvas
What I'm working on now...
Hi there! My name is Brandi Robinson, and I am the instructor for this course. I am an Assistant Teaching Professor in the Energy and Sustainability Policy program.  I've been teaching in ESP since 2010.  In addition to teaching and advising ESP students, I teach one graduate course, EME 803 Applied Energy Policy and I've even been dabbling recently with teaching a residential section of GEOG 30N on campus.  In addition to my teaching responsibilities, I'm on the Faculty Senate and the College's Academic Integrity Committee.  I'm also the Green Team leader for our Institute for e-Education.  I'm currently the chair of my township's Climate Action Committee, and we're working hard to figure out how to be carbon neutral by 2050 to comply with this resolution.  Our inventory is done, now we need to pull that curve down!  
A bit about my professional background...
Prior to coming to Penn State, I worked for Environment Credit Corp. (ECC) here in State College, PA. ECC is a greenhouse gas offset project development company focusing on agricultural methane and landfill methane projects. ECC works mostly with farms, landfills, and composting facilities to capture and destroy methane emissions and monetize these reductions in the form of carbon credits. In addition to managing many of our agricultural offset projects, it was also my responsibility to understand how policy developments at the state, regional, and national scale affect our projects and, ultimately, the environment. ECC works to educate lawmakers on the environmental and economic benefits of implementing offset projects.
I'm homegrown - born and raised just up the road from University Park in Williamsport, PA. The only thing you may know Williamsport for is the Little League World Series. I completed my undergraduate degree in 2003, with a dual BA in Environmental Studies and Geography from the University of Pittsburgh at Johnstown. I then began the graduate program in Geography here at Penn State that fall and graduated in 2005. My primary research interests included local scale mitigation of greenhouse gas emissions and invoking behavioral changes for energy and resource conservation. My thesis work focused on reducing the greenhouse gas emissions of the University Park campus of PSU.
After graduating with my Masters, I worked briefly on a climate change grant at Penn State and then accepted a position with the University's Office of Physical Plant. There, I developed and maintained the greenhouse gas emission inventories for all of the Commonwealth campuses and worked with energy engineers to develop emission reduction strategies.
I'm really interested in the local scale response to this global problem of climate change.  Some of you may have taken my GEOG 432 Energy Policy class, and so you know that enacting legislation is no small feat.  But it gets easier at the smaller scales - so I'm trying to make a dent there where I can.
Out of the office Brandi...
So, what do I do when I'm not working? Like you, I have a very busy life outside of work and have to find time to juggle it all in a way that makes sense. Some days I feel like that works better than others. My husband, Anthony and I met when we came to Penn State to begin the Master's in Geography.  Map love! We have a second grader who is an insatiable book worm and meticulous with her (entirely too large) Playmobil collection.  In 2017, my family had the chance to live in Salzburg, Austria for half of the year while Anthony was on a Fulbright.  That means I now have a kid who is fluent in German and loves schnitzel.  My picture here is from our most recent trip back to Salzburg in the summer of 2019.  This is the Gosausee which is a lake probably about an hour's drive from Salzburg.  The scenery in the Salzkammergut region is just breathtaking.
In my free time, I like to bake, play Playmobil with my kiddo, and scour local thrift shops for old Pyrex and Glasbake dishes.  I also really enjoy consignment shopping for clothes and books, too.  Recycle!  Save money!  Everyone wins.
---