Print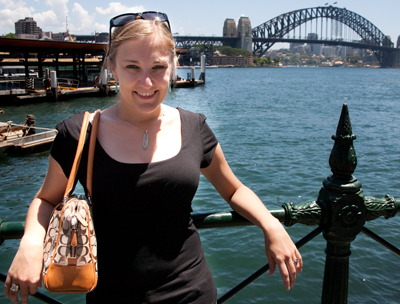 My professional path (back) to Penn State
Hi there! My name is Brandi Robinson, and in addition to being your instructor for this course, I also authored it. I am a Lecturer in the John A. Dutton e-Education Institute in the College of Earth and Mineral Sciences and am very excited to be part of both the Penn State Bachelor of Arts in Energy and Sustainability Policy Program as well as the Renewable Energy and Sustainability Systems iMPS, of which this course is part. Before coming to Penn State, I worked for Environment Credit Corp. (now ClimeCo) here in State College, PA. ECC is a greenhouse gas offset project development company focusing on agricultural methane and landfill methane projects. ECC works mostly with farms, landfills, and composting facilities to capture and destroy methane emissions and monetize these reductions in the form of carbon credits. We utilized the Chicago Climate Exchange, Climate Action Reserve, and the Kyoto Clean Development Mechanism. In addition to managing many of our agricultural offset projects, it was also my responsibility to understand how policy developments at the state, regional, and national scale affect our projects and, ultimately, the environment. ECC works to educate lawmakers on the environmental and economic benefits of implementing offset projects.
I'm homegrown - born and raised just up the road from University Park in South Williamsport, PA. The only thing you may know Williamsport for is the Little League World Series, or perhaps more recently its role as a hub for Marcellus Shale gas extraction in the northeastern part of the state. I completed my undergraduate degree in 2003, with a dual BA in Environmental Studies and Geography from the University of Pittsburgh at Johnstown. I then began the graduate program in Geography here at Penn State in the fall of 2005. My primary research interests included local scale mitigation of greenhouse gas emissions and invoking behavioral changes for energy and resource conservation. My thesis work focused on reducing the greenhouse gas emissions of the University Park campus of PSU.
After graduating with my Masters, I worked briefly on a climate change grant at Penn State and then accepted a position with the University's Office of Physical Plant. There, I developed and maintained the greenhouse gas emission inventories for all of the Commonwealth campuses and worked with energy engineers to develop emission reduction strategies.
In addition to my current work at Penn State, I also serve as an independent consultant for greenhouse gas inventorying, mitigation planning, and online educational resource development.
You can learn more about my professional life by visiting my website.
Life outside of work
So, what do I do when I'm not working? Like you, I have a very busy life outside of work and have to find time to juggle it all in a way that makes sense. I live here in State College with my husband, Anthony, our kindergartner, and dog. Anthony and I met when we started the Master's program in Geography here in 2003. He is now the Lead Faculty for Online Geospatial education at Penn State. We love to travel, especially to tropical locales like Hawaii and Belize, as we're avid snorkelers. I also really enjoy baking and decorating cupcakes. Obviously, life with a kiddo means I get in way more cupcake baking than snorkeling these days, and that's fine by me.