Print
Assignment 1 (Due End of Week 2)
As technology has evolved, Internet users (and smart phone users) have often achieved increased freedom and privacy. However, governments can use some of the same tools to achieve their own ends, sometimes for simple communication and sometimes for better surveillance. For repressive states such as Iran and Saudi Arabia — which, despite their fierce rivalry, share the same struggle in managing political opposition at home — these technologies present both an opportunity and a challenge to leaders striving to stay in control.
While the sectarian differences between Saudi Arabia and Iran mark a very real ideological divide between the Middle Eastern powers, they are very similar in that their governments' legitimacy rests in Islamic law. Accordingly, both states have a vital interest in defending their view of socially conservative values. One way they do so is by monitoring and filtering their populations' Internet and phone activities. In 2014, the Saudi government approved 94 percent of the 466,863 user-submitted requests to block online content, finding the bulk of the websites in question "pornographic."
Of course, impropriety is not the only thing the two countries hope to quash. Political expression and dissent are not permitted on Saudi Arabia's streets, which means careful online expression can be a critical outlet for Saudi citizens — so long as it remains within culturally understood bounds forbidding obscenity, critiques of the royal family, and references to terrorism. In Iran, where demonstrations have not been seen since street protests overwhelmed the government in 2009, the situation is fairly much the same. Political expression only occurs behind closed doors or online, and even then it is restricted by tight self-censorship norms
Many NGOs track aspects associated with censorship worldwide - for example:
Perform an analysis on the datasets provided in the Lesson 1 Module in Canvas, (the Index on Censorship, Reporters Without Borders, and the Corruption Index). Please answer the following questions:
Can you observe any geographic trends or correlations in the various rankings?
How well correlated are the data sets? Is this what you expected to see prior to your analysis? (Use the Excel data analysis correlation option to answer this question.)

NOTE - If you have not added the Data Analysis feature to your copy of Excel, right click on the toolbar, "Customize the Quick Access Toolbar," select Add-Ins from the column on the left, and select "Analysis ToolPak." This will install statistical functions that can be used to analyze the data.

There is another dataset from Quality of Governance in Sweden. Would you expect significant differences between what you observed in the other data sets?
Reporters Without Borders (RWB) was founded in Montpellier, France in 1985 by four journalists: Robert Ménard, Rémy Loury, Jacques Molénat and Émilien Jubineau. This association, registered as a non-profit organization in France since 1995, soon took on an international dimension. Under the direction of Christophe Deloire, Reporters Without Borders organized its team of researchers by geographical area. The organization also gradually developed two essential and highly specialized spheres of activity: one focused on Internet Censorship and the New Media, and the other devoted to providing material, financial, and psychological assistance to journalists assigned to dangerous areas. Reporters Without Borders is registered in France as a non-profit organization and has consultant status at the United Nations and UNESCO.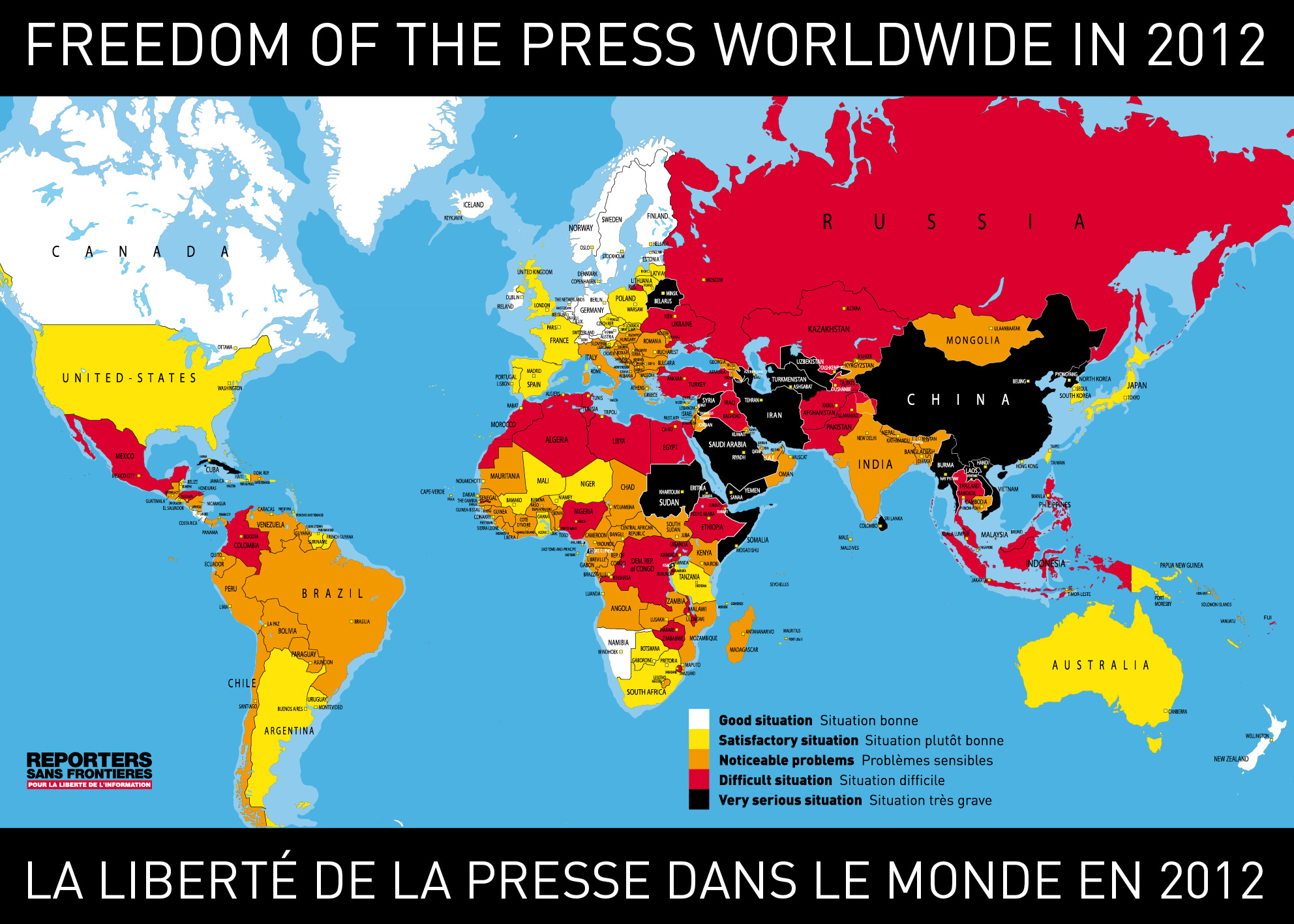 Transparency International. Transparency International (TI) was founded in 1995 and publishes the Corruption Perceptions Index (CPI) annually ranking countries by their perceived levels of corruption, as determined by expert assessments and opinion surveys. The CPI generally defines corruption as "the misuse of public power for private benefit." As of 2012, the CPI ranks 176 countries "on a scale from 100 (very clean) to 0 (highly corrupt)."[3] In prior years, the scale ran from 10 to 0. (Wikipedia: Corruption Perceptions Index)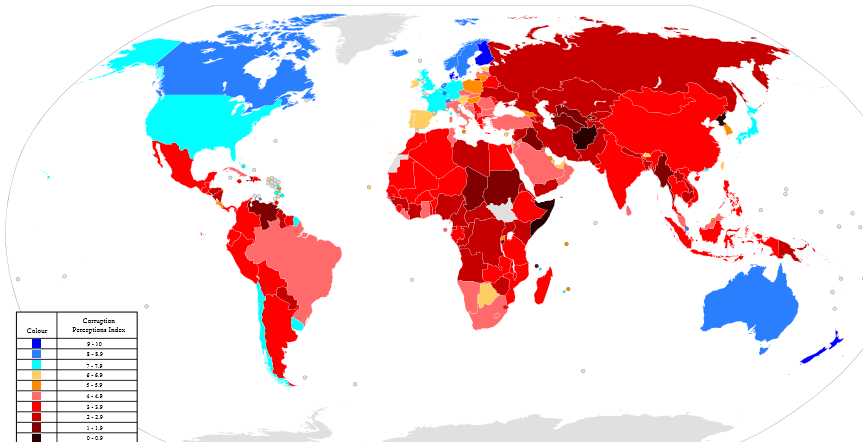 Index on Censorship - IC is an international organization that promotes and defends the right to freedom of expression. The inspiration of poet Stephen Spender, Index was founded in 1972 to publish the untold stories of dissidents behind the Iron Curtain. Today, we fight for free speech around the world, challenging censorship whenever and wherever it occurs. Index uses a unique combination of journalism, campaigning, and advocacy to defend freedom of expression for those facing censorship and repression, including journalists, writers, social media users, bloggers, artists, politicians, scientists, academics, activists, and citizens. Index believes that free expression is the foundation of a free society and endorses Article 19 of the Universal Declaration of Human Rights, which states: "Everyone has the right to freedom of opinion and expression."
Quality of Government Institute (QOG) - The QoG Institute was founded in 2004 by Professor Bo Rothstein and Professor Sören Holmberg. It is an independent research institute within the Department of Political Science at the University of Gothenburg. It is comprised of 30 researchers who conduct and promote research on the causes, consequences, and nature of Good Governance and the Quality of Government (QoG) - that is, trustworthy, reliable, impartial, uncorrupted, and competent government institutions. While QoG is the common intellectual focal point, they also apply a variety of theoretical and methodological perspectives. The main objective of their research is to address the theoretical and empirical problem of how political institutions of high quality can be created and maintained. A second objective is to study the effects of QoG on a number of policy areas, such as health, the environment, social policy, and poverty. Their approach to these problems is from a variety of different theoretical and methodological angles.
The GDELT Project. GDELT monitors print, broadcast, and web news media in over 100 languages from across every country in the world to keep continually updated on breaking developments anywhere on the planet. Its historical archives stretch back to January 1, 1979 and update daily (soon to be every 15 minutes). Through its ability to leverage the world's collective news media, GDELT moves beyond the focus of the Western media towards a far more global perspective on what's happening and how the world is feeling about it.
Freedom House - Freedom House is an independent watchdog organization dedicated to the expansion of freedom and democracy around the world. They analyze the challenges to freedom, advocate for greater political rights and civil liberties, and support frontline activists to defend human rights and promote democratic change. Founded in 1941, Freedom House was the first American organization to champion the advancement of freedom globally. They recognize that freedom is possible only in democratic political environments where governments are accountable to their own people; the rule of law prevails; and freedoms of expression, association, and belief, as well as respect for the rights of minorities and women, are guaranteed. More than 2.5 billion people live in countries that Freedom House designates "Not Free," more than a third of the globe's population.