Print
Growth of the Information Communication Technology Infrastructure
Prior to 2005, there was not a great amount of intercontinental information connectivity. Increases in ICT infrastructure have gone unnoticed or been taken for granted in many parts of the world. External as well as internal infrastructure has been added and integrated to work together. GPS technology is available 24/7 to almost anyone, anywhere, providing location information to the user, as well as recording that location information within the infrastructure.
There is no denying the impact of the Global Positioning System (GPS) on our daily lives. Far beyond the compact digital maps many drivers have come to rely on in place of paper road maps, GPS is now a ubiquitous technology integrated into transportation, finance, communications, air traffic control, and emergency response networks, among others. GPS has become an essential utility similar to water, gas, and electrical service. Many enterprises today, both public and private, depend heavily on GPS to synchronize computer networks world-wide. The widespread acceptance of GPS technology in so many non-military areas is a significant accomplishment for a technology originally intended for use only as a weapon system. Like much of the technology developed and used by the US military, it ended up as "dual use," having both military and civilian applications.
GPS ground control stations are often located at remote installations. The GPS control segment consists of a global network of ground facilities that track the GPS satellites, monitor their transmissions, perform analyses, and send commands and data to the constellation. The current operational control segment includes a master control station, an alternate master control station, 12 command and control antennas, and 16 monitoring sites. The locations of these facilities are shown in the map below. Each station monitors the exact altitude, position, speed, and overall health of the orbiting satellites. These unmanned ground stations also control GPS satellites and continuously update orbital positions and time data received from them.
Most people are unaware of the huge footprint in so many remote locations that is required by the system – it has become regarded as a utility and, for the most part, taken for granted. The system operates 24-7, and can provide worldwide geo-location data to anyone with a receiver. Most smart phones in service today have a GPS receiver installed. All that is required for a 3-4 meter accuracy is a fix from 4 satellites at a time. In many occasions, we may get many more "visible" and hence a greater degree of accuracy. Current plans for upgrades will increase that accuracy to within a meter by the end of 2014-2015.
Credit: Original Graphic.
Listen to the Experts (Optional Talk)
Todd Humphreys forecasts the near-future of geolocation, when millimeter-accurate GPS "dots" will enable you to find pin-point locations, index-search your physical possessions ... or track people without their knowledge. And the response to the sinister side of this technology may have unintended consequences of its own (15:45).
According to Indo-African Business, April 24, 2013,"Over the last decade, the African region has been the world's fastest growing region in terms of mobile penetration. While fixed line penetration has stagnated at 4% in Africa, mobile has grown at an astonishing rate to 45% with North Africa leading at 73%. However same is not true for broadband, and it lags behind considerably when compared to other continents due to lack of fixed infrastructure coupled with high costs of service provisioning. Currently the average broadband penetration in Africa is only 1.5% with South Africa leading at approximately about 3%."
Further, "Owing to coverage restrictions and lack of bandwidth, large parts of the region still witness connectivity delivered via satellites or mobile technology. Lack of bandwidth availability and limited connectivity with rest of the world has arrested the development of Africa and has constrained the continent from achieving its full potential."
Spatial network mapping can provide a new capability not addressed by current network graphing techniques and software. Spatial network mapping is especially powerful in visualizing longitudinal network trends. Currently, there are over half a billion Africans connected to the global system through cell phones and the Internet. This number will increase with large improvements in intercontinental activity expected in the African region over the coming years. This is due to a myriad of undersea cables that form a thick ring around Africa as shown in Figure 22. Africa's leading telecommunications service providers, the World Bank, and government organizations have invested to bring much-needed broadband capacity to the continent. Once all the cables are in place, Africa's total bandwidth will increase from 6 terabytes/second (tbps) to as much as 34 tbps. This connectivity has vastly improved user access to information within the limits of the sitting political regime.
When Internet connectivity was mostly carried on satellites, costs were high. As cables come online, costs are going to come down which will lead to increases in information flow within the region and to distant points. What formerly could be characterized as "Terra Incognita" is changing. Sub-Saharan Africa has benefited most from the undersea cable projects since its major cities are now connected to the rest of the world.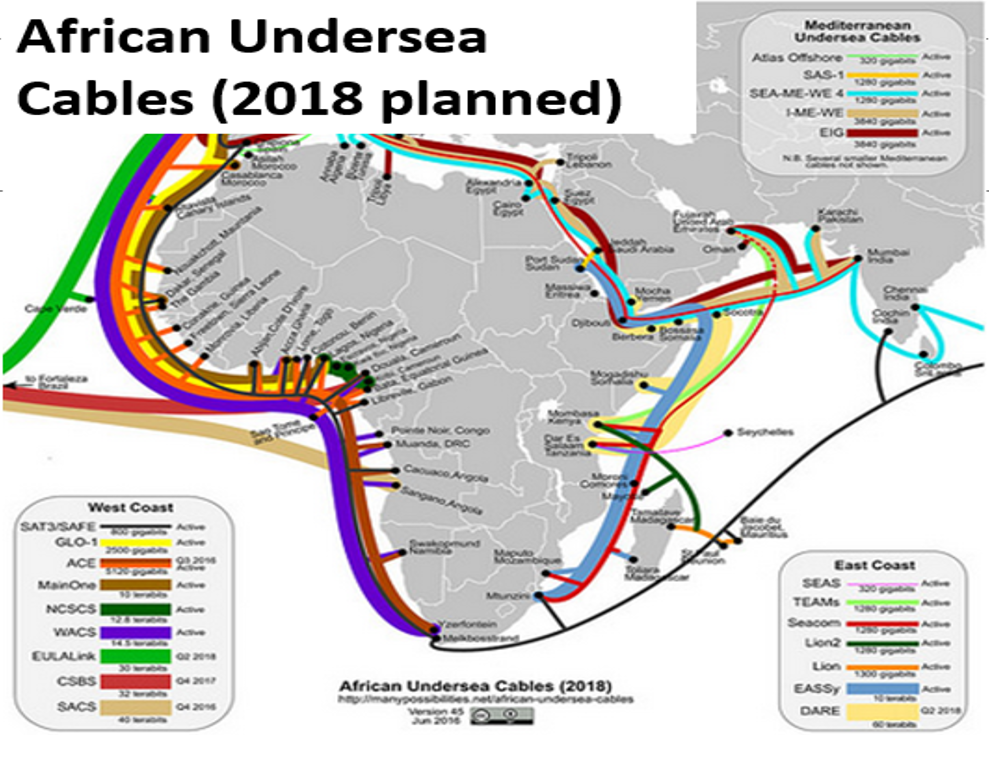 Figure 23, below, shows the continent-wide penetration rate of different ICTs. Notable here is the huge increase in wireless penetration – almost 33% continent wide. This image does not paint a fully accurate picture. While the overall number is correct, the penetration rates in North Africa show a different story when reviewed separately. Too much variation is concealed in the overall continental rate, but becomes apparent when examined more regionally. In the Mahgreb, the rates were almost twice as much as the continental average and increased steadily to over 100% in some places, meaning that some subscribers actually had more than one phone by 2010.
The International Telecommunication Union (ITU) is the United Nations specialized agency for information and communication technologies – ICTs. The core mission of the Telecommunication Development Sector (ITU-D) is to foster international cooperation and solidarity in the delivery of technical assistance and in the creation, development, and improvement of telecommunication/ICT equipment and networks in developing countries. ITU-D is required to discharge the Union's dual responsibility as a United Nations specialized agency and executing agency for implementing projects under the United Nations development system or other funding arrangements, so as to facilitate and enhance telecommunication/ICT development by offering, organizing, and coordinating technical cooperation and assistance activities. ICT data from around the world can be downloaded in Excel format.
While there are areas of almost full penetration, most of Sub-Saharan Africa lags behind the North in terms of development. It is coming, albeit at a slower rate, due, in part, to the remoteness of many areas. The 2010 rate in the Mahgreb, as shown in Figure 24, might be the threshold rate that facilitates change. When everyone can speak, text, etc., with everyone else, a dictator can no longer control the message.
While the continent-wide rate was almost 33% in 2008, it was approximately double that in the Mahgreb. By 2010, the penetration rate was over 80% regionally. If the penetration rate can be viewed as a predictor of political unrest, then the period of 2012-2014 might prove very interesting in Sub-Saharan Africa as ICT penetration rates continue to increase.
The chart above shows the steady increase in areas of the Arab world and North Africa in particular. Saudi Arabia is contrasted here as a reference for other parts of the Middle East. The steady growth in the penetration rate has created a climate where anyone can speak to anyone else – and, as a result, provides a possibility for change based on mass communications.