Print
Censorship of the Internet from the 1990s to the present
Online information control is a key issue among the United States and other actors. However, some countries, including Russia, China, and Iran, focus on "cyber influence" and the risk that Internet content might contribute to political instability and regime change. The United States focuses on cybersecurity and the risks to the reliability and integrity of our networks and systems. This is a fundamental difference in how we define cyber threats.

Testimony of Director of National Intelligence, James Clapper to the Senate Select Committee on Intelligence, 12Mar2013, page 6
The number of nations that intentionally limit access to online content has increased in the last decade. Some of these nations make arguments that are often powerful and compelling: securing intellectual property rights, protecting national security, preserving cultural norms and religious values, and shielding children from pornography and exploitation. Using these arguments, many nations are implementing extensive filtering practices to curb the perceived "lawlessness" of the Internet.
Internet Censorship and Filtering Techniques
Internet censorship can be enacted using a multitude of different techniques. Internet filtering normally refers to technical approaches of controlling access to information. Filtering based on dynamic content analysis—effectively reading the content of requested websites—is now being deployed.
Three commonly-used techniques that block access to websites are:
Internet Protocol (IP) address blocking
Domain Name System (DNS) tampering
Uniform Resource Locator (URL) blocking using a proxy
These techniques are used to block access to specific webpages, domains, or IP addresses, and are typically used where direct control is beyond the reach of national authorities. Keyword blocking prevents access to websites based on words found in URLs or searches using blacklisted terms. It is a more advanced technique that a growing number of countries are beginning to employ. Blocking access to certain websites can be achieved by Distributed Denial of Service (DDoS) attacks that overload the target computer.
In some instances, companies that provide Internet search services are forced to cooperate with governments to omit "illegal" websites from search results. (When Google entered China, one of the issues posed to them was to employ a self-filtering strategy to control access to "questionable content.") As opposed to blocking access to the targeted sites, this simply makes finding the sites more difficult. When a government has direct access to - legal jurisdiction over - web content hosts, the simpler strategy is to demand the removal of the offending sites. Often, a cease and desist notice sent from one party to another, with the threat of subsequent legal action, is enough to persuade web hosts to take down the targeted sites. Where authorities have control of domain name servers, officials can simply deregister a domain – effectively making the website invisible to users.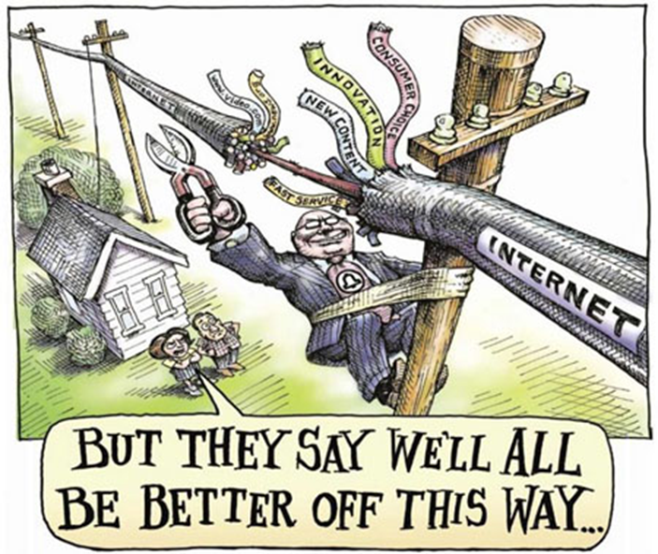 Credit: Network Neutrality Project from CMU.
Another way to limit access is by encouraging self-censorship both in browsing and in choosing content to make available. This may take place through a threat of legal action, the promotion of social norms, or informal methods of intimidation (read excessive red tape to begin operations). Arrest and detention related to Internet offenses, or on unrelated charges, has been used to encourage compliance with Internet content restrictions. Sometimes the content restrictions are neither spoken nor written. The user perception that a government engages in surveillance and monitoring of Internet activity can provide a strong incentive to avoid posting material or visiting sites that might draw the attention of authorities.
While technologies alone can be effective at blocking specific content, current technology is not able to accurately identify and target specific categories of content found on the billions of webpages that exist on the web. Filtering has inherent flaws, notably under-blocking and over-blocking. Under-blocking is the failure to filter targeted content deemed offensive. Over-blocking refers to filtering non-targeted content that shouldn't be filtered. Blacklists are generated through a combination of manually designated websites, and automated searches often contain incorrectly classified websites as a result of over-filtering. Blunt filtering methods, such as IP blocking, can knock out large blocks of acceptable websites because they are hosted on the same IP.
The profusion of Internet content means that those hoping to block access to certain types of content have to rely on software providers with automated content-identification techniques. This essentially puts the access control in the hands of corporations that are not subject to the review by government entities enforcing standards.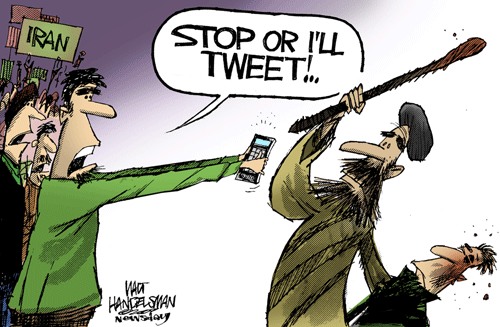 Credit: Walt Handelsman, June 17, 2009.
Listen to the Experts (Optional Talk)
Clay Shirky is an adjunct professor in New York University's graduate Interactive Telecommunications Program, where he teaches a course named "Social Weather." He's also the author of several books, whose content focuses on the rising usefulness of networks - using decentralized technologies such as peer-to-peer sharing, wireless, software for social creation, and open-source development. New technologies enable new kinds of cooperative structures to flourish as a way of getting things done in business, science, the arts, and elsewhere, as an alternative to centralized and institutional structures, which he sees as self-limiting. In his writings and speeches, he has argued that "a group is its own worst enemy." Shirky gave a talk (which saw 1 million views in the first 48 hours) at the TED headquarters in New York in June 2009, where he argued passionately against SOPA/PIPA.
In the winter of 2012, Congress considered two new bills on SOPA and PIPA, again ostensibly designed to stop online piracy. The Protect Intellectual Property Act (PIPA) and the Stop Online Piracy Act (SOPA) would allow the US government to mandate DNS blocking—the technique that Iran had used in the 2009 election, to prevent US citizens from viewing unauthorized copies of copyrighted material on things like social media or search engines. The bill would also have made those sites responsible for removing links to pirated material. The DNS blocking provision was dropped from the bills this last time, but it will resurface as it does every few years. A "net revolt" incited by groups like Reddit, Google, and Wikipedia, threw the censorship card on the table, killing the legislation this time.