Print
Instructors:
Fall 1 2023 (Aug-Oct) - Jeff Kling
Fall 2 2023 (Oct-Dec) - Jim Detwiler
Spring 1 2024 (Jan-Mar) - Panagiotis Giannakis
Spring 2 2024 (Feb-May) - Jan Oliver Wallgrün
---
Jeff Kling
Contact
Email: Please use the course email system (it ensures your emails don't get caught up in any spam filters). I check email regularly and will do my best to respond to questions at least once per weekday and once on weekends unless I notify you otherwise. If Canvas is down, please try jmk649@psu.edu.
Hello everyone! My name is Jeff Kling and I am very excited to be teaching this semester's GEOG 485 Programming and Software Development course! This is my first year instructing, and my 3rd year helping with grading GEOG 485, GEOG 489 Advanced Python Programming for GIS, and GEOG 863 Web Application Development for Geospatial Professionals for the Geospatial Data Science Program.
I got involved in Geospatial Analysis and GIS through the US Navy in 2004 when I enlisted as an Intelligence Specialist, (3910 Imagery Interpreter). After a couple tours and some time spent on a little island in the Caribbean, my last command was in 2012, at Coronado, California. I oversaw the mission support watch floor and was responsible for creating intelligence support packages for deployed forces. During this time, I completed my Bachelor's in Intelligence Studies and completed the GEOINT Certificate Program at Penn State.
In 2018, I was able to return to Penn State and complete my Masters in GIS while working at Laramie County, Wy as the GIS Administrator Programmer. At the County, I focused on developing processes and applications in written Python, C#, Java, SQL, and the web stack (Javascript, CSS, html) to assist County departments in daily operations. Earlier this year I joined a large energy and gas provider as a Senior GIS Software Developer.
I'm based in Cheyenne, Wyoming (Mountain Standard Time), and during my off time from work, I am making sawdust in the wood shop, mountain biking, kayaking, hiking, landscaping, shooting archery, or cheering for my daughter at her gymnastics competitions.
Introductions for Fall 1 2023
Now it's your turn to introduce yourself (you don't have to post pictures!). Please return to Canvas and post a brief introductory message to 'The Lounge' discussion forum describing:
Your name and current occupation
Any experience with Python (remember, none is required for this course)
Any experience with other programming languages (none is required for this course)
Any questions or concerns you have about Python or this course (optional)
---
Jim Detwiler
2217 EES Building
The Pennsylvania State University,
University Park, PA 16802
Phone: (814) 865-2932 (The country code for the United States is 1)
FAX: (814) 863-1564 (The country code for the United States is 1)
AVAILABILITY: Students are welcome to contact me by email anytime; I am usually able to respond within 24 hours. If you are a student registered for the course, please use the Canvas e-mail system for course-related correspondence, as I prefer to keep those messages separated from my other e-mail. I am also happy to speak to students over the phone, though it is best to set up an appointment for a phone call.
Welcome to the course!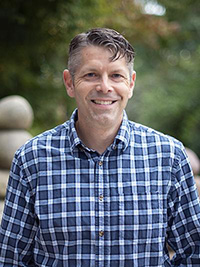 Hi, I'm Jim Detwiler, your instructor for the next ten weeks. I've been an instructor in the Geography Department's online GIS program since 2000. Back then, we had just a one-year, non-credit certificate program with few electives. Today, we offer a Master of GIS degree with numerous electives that enable students to focus on application areas of interest to them. I'm very proud to be associated with this program, both in terms of the faculty involved and the adult professionals who enroll in it.
Since joining the online geospatial program, I have authored and taught GEOG 485: GIS Programming and Customization (a VBA/ArcObjects course that's now retired), GEOG 489: GIS Application Development, GEOG 863: GIS Mashups and GEOG 897D: Spatial Database Management, first offered in 2002, 2005, 2008, and 2012, respectively. I've also taught sections of Programming and Customization and Mashups to undergraduates in residence since fall 2003.
My experience with GIS includes working on population-related research projects at Penn State's Population Research Institute, on E911 and cadastral projects at the Chester County (PA) Bureau of Land Records, and on climate-related projects at the University of Delaware. I think this broad experience helps me to relate to my students who use the technology in a wide array of contexts.
I look forward to getting to know you over the next ten weeks and helping you to learn the course material.
Best of luck in the course!
Meet Jim Detwiler, one of the instructor of this course (1:18 minutes)
Introductions for Fall 2 2023
Now it's your turn to introduce yourself (you don't have to post pictures!). Please return to Canvas and post a brief introductory message to 'The Lounge' discussion forum describing:
Your name and current occupation
Any experience with Python (remember, none is required for this course)
Any experience with other programming languages (none is required for this course)
Any questions or concerns you have about Python or this course (optional)