Print
Spring 2 (Feb - May) 2021 - Greg Thomas
Summer (May - Jul) 2021 - George Van Otten
---
Summer (May - Jul) 2021 - George A. Van Otten, Ph.D.
Contact Information:
George Van Otten
2820 E Mandan Drive
Sierra Vista, Arizona, 85650
Mail:
Please use the course e-mail system (see the Inbox in Canvas) - however, if you are unable to contact me through Canvas, you may contact me directly via the following e-mail address: gav10@psu.edu. If you require immediate assistance, contact me by telephone @ 520.803.9075. If you cannot reach me via these systems, call my cell phone @ 520.236.2654. I normally carry my cell phone, but sometimes forget it. Therefore, if you are attempting to call me via telephone, it would be a good idea to leave a message @ the 520.803.9075 number.
Availability:
E-mail is the best method to contact me. I am usually able to respond within 24 hours. In urgent situations, feel free to contact me via the telephone or cell phone numbers listed above.
Short Biography:
Welcome to Geography 571 Culture and Civil Security. I look forward to exploring the relationships between culture and civil security with you. Until 2009, I worked for the U.S. Army Intelligence Center at Fort Huachuca, Arizona, and prior to that, taught geography at Northern Arizona University. I was also a member of the U.S. Air Force (five years active duty) and served as a C-130 pilot . After completing a Ph.D. at Oregon State University, I joined the geography faculty at Northern Arizona University and eventually switched from the Air Force to Army Reserves, initially as an ordnance officer. Later, I transferred from ordnance to intelligence and served in that role until I retired from the military. During the several decades I spent at Northern Arizona University, I worked closely with the Indian Nations of Arizona on rural development, educational programs, and land-use planning. I am a member of the Association of American Geographers, and also hold the rank of professor emeritus at Northern Arizona University. When I retired from Civil Service, I continued working on course development as a contractor. I am now fully retired (except for part-time teaching).
My wife (Ruth) and I have five children and eleven grandchildren. Our home is situated on a few acres at the base of the Huachuca Mountains in rural Cochise County, Arizona. I enjoy working on antique cars, hiking, fishing, and gardening. Since retirement however, most of my time has been dedicated to my wife, our children, and our grandchildren.
About the Course:
When I first developed this course about a decade ago, the American people appeared to be a bit less politically and culturally divided although there was a lot of disagreement relative to the invasion of Iraq as well as the best ways to deal with international terrorism, and illegal immigration. Despite disagreements on these topics and others, the growing partisan differences that now seem to increasingly make rational and civil discourse difficult, were only begining to show up in course discussions. For the most part, participants carefully read the materials and attempted to take well-informed, rational, supportable positions. Moreover, they seemed to understand that I developed course materials, not to present or favor particular partisan positions or points of view, but instead to provide an overview of the potential impacts of emmerging spatial patterns and activities, and to encourage students to use some the discipline's major concepts and tools to analysize and predict probable future spatial outcomes and realities.
Over the last eight years (give or take a year or so), I have found that the partisan divide is not only real, but now makes unbiased academic inquiry an increasingly challenging endeavor. Whereas participants have generally not become openly hostile to those with whom they disagree, I sense a growing tendency on the part of participants to submit responses and analyses that are more a product of emotion and personal feelings than fact-based scientific inquiry. For example, an evaluation of climate change and its potential impacts should rest on factual data and the defensible research conclusions presented by fully qualified scientists (meteorologists and climatologists) rather than unsubstantiated conspriacy theories. In short, what you believe about a given issue is less important than your ability to make fact-based, unbiased analyses in support of your position. It is not enough to simply suggest that climate-change is real because reasonable people believe it to be so; or conversely, that it is not real because it is simply a product of a conspiracy developed by left-wing intellectuals to scare the American people. In order to meet course expectations, you must make a cogent, fact-based case for your position. I assure you that it is not my intent to use this course to advance my own political points-of-view. Unfortunately, American politicians in general do not always trthfully represent issues and actions. Thus, honest, unbiased inquiry may sometimes lead to conclusions that support the positions of one group or individual over those of another. If we insist on arriving at conclusions through use of the scientific method, it goes without saying that some people will not like the results.
Please remember that this is a graduate-level course. Therefore, I expect your written submissions to be structurally and grammatically correct. You should carefully edit your work before you hit the send button. Whereas everyone (especially me) misses a typo, or accidently uses a word that does not actually express the intended message, no graduate paper should be filled with incomplete or grammatically incorrect sentences.
I am now going through the course in an attempt to make it as current as possible. I encourage you to approach course materials, your fellow students, and me with an open mind. If we all do that, we can learn from each other, and expand our understanding of the spatial realities that characterize the world in which we live.
I am enthusiastic about teaching this course and hope to establish a productive working relationship with you.
Best Wishes,
George Van Otten
---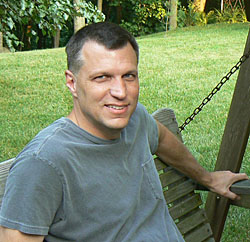 Spring 2 (Feb- May) 2021 - Greg Thomas
Phone: (814) 867-1471
Email: please use the course e-mail system in Canvas or gat5@psu.edu
FAX: (814) 863-1564 (The country code for the United States is 1)
Availability: My office hours (in person or phone calls) are Monday through Friday, 10:00 a.m. to 5:00 p.m., Eastern Standard Time.


Greg Thomas was in the law enforcement intelligence analysis field for the 26 years before coming to Penn State. Greg received his Bachelor of Science degree in Criminal Justice with a minor in Sociology from Shippensburg University of Pennsylvania, a Master of Public Administration from the Pennsylvania State University, and a PhD in Administration and Leadership Studies PhD from Indiana University of Pennsylvania. His dissertation work focused on the role of state and local law enforcement in homeland security.
Greg is a lifetime Certified Criminal Analyst through the International Association of Law Enforcement Intelligence Analysts. He has published articles relating to organized crime, criminal intelligence analysis, and terrorism. In addition to teaching at Penn State, Greg has provided instruction for law enforcement intelligence analysts and was an adjunct instructor at Central Pennsylvania College, teaching criminal intelligence analysis courses.
Greg's framework for teaching this course is from an analytical perspective. He intends to show how geospatial intelligence can be used as a technique for analyzing data.
For additional information about me, click here.
---