Technology Trends: Open Core
This week we're going to talk about the Open Core business model and recent developments related to this model in the geospatial industry. The Open Core model is a pretty simple one, where a company makes a somewhat limited version of its tools available as open source, and provides extensions and services on top of that open source core as paid/proprietary offerings. In theory, an advantage of this approach is that a new company can spin up, circulate its products widely (since they're free and open source), and draw enough attention in that way to begin selling premium extensions and services that go beyond the open core.
There are multiple prominent examples of geospatial companies that could be classified as running on an open core model. CARTO and Mapbox can be characterized as operating with an Open Core model, for example. The now-defunct Boundless geospatial software company belongs in that category as well - having built their business around the notion of integrating and supporting a large number of open source geospatial platforms into one full-stack that could conceivably serve as an alternative to the Esri enterprise system. Their sales activity centered on the consulting and integration services that existed over and above their code base.
Things can get even more interesting as Open Core companies partner with each other, finding mutual benefit in some instances where their open elements may complement one another without necessarily hurting their main lines of business. Below you'll find a screenshot from QGIS for Boundless Desktop, which is demonstrating how it can embed Mapbox basemaps. This example was highlighted in media in 2017 as part of a partnership announced by both companies.
If you're just seeing Boundless Desktop for the first time, you may be wondering how it's differentiated from QGIS itself. You can read in the legacy documentation how Boundless describes this relationship, and I would note that this was definitely controversial in FOSS4G circles. Remember what we learned about licensing? In some situations, a very liberal open source license can lead to a company then attaching its own branding to something developed by a larger community that came before it.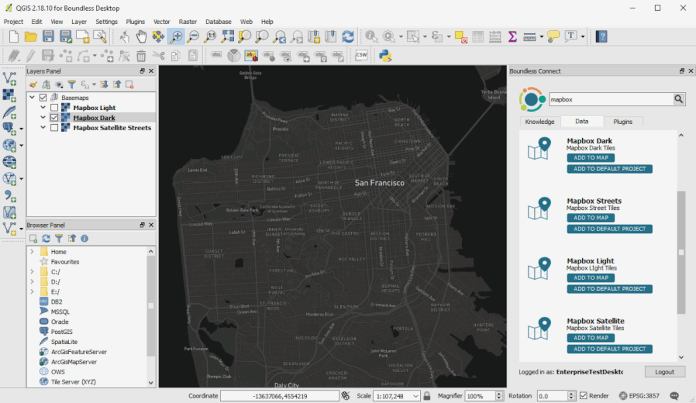 To break this down a bit further, let's take a look at how GitLab conceives of their open source business, which uses a model they describe as Buyer-based Open Core:
Video: Commercial Open Source Business Models: Sid Sijbrandij (19:08)
Death of the Open Core in the Geospatial Industry?
Late 2020 brought news of a major shift in the FOSS4G landscape, as Mapbox announced it was releasing its next version of Mapbox GL JS under a proprietary license. Mapbox has been very successful at encouraging the adoption of its mapping framework in recent years, and a large number of open source projects have spun up that take advantage of this platform. This is in no small part due to the fact that their platform was open source and the company welcomed folks to extend/adapt it to different use cases. Ending support for their open-source offering and choosing to release future versions in proprietary terms has now put a lot of those projects in the lurch. That's a risk, however, of hinging your own project on the openness of others (which may not be permanent).
I've enjoyed reading commentary on this development by Joe Morrison and Paul Ramsey. Joe's article describes this move by Mapbox as signaling the Death of an Open Source Business Model, while Paul's retort provides a sharp counterpoint and suggests that Mapbox was never really an Open Core business to begin with.