Welcome to GEOG 583 - Geospatial System Analysis and Design
Welcome to GEOG 583 - Geospatial System Analysis and Design
Geography 583 is a required course in the Penn State Master of Geographic Information Systems degree and the Master of Science in Spatial Data Science degree. This course surveys a range of contemporary systems analysis and design methods through case studies, collaborative work, and critical reading/writing. Key topics in the course outline the broad range of current GIS systems, how they are designed and evaluated, and how emerging technologies may impact their design and implementation in the near future.
Want to join us? Students who register for this Penn State course gain access to assignments and instructor feedback and earn academic credit. For more information, visit Penn State's Online Geospatial Education Program website [1].
Professor Introductions
---
---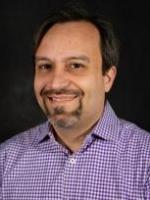 Dr. Anthony C. Robinson [5] is an Associate Professor of Geography and Director of Online Geospatial Education Programs at Penn State. He is also an Assistant Director for the GeoVISTA Center in the Department of Geography. Dr. Robinson serves as the Co-Chair of the International Cartographic Association (ICA) Commission on Visual Analytics and has recently served as the President of the North American Cartographic Information Society (NACIS). His research focuses broadly on designing and evaluating geovisualization tools to improve geographic information utility and usability. He has completed research projects in epidemiology, crisis management, and higher education domains. His research efforts have involved characterizing how users assemble and collect their analytical results, studying the use of visualization tools using eye-tracking, and evaluating new methods for cartographic representation in a variety of contexts. In recent work he has begun work to develop geovisual methods for representing the presence of absence in big spatial data, and to characterize the design and content of viral maps. Dr. Robinson has had the opportunity to teach one of Penn State's Massive Open Online Courses (MOOCs) on Coursera – Maps and the Geospatial Revolution, which has drawn over 125,000 students from 200 countries to date.