Print
Panagiotis Giannakis - Summer (May - July)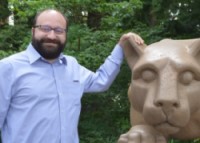 2217 EES Building
The Pennsylvania State University,
University Park, PA 16802
Email: Please use the course e-mail system (it ensures your emails don't get caught up in any spam filters). I check e-mail regularly and will do my best to respond to questions at least once per weekday and once on weekends unless I notify you otherwise. If Canvas is down you can try pmg5371@psu.edu.
Office hours: By appointment.
Welcome to the course!
Hello everyone. My name is Panagiotis Giannakis and I will be your instructor for this course. Before joining the Department of Geography at Penn State, I was working at the University of Arkansas, where I also received my PhD. I have been involved with online geospatial certificate programs (administrating, authoring, and teaching) for the last 5 years. I have experience teaching multiple courses such as Python, Geodatabases, Geospatial Analysis, and Geospatial Statistics. During the 2019-2020 academic year I will be responsible teaching apart from the GEOG 485: Programming and Software development, the GEOG 484: GIS Database Development and the GEOG 585: Open Web Mapping.
I am really excited working with all of you over the next ten weeks as we go through all the material of the course.

Introductions for Summer 2020
Now it's your turn to introduce yourself (you don't have to post pictures!). Please return to Canvas and post a brief introductory message to the "General discussion" forum including:
Your name and current occupation
Any experience with web mapping (remember, none is required for this course)
Your programming experience
Any interesting projects you are currently involved in