Print
In this lesson, we will introduce the structure, history of development, and properties of polymers. The roots of the word polymer are actually very descriptive of a polymer. The root 'mer' means unit, and poly means many. Taken together, the word polymer can be deconstructed as many units. Typically, 'mer' is referred to as a monomer. 'Mono', which is the root for one, literally translates as one 'mer'. A commonly used definition of polymer is a material that is composed of many monomers (from 10s to 1000s) all linked together to form chains. A monomer can be composed of one to many atoms which form the base unit which is repeated to form a polymer, as represented in the figure below.

Credit: Adapted from Fig. 4.2, Callister & Rethwisch 5e.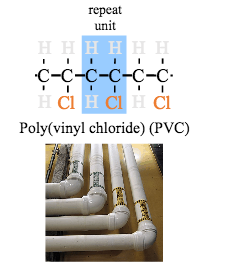 Credit: uberculture via Wikimedia Commons
We will also study how chains of polymers are constructed. Polymers can resemble spaghetti noodles (linear), ladders (cross-linked), long chains with smaller chains hanging off the main chain (backbone) known as branched polymers, elaborately complex structures (network), or a mixture of some or all of these basic types. Other polymers, known as copolymers, are constructed from two distinctly different starting monomers and are classified as random, alternating, block, or graft polymers.
Now, watch this TED-Ed video titled, "From DNA to Silly Putty, the Diverse World of Polymers" (4:59), before proceeding on to the next section of our lesson.