Print
Now that you have finished the reading for this lesson, I would like to review the four possible electron band structures for solid materials, as well as p-n junction electrical behavior. In addition, we will define nanotechnology and explore one possible application of nanotechnology which might allow for the continuing improvement in microprocessor speed in coming decades.
So, what happens when you try to shove > 1023 atoms together to make a solid? When atoms are separated, electrons will tend to occupy the lowest available discrete energy states. When atoms are brought together, the electrons are forbidden by the Pauli exclusion principle of having identical energy and quantum numbers. As shown in the figure below, as the atoms are brought closer and closer together individual allowed energy states start to spread in energy.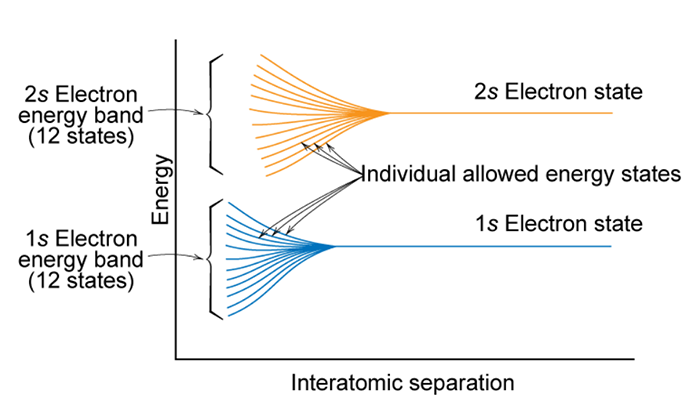 Credit: Fig. 12.2, Callister & Rethwisch 5e
When you bring ~1023 atoms together to make a solid, the separation between the allowed energy states becomes indistinguishable (too small for us to measure). We refer to them as bands as shown in the figure below.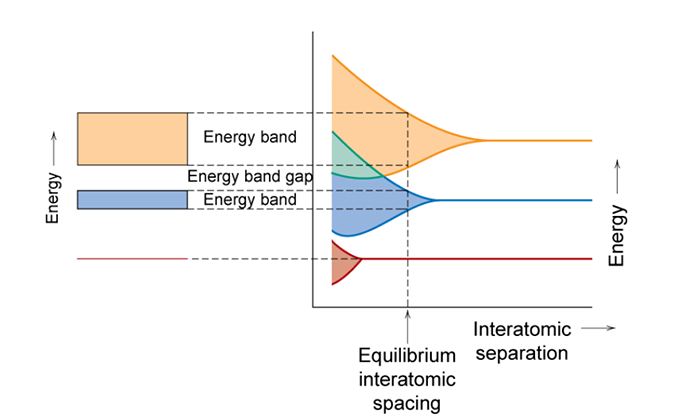 Credit: Fig. 12.3, Callister & Rethwisch 5e