The Instructor: Danny Brouillette
Welcome to METEO 469!
My name is Danny Brouillette, and I will be your instructor for METEO 469, offered through the Department of Meteorology and Atmospheric Science at The Pennsylvania State University. Since November 2019, my work has been as a research scientist in the Department of Meteorology and Atmospheric Science at Penn State. Prior to that, I worked as a climatologist in the Florida state climate office at the Florida State University in Tallahassee. My Penn State roots run deeper than my current appointment, as I earned my master's degree in atmospheric science there in 2015; my undergraduate degree, in meteorology and applied mathematics, is from Northern Illinois University. I am interested in all facets of climate change and variability, but I have focused the most on multidecadal variability during the late Holocene (i.e., the last 2000 years) and on contemporary applied-climate issues in the Southeast, Midwest, and Northeast regions of the United States.
A fully online course may be new to you, which may require some adjustments or new approaches on your part, but I am available to help you with any questions or difficulties that may arise about the content and logistics of the course.
All the best for a great semester!
---
This course was created by Dr. Michael Mann from the Department of Meteorology and Atmospheric Science at Penn State. Please take a look at the The Course Author section below to learn more about Michael Mann and to hear his thoughts about this course.
The Course Author: Michael Mann
What about me? I am a professor in the Department of Meteorology at Penn State University, with joint appointments in the Department of Geosciences and the Penn State Earth and Environmental Systems Institute. I also direct the Penn State "Earth System Science Center" [1]. You can also find me blogging occasionally at the website RealClimate.org [2] that I co-founded.
My research involves the study of Earth's climate system, including the topic of "climate change". Among other things, I'm interested in documenting how climate has changed in the past from "proxy" data like ice cores, tree rings, and corals. I also use and analyze results from theoretical climate models, focusing on phenomena such as the El Niño/Southern Oscillation ("ENSO"). You can find out more about my research here. [3]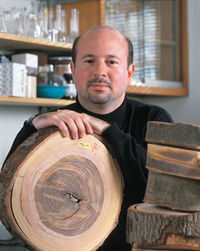 I teach Meteorology and Geosciences courses on a variety of topics including climate dynamics (METEO 470), climate modeling (METEO 523), data analysis and statistics (ENNEC 472), first year seminar on climate change (EM SC 100S), and a general education course on earth system history (EARTH 2).
Meteorology 469 is brand new to my teaching portfolio. It is the first course at Penn State that I've designed from scratch, and the first course I've ever taught online. The course subject matter—global warming and climate change—is timely, given the increasing focus on this issue in recent years. What is unusual about this particular climate change course is that we span the full range of relevant topics, from the basic meteorology and underlying science, to the study of impacts, to the policy-relevant issue of mitigation.