The College of EMS' e-education community includes faculty members affiliated with the College's five academic departments (Energy, Geography, Geosciences, Materials Science and Engineering, and Meteorology), as well as instructional design and development specialists, information technology personnel, support staff, and administrators.
The Institute's professional personnel consists of approximately 100 full-and part-time personnel, including a director, assistant director, administrative support staff, a comprehensive learning design team, and lead program faculty, as well as a large number of faculty course authors and instructors who represent the College's academic departments.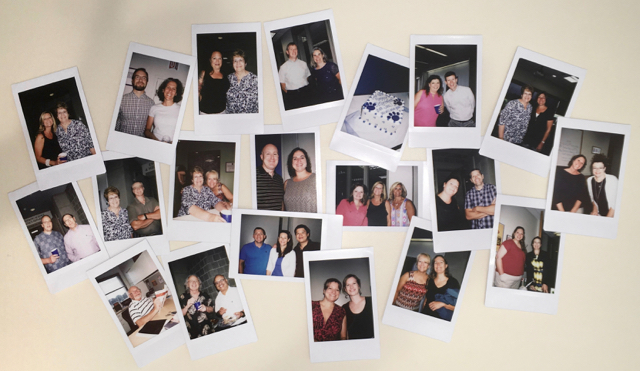 Snapshots from Jan Moyer's retirement celebration, July 2016
Dutton Institute Personnel
The e-education community includes the Penn State faculty and staff members listed below. Links lead to personal pages, some of which are external to this site.
For simplicity's sake, this page lists only those who hold official appointments through the Institute and program lead faculty.
Front Office Personnel
Learning Design Team
Stevie Rocco, Assistant Teaching Professor and Director of Learning Design
Zachary Auker, Programmer/Analyst
Jennifer Babb, Learning Designer/Project Manager
Matthew Jason Bugaj, Lecturer, Learning Designer
Kim Crossman, Assistant Learning Designer
Matt Croyle, Programmer/Analyst
Kay DiMarco, Multimedia Specialist
Marty Gutowski, Programmer/Analyst, Web Systems Administrator
Megan Kohler, Lecturer, Learning Designer
April Millet, Assistant Teaching Professor, Learning Designer
Emre Dinc, Graduate Assistant
Cissy Reese, Instructional Production Specialist
Carl Schaad, Multimedia Specialist
Heidi Sporre, Web Production Assistant
Maria Scalzi Wherley, Lecturer, Learning Designer
Mark Wherley, Learning Designer
Lead Program Faculty
Program Faculty
Qassim Abdullah, Instructor, GEOG 892
Sim Aberson, Instructor, METEO 241
Richard Alley, Professor; Instructor, GEOSC 10
Mohamed Amer-Chaaban, Instructor, AE 868
Sridar Anandakrishnan, Professor; Instructor, GEOSC 10
Ryan Baxter, Associate Teaching Professor of Geography; Instructor, GEOG 160
Matt Beaty, Instructor, GEOG 858
Dave Bice, Professor; Instructor, EARTH 104
Rob Brooks, Professor; Instructor GEOG 431
Bill Brune, Professor of Meterology; Author and Instructor, METEO 300
Caroline Clifford, Author and Instructor, EGEE 439
Stephen Corfidi, Instructor, METEO 361
Mark Corson, Instructor, GEOG 882
Pete Croswell, Instructor, GEOG 871
Jim Detwiler, Assistant Teaching Professor of Geography; Instructor, GEOG 863, GEOG, 868, GEOG 485, GEOG 489
Erin Dimaggio, Assistant Professor, EARTH 111
David DiBiase, Instructor, GEOG 482, GEOG 483, GEOG 864
Brad Doorn, Instructor, GEOG 480
Roman Engel-Herbert, Associate Professor; Instructor, MATSE 413
Semih Eser, Professor; Instructor, FSC 432
Long Fan, Graduate Assistant; Instructor, MNG 401
Maureen Feineman, Associate Professor; Instructor, GEOSC 030, EMSC 470, GEOSC 107N
Kevin Furlong, Professor; Instructor, GEOSC 402Y, EMSC 470
Brandi Gaertner, Assistant Teaching Professor, Advisor, Instructor
Panagiotis Giannakis, Assistant Teaching Professor; Instructor, GEOG 484, GEOG 485, GEOG 585
Amy Griffin, Instructor, GEOG 586
Bill Groves, Associate Professor; Instructor, EGEE 110
Stephen Handwerk, Assistant Teaching Professor of Geography; Instructor; GEOG 885, GEOG 882
Karl Heidemann, Instructor GEOG 481
David Hunger, Instructor, EBF 200
Andy James, Author, BA 850
Karen Jensen, Instructor, EGEE 120
David Jimenez, Instructor, GEOG 885
Dan Kasper, Instructor, EM SC 240 and EME 444
Patrick Kennelly, Instructor, GEOG 871
Fritz Kessler, Associate Research Professor of Geography; Instructor, GEOG 861, GEOG 597G
Allen Kimel, Associate Professor; Instructor, MATSE 201
Beth King, Associate Teaching Professor of Geography; Instructor, GEOG 483, GEOG 488, GEOG 597G
Andy Kleit, Professor Energy and Environmental Economics; Instructor, EBF 200, EBF 473
Alex Klippel, Professor; Instructor, GEOG 497 
Serguei Lvov, Professor; Instructor, EGEE 441, EGEE 442
Alan MacEachren, Professor; Instructor, GEOG 160web
Rakesh Malhotra, Instructor, GEOG 480
Jonathan Mathews, Professor; Instructor, EGEE 101
Dinah Maygarden, Instructor, EARTH 107
Doug Miller, Professor; Instructor, PRGMASSESS-M
Raymond Najjar, Professor; Instructor, METEO 300
James O'Brien, Instructor, GEOG 485, GEOG 489
Jarlath O'Neil-Dunne, Instructor, GEOG 883
Chris Palma, Teaching Professor; Instructor, ASTRO 801
Todd Palmer, Professor; Author and Instructor, MATSE 259
Sarma Pisupati, Professor; Instructor, EGEE 102
Ron Redwing, Associate Teaching Professor; Instructor, MATSE 81
Brandi Robinson, Assistant Teaching Professor; Adviser; Instructor, GEOG 432, GEOG 438W, EM SC 302, and EME 803
Haley J. Sankey, Assistant Teaching Professor; Adviser; Instructor, EM SC 302, EGEE 299 and EGEE 495
Ron Santini, Instructor, GEOG 469, GEOG 573
Marcela Suarez, Assitant Teaching Professor, Adviser, Instructor
Steve Seman, Assistant Teaching Professor; Instructor, METEO 003, METEO 241, METEO 361, METEO 804 and METEO 410
Erica Smithwick, Professor; Instructor, GEOG 1N
Daniel Steiner, Instructor, GEOG 850
Susan Stewart, Associate Teaching Professor; Instructor, EME 802, EGEE 438,  AE 862
Farid Tayari, Instructor, EBF 200, EBF 301, EME 460
Gregory Thomas, Assistant Teaching Professor of Geography; Instructor, 
Michael Thomas, Instructor, GEOG 479, GEOG 497 
George Van Otten, Instructor, GEOG 596x, GEOG 571, GEOG 597, GEOG 497i
Jan Van Sickle, Instructor, GEOG 862
Jan Wallgrun, Research Assistant; Instructor, GEOG 489
Tim White, Research Associate; Instructor, EARTH 530
David Yoxtheimer, Extention Associate; Instructor, EARTH 109
Michelle Zeiders, Associate Teaching Professor of Geography; Instructor, GEOG 483, GEOG 484
Grading Assistants
Amy Avery
Amy Farley
Ashley Perry
Ben Forer
Brian King
Cassandra Schmick
Daniel Shinnick
Eileen Kerhouant
George Adams
Jeff Kling
Jimmy Kroon
Jon-Paul Oliva
Kristen Jordan
Lindsay Lacey
Mansour Arshon
Melissa Stallard
Raelyn Caldwell
Linda Auker
Benjamin Martini
Rossana Grzinic
Susan Wheeler