Overview
Dutton's Learning Design Team is available to collaborate with EMS faculty to promote and execute high impact empirical research in teaching and learning. Whether you are developing a new research study or enlisting some help to understand data, partnering with Dutton's Learning Design Team provides you with expert support. The team has a broad range of experiences in educational research, including qualitative, quantitative, and mixed-methods research methodologies. Additionally, Dutton's Learning Design Team is well versed in learning theory, instructional design theory, and online pedagogical practices. 
Our Research Vision
To be a leader in research on teaching and learning by promoting new, scholarly, evidence-based research. 
Our Research Mission 
The John A. Dutton e-Education Institute is the College of Earth Mineral and Sciences hub for the study and application of learning pedagogy, technology, and best practices. In support of research, Dutton's Learning Design Team: 
Provides support for both original research and dissemination of results 
Develops a corpus of literature that supports best practices for teaching and learning 
Informs, empowers, and supports the faculty of the college in the delivery of courses, certificates, and programs 
Provides innovative pedagogical approaches that can be leveraged in EMS's courses
Partnering with us
There are two ways to work with us. First, is to respond to one of the Requests for Partner (RFP) emails that we send out periodically throughout the year to solicit partners for larger studies that involve multiple courses or programs. The details will be included in any RFPs that are announced. The second option is for you to contact us if you'd like to partner with us. Our general procedure is detailed below along with how we can help. 
You can contact our research coordinator (April Millet, 814-863-8718, azs2@psu.edu), and we will schedule an initial meeting with you. For that meeting, we ask that you be prepared to tell us what you would like to do and what role you would like our team to play. If you want to propose a new research study, but don't have a concrete idea of what that study would look like, we are more than happy to discuss your research interests and propose research options. 
If you're looking for assistance with a research study, we are more than willing to help:
Conduct a literature review
Walk you through IRB requirements
Prepare, review, and submit an IRB
Design the study, including methods of data collection and analysis
Prepare additional documents (i.e. consent form, surveys, research questions) needed for IRB approval
Communicate with Penn State's IRB office
After your IRB is approved, we will help you:
Collect data
Analyze data
Write executive reports, publications, and conference presentations 
Present findings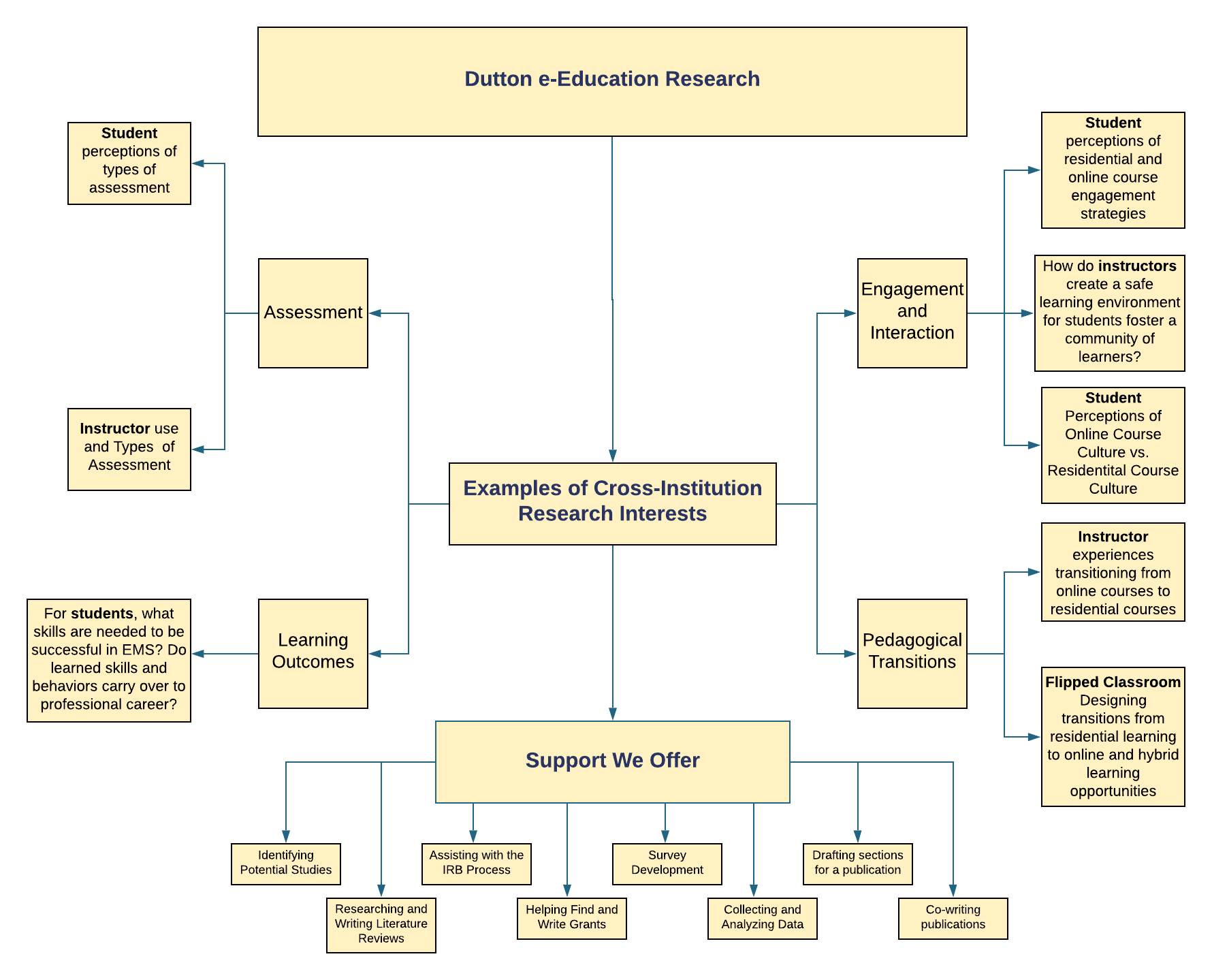 Current Research Partnerships
List of current research efforts with abstract of the research efforts and any citations that come of the partnership (i.e. conference proposals, publications, etc.) 
Research Project (IRB#) 
Faculty/LD partner info
Abstract of research  project
Publications and Conferences list related to the research
Any links we can add to the work
Call For Partners
Title and links to PDFs of call for partner document
List of partners
Publications and Conferences list related to the research
Any links we can add to the work
Resources 
Potential outlets for scholarly work:
American Journal of Distance Education
The Journal of Distance Education
Online Journal of Distance Education and e-Learning
Electronic Journal of E-Learning
Additional resources:
Core Members: 
April Millet, Assistant Teaching Professor and Learning Designer, Research Coordinator
Nate Turcotte, Ph.D. Candidate Learning, Design, and Technology, Research Support
Clayton Whittle, Ph.D. Student Learning, Design, and Technology, Research Support