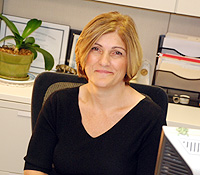 2217 Earth & Engineering Sciences Building
University Park, PA  16802
(814) 863-2502
sns4@psu.edu
Office:  418 Earth & Engineering Sciences Building
Job Description:
I am an Administrative Assistant for the John A. Dutton e-Education Institute.  I began working for the Institute in August 2008.  Prior to coming to the Institute, I worked as an Administrative Assistant in the Department of Geography for 6 years.
Administrative Support Responsibilities:  Process financial forms, prepare budget reports, process HR forms and appointments, arrange and reconcile travel itineraries, manage the assistant director's appointment calendar, and provide information on policies and procedures to Institute personnel.  It is also my responsibility to help plan and organize activities being held within the Dutton Institute, such as special meetings, seminars, lectures, conferences and workshops.
Program Assistant for the Bachelor of Arts degree program in Energy and Sustainability Policy.  I work hand-in-hand with the World Campus and the Department of Energy and Mineral Engineering and serve as the first point of contact for students and faculty regarding issues related to the program.