Print
Instructor Information
Pete Croswell - Fall 1, 2023 (Aug - Oct)
David DiBiase - Fall 2, 2023 (Oct - Dec)
Scroll down for more information about both instructors.
---
Pete Croswell, PMP, GISP, CMS - (Fall 1)
President, Croswell-Schulte IT Consultants, Frankfort KY, 
Contact Information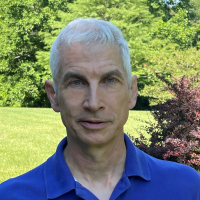 PHONE: (502) 848-8827 (land line), (502) 320-9055 (cell)
E-MAIL: plc18@psu.edu or pcroswell@croswell-schulte.com
AVAILABILITY: Students may contact me by email at any time. Normally, I will respond within 1 day. Also you may contact me by phone from 7:30am to 8:00pm (Eastern US Time) on weekdays and from 9:00am to 5:00pm on weekends. If you get my phone greeting, leave a message and let me know when and how I can contact you. If you have questions or would like to discuss any of the lesson assignments, I encourage you contact me.
Welcome to GEOG 871
My name is Pete Croswell and I'm in Frankfort Kentucky. I want to welcome all of you to this course and I look forward to working with you over the next 3 months. As you are aware, GEOG 871 is a requirements for Penn State's Online GIS Masters program. My goal is to to support your study and provide practical guidance and advice to enhance and expand your skills in managing GIS projects and related information technology initiatives. After many years of managing and working on many types of GIS and IT projects, I've come to believe that effective project management is over 50% "applied common sense" and the rest is learning and becoming comfortable with proven tools and methods. Many of you already have experience with IT or GIS project planning and management. I hope to build on this experience to help you become more efficient and effective in your work. As we go through the course, I encourage all of you to ask me for help and direction but also share your ideas and experience with me and the other students. This is the type of course from which your get as much value as the effort you devote to it. In addition to helping meet course requirements for those of you who are pursuing a degree or certificate, I want you to leave with some new perspectives and practical skills that help you in your professional life.
I have a BA degree in Geography (with minor in Math) from the State University of New York (SUNY) Albany and Masters degree from Western Illinois University (Geography/Geology). Those degrees came before anyone was using the term "GIS" but my background in cartography, remote sensing, geomorphology, and computer science gave me a nice foundation to move into the new field of GIS in the late 1970s. I also have a more recently completed (2009) IT systems administration and management certificate program from the University of Louisville. After finishing up my Master's program at WIU, I began my career working as an analyst and then manager of an early GIS program in the State of Kentucky (Natural Resources Cabinet). In that role, I got heavily involved in implementing environmental regulatory programs and using computer technology and GIS (pretty crude in the late 1970s) to support many state programs. Since the mid-1980s, I have been a consultant in GIS and IT getting involved in a large array of needs assessment, design, planning, and project management support work for federal, state, and local governments, utility companies, and other types of public sector and private organizations--including international work in Europe, West Africa, the Caribbean, China, Middle East, and other places. Right now, I am President of my own consulting firm, Croswell-Schulte IT Consultants. I'm pretty active in professional associations, particularly the Urban and Regional Information Systems Association (URISA) in which I've served on the governing Board, as president, and many other roles including work with URISA's GIS Management Institute.  I've written quite a few professional papers, special publications, and a few books on IT and GIS topics including GIS Management Handbook (3rd Edition, 2022). We will be using some readings from this book in the course. I'm a certified Project Management Professional (PMP) and hold a number of GIS and IT certifications.
I'm looking forward to the course. I encourage all of you to dive in without hesitation. Read the course orientation material and review the syllabus. Please login on a regular basis and keep up with assignments since we will be moving along quickly. I will be providing additional information about how best to contact me when you need assistance.
Meet Pete Croswell, author and instructor of GEOG 871 (1:51 minutes).
---
David DiBiase - (Fall 2)
Contact Information
Penn State University
Home Office in Yucaipa, CA
PHONE: (814) 777-7639 (The country code for the United States is 1)
E-MAIL: Please use the Canvas Inbox. Messages are forwarded automatically to my personal email account, so I won't miss yours.
AVAILABILITY: Students are welcome to contact me by email anytime. I usually am able to respond within 24 hours. Although e-mail correspondence is preferred, you may also contact me by phone or text at the number above if your message is urgent.
Welcome to GEOG 871
I'm David DiBiase. It's a privilege to serve as your instructor. My goal is to support your learning with timely feedback and advice. I will monitor the course every day (except as noted), and respond to your messages and assignments as promptly as I can. I realize that adult learners have commitments to family, work, and community, so I will be as flexible as possible about your progress while keeping you on track to complete the course successfully and on schedule.
By way of background, I have bachelor's and master's degrees in cartography from the University of Wisconsin-Madison. I led the effort to establish the Penn State Online Certificate and Master's degree programs in 1999 and 2003, and I have over 20 years of experience teaching online. In 2012 I led the working group that published the Geospatial Management Competency Model for the U.S. Department of Labor. I served Esri's Education Industry Sector Director from 2011-2019. I'm now a semi-retired, part-time instructor for Penn State.
On the home front, my immediate family consists of wife Valerie and our dogs Teo and Sasha. Val is a Nurse Practitioner and former Air Force flight nurse, who completed her Doctoral program in Nursing Practices in 2022. We live in the foothills of the San Bernardino mountains, about 75 miles east of LA. I like hiking with the dogs, classic jazz music, tending my vineyard, and good wine - and getting to know our outstanding students!
Meet David DiBiase, instructor of GEOG 871 (1:21 minutes).