Print

(Image: http://upload.wikimedia.org/wikipedia/en/thumb/9/9f/PAZiegler_s.jpg/400p...)
Biographical Information
To the novice geologist who is beginning to explore the realm of tectonics, continental drift and seismology - one will definitely hear the names like; Tuzo-Wilson,  Hess,  Wegener, Benioff, Mercalli and Ziegler.  Wait a moment, who? Peter Alfred Ziegler. The name doesn't ring a bell?  Well, unless you are a graduate or doctoral student in the areas of tectonics and seismology then you probably have never heard of this gentleman. Though, just because you have never heard of him initially, does not mean he is not an important individual and what he means to the science of tectonics and geology in general.  
Peter Alfred Ziegler, who is  Swiss geologist is an important man! Just about as important as Wegener, Mercalli and Hess. Why? Ziegler has made important contributions to the understanding of the geological evolution of Europe and the North Atlantic borderlands. In addition, his contributions and research has focused on intraplate tectonics and of plate tectonic controls on the evolution and hydrocarbon potential of sedimentary basins.
(Diagram: An example of possible location of Intraplate Earthquakes)
http://www.gly.uga.edu/railsback/1121EathquakesIntraplate.jpeg
Ziegler was born in Winterthur, Switzerland, November 2nd, 1928 (84 years ago).  Ziegler attended the University of Zurich and earned a Ph.D. in 1955, in  multidisciplinary  fields in geology, paleogeography and tectonics. Not much is known or has been written about his earlier works or studies prior to his time at the University of Zurich, but his contributions thereafter are significant.
(Images: Map of Switerland (L) and photo of city of Witherhur (R))
(Images: http://farm1.staticflickr.com/31/41765571_894c17aaa6_o.gif (L). http://upload.wikimedia.org/wikipedia/commons/thumb/1/19/View_of_Wintert... (R))
(Images: University of Zurich (L) and its logo (R) 
(Images: http://www.uzh.ch/public/authoring/images/themesimage_about.jpg (L), http://es-icame29.uzh.ch/unisiegel_o.gif (R))
Ziegler's career consists of 33 years as exploration geologist with the petroleum industry, 30 of which with Shell, and 20 years of university teaching and research. His career began immediately after him earning his doctorate in 1955 when he began working in the petroleum industry which he conducted a variety of fieldwork over a three year period in Israel, Madagascar and along the Algerian Sahara. Soon after, his interests led him to Cordilleran Foothills of British Columbia, the Northwest Territories and the Yukon, which he altered his work from being a field-geologist to a stratigraphic trap hunting subsurface-geologist. There he discovered his very first natural gas deposit in the Alberta down-dip reef belt. 
(Images: Cordilleran Foothills of British Columbia (L), the Northwest Territories and the Yukon (R))
(Images: http://www.eoearth.org/files/212601_212700/212679/alberta-british-columb... (L), http://water.usgs.gov/nasqan/docs/yukonfact/images/fig1.jpg (R))
Over time, Ziegler worked for Shell International in the Netherlands in the 1970's where he was a supervisor of their exploration activities within the North Sea region, which eventually led his exploration responsibilities as a supervisor and expert as he oversaw Shell's other divisions in Europe, South America and then globally.  
(Image: Shell International Coroporation Logo (L) and Map of the Netherland (R))
(Image: http://www.naturalgaseurope.com/content/11057/Shell_550x300.png (L), http://www.operationworld.org/files/ow/maps/lgmap/neth-MMAP-md.png (R))
His career has included several decades spent as an exploration geologist in the petroleum industry, as well as university research and teaching. In 1992 he was appointed as Honorary Lecturer at the University of Basel, and in 1996 as Titular Professor for Global Geology.
Specific Contributions to Plate Tectonic Theory / Solid Earth Geophysics
Ziegler published widely in international journals and in thematic volumes on processes controlling extensional and compressional intraplate tectonics and on the evolution of the lithosphere. His publications found wide recognition and contributed enormously to narrowing the gap between academia and the industry. His work changed the way geologists look at depositional systems and tectonic processes controlling the evolution of sedimentary basins (1).
Some notable contributions  have been in the North Sea, as he discovered  that in this region  had underwent a complex geological evolution. The oil and gas occurrences in the central and northern North Sea are tied to Mesozoic and Tertiary sediments; the gas fields of the southern North Sea are mainly contained in Permian series. The proven hydrocarbon provinces cover at best one third of the total area of the North Sea. It is estimated that in the early 1980's the oil production from the North Sea will meet 22% of the oil demand of Western Europe (2).
He also provided earth scientists with an overview of the late Paleozoic evolution of North America, Europe, the Arctic and North Africa in a plate tectonic framework. P.A. Ziegler has taken a multidisciplinary approach to the unraveling of late Paleozoic plate motions and the interaction of continental cratons. At the outset of this study palaeomagnetic, palaeobiogeographical and alaeoclimatological data were collected and reviewed in terms of their compatibility with published palaeoreconstructions of the continents in the Western Hemisphere and the evolution of orogenic belts that evolved through time (3).
(Image: North America during Paleozoic Era)
(Image: http://nature.nps.gov/geology/nationalfossilday/images/2013_artwork/nfd_...)
As time passed, his researched indicated that since  the lithosphere forms the upper boundary layer of the Earth's mantle convection system, this indeed facilitates escape of thermal energy from the Earth's interior. Motion and interaction of lithospheric plates is probably governed by the combination of drag-forces excerted on the base of the lithosphere by the convecting mantle and by plate boundary forces.
(Image: Motion and interaction of lithospheric plates by the convecting mantle)
(Image: http://www.subdude-site.com/WebPages_Local/Blog/topics/energy/earthCrust...)
Plate interaction, driven largely by shear-traction of the mantle convection systems and their changes, ridge-push and slab forces, plays probably an all-important role in the development of intra-continental rift systems, the opening of new oceanic basins and the inception of and activity along subduction zones. A two-layered mantle convection system is envisaged, that may be coupled to a greater degree during the break-up of mega-continents than during periods of dispersed continents. (4)
Another contribution was that he implied that with a new Moho depth map which been assembled for Western and Central Europe and the Western Mediterranean area, there could be  a comparison of these overlays with the Moho depth map we assess processes that controlled the evolution of the crust in the various parts of Europe through time. The present-day crustal configuration of Western and Central Europe results from polyphase Late Palaeozoic to recent lithospheric deformation that overprinted the margin of the Proterozoic East European Craton and particularly the Caledonian and Variscan crustal domains. (5)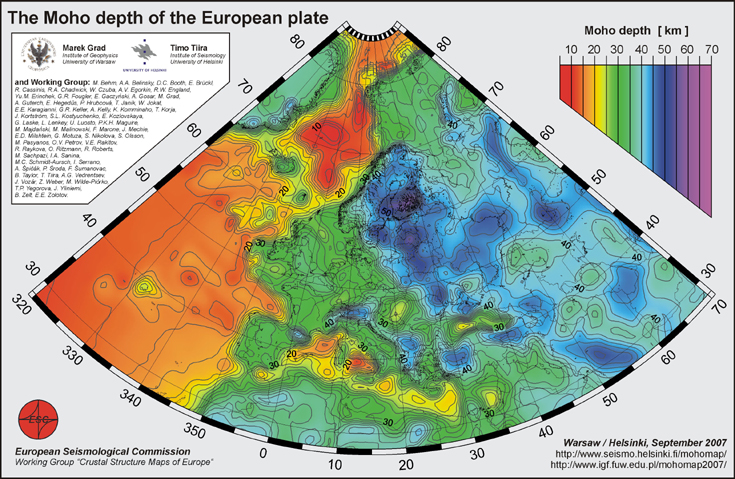 (Image: The Moho Depth of the European Plate)
(Image: http://www.seismo.helsinki.fi/mohomap/moho_www_735px.jpg)
Finally, more recently,  he got involved with TOPO-EUROPE. Which addresses the 4-D topographic evolution of the orogens and intra-plate regions of Europe through a multidisciplinary approach linking geology, geophysics, geodesy and geotechnology. TOPO-EUROPE integrates monitoring, imaging, reconstruction and modelling of the interplay between processes controlling continental topography and related natural hazards. TOPO-EUROPE integrates European research facilities and know-how essential to advance the understanding of the role of topography in Environmental Earth System Dynamics. The principal objective of the network is twofold. Namely, to integrate national research programs into a common European network and, furthermore, to integrate activities among TOPO-EUROPE institutes and participants (6).
(Image: TOPO-EUROPE 4-D topographic representation of Moho, Convection of Mantle and Surface Movements of the Lithosphere)
(Image: http://ars.els-cdn.com/content/image/1-s2.0-S0277379104002100-gr7.jpg)
Other Cool Stuff You Should Know
1997 - Received an Honorary Doctorate from Moscow State University
2001 - Received an  Honorary Doctorate from the Technical University Delft
He is recipient of the following awards:
·         the Foumarier Medal of the Belgian Geological Society
·         the van Waterschot van der Gracht medal of the Royal Geological and Mining Society of the Netherlands
·         the William Smith medal of the Geological Society of London
·         the Neville George medal of the Geological Society of Glasgow
·         the Stephan Müller medal of the European Geosciences Union
·         the Leopold von Buch medal of the German Geological Society
·         the Leonidovici Kaptsa medal of the Russian Academy of Natural Sciences
2008 -  the Swiss Geological Society honored Peter A. Ziegler with a symposium on the theme "Deep Earth - from Crust to Core" which happened to coincide with his 80th birthday.
He is a member of the following associations:
·         Royal Netherlands Academy of Sciences
·         the Polish Academy of Arts and Sciences
·         the Russian Academy of Natural Sciences and the Academia Europaea
·         the Bureau of the International Lithosphere Program
·         an honorary member of the Geological Society of London
·         the European Geosciences Union
·         the Geological Society of Poland 
·         the American Association of Petroleum Geologists.
Peter A. Ziegler is still active and regularly contributes to geosciences by reviewing papers and research proposals.
Bibliography
1.       http://en.wikipedia.org/wiki/Peter_Ziegler
2.       Ziegler, P.A. (1975). "Geologic evolution of the North Sea and its tectonic framework". Am. Assoc. Petrol. Geol., Bull. 59: 1073–1097.
3.       Ziegler, P.A. (1989). "Evolution of Laurussia - A Study in Late Palaeozoic Plate Tectonics". Royal Geological and Mining Society of the Netherlands (Dordrecht: Kluwer).
4.       Ziegler, P.A. (1993). "Plate moving mechanisms: their relative importance". J. Geol. Soc. (London) 150 (5): 927–940
5.       Ziegler, P.A.; Dèzes, P. (2006). Crustal configuration of Western and Central Europe. In D.G. Gee & R.A. Stephenson. "European Lithosphere Dynamics". Geol. Soc., London, Memoirs 32: 43–56
6.       Cloetingh, S.A.P.L.; Ziegler, P.A.; 31 others and TOPO-EUROPE Working Group (2007). "TOPO-EUROPE: The geoscience of coupled deep Earth-surface processes". Global and Planetary Change 58: 1–118. doi:10.1016/j.gloplacha.2007.02.008.