Print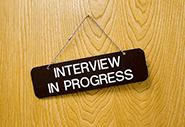 Interviews can be the most stressful part of job hunting, and for good reason - an interview can be the most important step in the process of getting hired! If you're lucky enough to get some face time with a potential employer, we want you to be prepared! As you know, explaining the ESP program to others can be challenging. Add in other difficult questions, and then sprinkle nerves into the mix and things can get messy quickly! Penn State Career Services says, "The keys to interviewing success are knowing yourself, researching the employer and preparing for and following up after the interview" (2015). The SWOT analysis assignment will help you with knowing yourself, and this interview assignment will help you prepare for the main event - the day when you're in the hot seat, interviewing for the job of your choice!
Penn State has a subscription to InterviewStream. This program allows you to simulate an actual interview scenario. While it sounds torturous, in reality, practice is the only real way to get better at anything, hence this assignment, a mock interview. I think you will find that the InterviewStream program is easy to use. The week the assignment is due, you will receive an email from the course instructor inviting you to complete the job interview. You will need a working microphone and web camera in order to respond to the questions posed. You will only have one try at each question, because the questions are listed below for you to review ahead of time. While having the questions before the actual interview isn't typical, if you do enough research on the organization and the position you applied for, you can usually garner the type of questions you will be asked. So, while you may not have the exact questions ahead of time in the real world, you will hopefully have done your homework and have a good idea of the general topics and types of questions that will be posed during the interview.
Required Viewing
Log on to InterviewStream using your psu.edu email address.
On the Welcome page of InterviewStream, there is a host of Resources provided in a box towards the bottom of the page. One is a video link called "InterviewSuite URL." Watch these videos - all three groups of videos - (Key Questions, Interview Tips, Interesting Topics) before completing the interview.
Activity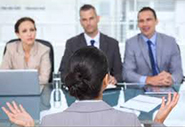 This mock interview will be based on the position at Troy's Consulting you saw on the Resume Assignment page.
Click on the links in the email you received from the course instructor and sign in to InterviewStream.
When you log on to complete the interview, you will be directed to the assigned interview.
NOTE: In order for your interview to work and save properly, follow the InterviewStream Technical Requirements suggestions, including:

Browsers: Chrome 57+, Firefox 53+, Safari 10.1+ (On Mac), IE 11+, Edge
Flash: most up to date version. If using any browser other than Chrome you will need to also install the latest version of Adobe Flash Player. 
Cache: Clear your browser cache before beginning the interview

You will be prompted through a series of technical checks. Follow them carefully.
Now you will see a slide with some text. Click on the link to review instructions.
Follow the directions to complete the assignment (listen to each question and respond to the best of your abilities).
Follow prompts to submit your completed interview.
Finally, watch your interview and complete the self assessment. You can do so by clicking on the "Watch My Interview" button. Once you have viewed your interview, complete the Self Assessment found at the bottom of the page. In the comments section provided, please discuss the interview experience, your performance, and anything you learned from completing the exercise (300 word minimum). There is a 400 word limit for that space, so you may want to type out your response in Word or a Google Doc before pasting it in that space to ensure a good fit and that there are no spelling errors.
Be sure to save the Self Assessment (which I will be able to see).
Interview Questions:
NOTE: I am providing these for you to review them and get a feel for the typical interview questions, not to write out your answers before hand. The recorded interview should be you speaking without pre-scripted responses.
Tell me a little bit about yourself.
Tell me about your degree in ESP and explain how the courses you've completed will make you successful in this position.
What interests you about this job?
Do you think that developing renewable energy technologies makes sense? Why?
Describe a failed project that you have been involved in at work, in your courses, or even with a local non-profit group, and explain why it was not successful.
Why should we hire you?
What questions do you have for me?
NOTE: Zoom the camera in close enough so that it only captures your upper torso and face. (P.S. this is where you can get away with wearing sweatpants with your shirt and tie.)
Grading
The Practice Interview will be graded out of 93 points. The following link will take you to a detailed rubric.
You will be assessed on the following items: eye contact, posture, demeanor, self confidence, grammar, use of filler words, ability to emphasize strengths and describe past experiences, and your skill in focusing on your ability to learn quickly. You will also be graded on your self evaluation at the end of the interview.
Each individual question will be graded on the following items: message content was appropriate, your responses were clear and concise, and you answered the question fully and didn't deviate in a confusing or inappropriate way.
Submission
Your submission will be done through InterviewStream. Please follow the directions carefully to make sure the instructor is notified of the completed interview.
Additional Interviewing Resources
Penn State's Career Services Office has put together some very helpful tips to help you be successful on an interview. Visit the Interviewing page to learn more about how to properly prepare, make a good first impression, and how to follow up after the interview. They have also listed some common interview questions that could be directed at the candidate as well as some examples of questions candidates can ask the interviewers.
Lynda.com also has a wealth of useful resources. This business skills tutorial regarding good body language is especially helpful in ensuring that you are sending the right message, even when you aren't speaking a word! This snippet is part of a larger course called "Acing Your Interview." Feel free to watch the whole course if you'd like! Log onto lynda.psu.edu. Use your PSU username and password to log on. Then use the search window to find "Demonstrating good body language." If you have difficulty accessing it, please be sure to let me know!
You can also check out 50 of the most common interview questions (and how to answer them).
---
References: