Print
Required Reading Reminder
Please begin by reading the Prologue and Chapter 1 of Flint, C. (2016). Introduction to Geopolitics (3rd ed.). London: Routledge.
Whether you are new to the discipline of geography or not, most people were introduced to the field through looking at maps or elementary school exercises where you were made to memorize capital cities. While these activities are indeed fundamental to geography, the discipline expands well beyond the confines of maps and capital cities. In this course, you will be introduced to a subset of Human Geography, called Political Geography, or Geopolitics.
Our study of Geopolitics will guide us through the process of situating events within a particular context. That is, through our work in this lesson, and throughout the semester, we will try to better understand how and why things unfold in certain ways in specific places. And, while we may still be quite perplexed at the various impasses we see on the global geopolitical stage, we will, at the very least, better understand the complexity involved in some of these seemingly intractable situations.
In this first lesson, all of our activities ask you to think about your hometown and the various characteristics that make it a place you are intimately connected to - indeed, for many of us, it shapes various aspects of our identity and perspective on the world around us. So, we will begin the discussion of geography and politics by utilizing the example of State College, home of Penn State University!
Until I was in the 4th grade, my family moved around quite a bit. My father was in the US Army, so I was born in Germany, then we moved to North Carolina, then back to Germany, then to Texas, all before I started the 4th grade and he retired and we finally moved to State College, PA. So, while I can identify with being an "Army brat", I also consider State College, PA my hometown. Thus, I will use State College, PA (including University Park) as my hometown example.
Below is a screenshot of State College, PA taken from Google maps.
Credit: Google maps
University Park, or Penn State, is located centrally and is the tannish-brown portion of the map. The grey portions of the map constitute the town of State College and its surrounding villages. The map below zooms in to better view downtown State College, PA and the central part of the University Park campus.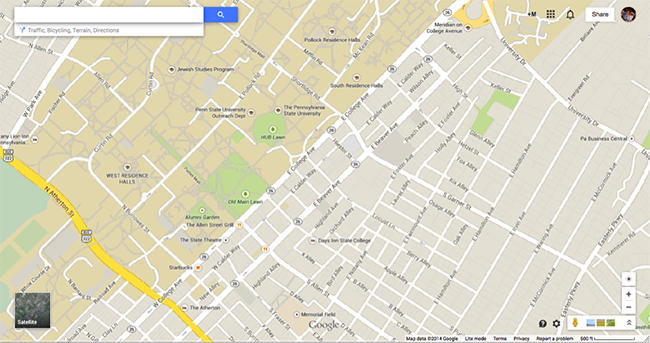 Credit: Google maps
Both the size and close spatial relationship of the University are certainly of note when we think about the relationship between the University community and State College residents. Looking at the two maps above, we could gather some information about the "spatial organization of human activity" (Flint, 2016, p. 22) in State College. But, as Flint noted, "the term space is more abstract than place...(and) gives greater weight to functional issues such as the control of territory, an inventory of objects... within particular areas, or hierarchies and distances between objects" (Flint, 2016, p. 22).
But, if we are to understand State College, PA to a greater degree - if we want to understand how and why State College, PA is a unique, historied, and dynamic place - we must investigate the situated characteristics embedded within the town's social and physical geography.
Flint explains, "(t)he economic, political, and social relationships that we enjoy and suffer are mediated by different roles for different spaces" (2016, p. 22). The spaces of the University and the town, and their corresponding roles are apparent in the maps above. However, the people who occupy the spaces - as students, residents, University employees - flow through and occupy these spaces in various roles throughout the day. As such, University life (i.e., academics, sports, social events, etc.) flow into (State College) residential spaces; and local residents, in turn, go on to campus to listen to an evening community lecture, watch a sporting event, or get an ice cream cone at the PSU Berkey Creamery.
One of the reasons that State College is an interesting place to begin thinking about Geopolitics is because of the ways in which not only place and identity but also the politics of inclusion and exclusion (and the regulation of these categories) are enforced and/or contested by individuals or groups occupying "different roles" with regards to "different spaces".
Listen to This
To give you an "embodied perspective" (Flint, 2016, p. 6) into one of the points of contention between University and local residential life, listen to the Prologue in this episode (396) of This American Life: #1 Party School.
As you listen to the episode, think about:
the various spaces people occupy and are invested in (keeping, maintaining, controlling, or traversing);
the perspective from which they occupy or utilize the various spaces;
how the various people (stakeholders) engage with each other to moderate use of the spaces; and
how place and identity are wrapped up in a politics of inclusion/exclusion and the regulation of space as a result of power politics.
The Magnificent African Cake
Likewise, to give you greater insight into the history behind the maps (Figure 1.1) featured in Flint (2016), p. 23, watch Africa: A Voyage of Discovery, Part 6 (of 8) "The Magnificent African Cake".
In order to better understand decolonization and contemporary geopolitics on the African continent, a history of colonization is critical. Thus, as you watch the sixth installment of Africa (hosted by Basil Davidson), I want you to again consider the politics of place and identity.
As you watch "The Magnificent African Cake", think about
how the colonizers viewed Africa as a space to be carved out, conquered, occupied and exploited for its rich resources and cheap (enslaved) labor;
how the native African population lived in a grounded place that served as the backdrop for social organization, environmental sustenance, and regional territorial cooperation or conflict; and
how the carving up of "the magnificent African cake" by colonial powers has impacted the continent's modern history.
In the sixth installment of Africa: The Story of a Continent, Africa is divided into areas under colonial rule. After the 1880s, Europeans set about exploiting Africans in every conceivable way, forcing them to pay taxes, plant cash crops instead of food crops grown for survival, and work for low pay, all the while looking upon them with contempt. Host Basil Davidson documents this "passification" of Africa, giving viewers a clear look at this unfortunate period of development that is a part of the continent's harsh history. ~ Alice Day, Rovi, from NY Times Review Summary