Print
Fetishism of Commodities
Let's begin by watching this video on "Fetishism of Commodities".
Definitions
Commodity Fetishism is the "mysterious" process by which the external appearance of goods conceals the story of who made them and under what conditions. Commodity Fetishism is the belief that commodities fall from the sky into our shopping basket. Commodities appear simple, and give the impression that they consist of only things. However, commodities are really crystallizations of social and material relationships, which are often invisible to us.
As William Blake said, "To see the world in a grain of sand." So, too, did Karl Marx explain that to understand commodity fetishism is to, "To see capitalism in a papaya."
So, how do we uncover the hidden social and material relationships that are embedded within a commodity? You must follow the commodity chain – the series of locations where resource extraction and labor processes are invested into making the final commodity. This process of expanding the production of a commodity from local to global follows the transition from Fordist production systems (assembly-line production in one factory—a la Henry Ford's auto factories) to a Post-Fordist production system (where the assembly-line is stretched throughout the globe).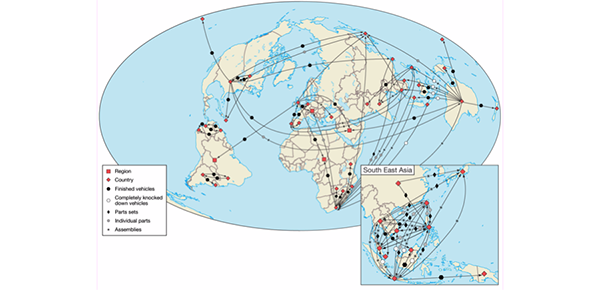 Credit: Knox & Marston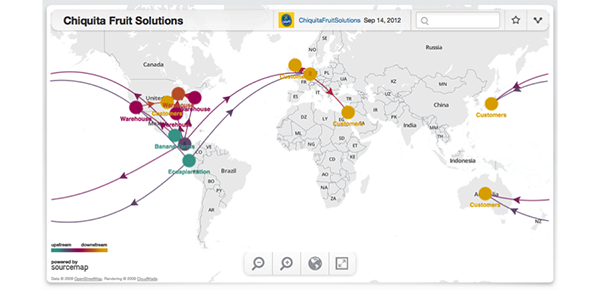 For More Info
The website, followthethings.com is also an interesting website to look through to investigate commodity chains and global assembly lines.
Following along commodity chains help us to demystify the commodity—to uncover the opaque social relationships and environmental impacts of the products we buy. Furthermore, we start to see the economic relationships between core, semi-periphery and periphery to identify where resource extraction and cheap labor are located and how these resources and laborers are used by their governing bodies and corporation for economic development and profit.
Geopolitical Analysis Blog Post 2B
Please visit the Lesson 8 Module in Canvas for a detailed description of this assignment.