Print
Instructor (Spring 1, Summer, Fall 1)
Karen Schuckman, PLS, CP, CMS-Lidar, MGIS
Karen Schuckman is an Assistant Teaching Professor at Penn State University, teaching remote sensing and geospatial technology in the online programs offered by the John A. Dutton e-Education Institute. She has been teaching at Penn State since 2007, prior to which she worked extensively in private industry as a photogrammetrist and GIS consultant. She also serves as a Program Manager for the American Society for Photogrammetry and Remote Sensing (ASPRS).
As the Geospatial Technology Leader at URS from 2005 - 2006, Karen supported response, recovery and mitigation projects following Hurricanes Katrina, Rita, and Wilma. From 1995 - 2005, she was with the EarthData group (now Fugro EarthData), where she held several positions including geospatial applications director for EarthData Solutions, senior vice-president of EarthData Technologies, and president and general manager of EarthData International of North Carolina. Notable projects led by Ms. Schuckman for EarthData include lidar acquisition for the North Carolina Floodplain Mapping Program, numerous transportation mapping projects for state DOT's, and technology demonstration projects for NOAA, NASA and the US Department of Transportation.
Prior to joining the private sector, Karen worked for the USGS National Mapping Division in Menlo Park, California. She has served as President of the ASPRS from 2005-2006, vice-chair of the NOAA Advisory Committee on Commercial Remote Sensing (ACCRES), member of the National Research Council's Committee on Floodplain Mapping Technologies and the Committee on FEMA Flood Maps. She is an ASPRS Certified Photogrammetrist (CP), an ASPRS Certified Mapping Scientist-Lidar, a Professional Land Surveyor (PLS) licensed in North Carolina and Virginia, and she also holds a BS degree in Meteorology and a Master's in Geographic Information Systems from Penn State University.
Karen attended Penn State as an undergraduate and was a member of the Women's Gymnastics Team from 1974 - 1979, winning individual national championships in All-Around, Floor Exercise and Vaulting, and was Penn State's first female All-American athlete. She is married to former Southern Illinois University gymnast Mark Davis, and lives in Centre Hall, PA.
Contact Information:
Karen Schuckman, CP, PLS, MGIS
Assistant Teaching Professor
Department of Geography
Pennsylvania State University
2217 Earth-Engineering Sciences Building
University Park, PA 16802-6813
You can learn more about Karen Schuckman by watching the following 2:14 minute video.
---
Bradley Doorn (Spring 2, Fall 2)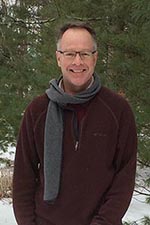 Dr. Doorn is the Program Manager for Water Resources in the Applied Science Program of the Earth Science Division of NASA. With over 35 years of experience in applying remote sensing data to earth application issues, Dr. Doorn now manages over 20 applied research projects led by investigators across the U.S. He also serves as the Applied Sciences Project Scientist for Agriculture-related initiatives and serves on multiple satellite mission support teams and national committees. Previously, Dr. Doorn was the Division Director of the International Production Assessment Division in the Office of Global Analysis, Foreign Agricultural Service (FAS), USDA.
He also spent nearly 10 years on active duty as a Topographic Engineer for the U.S. Army. Dr. Doorn spent five years in private industry as a manager and specialist in remote sensing, GIS, and mapping for numerous engineering and environmental projects. He is a long time member and officer (including President) of the American Society for Photogrammetry and Remote Sensing (ASPRS). Dr. Doorn received his doctorate and master's degrees from The Ohio State University in Geodetic Science and Surveying and his bachelor's degree in Geological Engineering from South Dakota School of Mines and Technology.
Program Scientist/Manager
Water Resources and Agriculture Program
NASA/Earth Science Division
Washington, D.C.
You can learn more about Dr. Doorn by watching the following 1:13 minute video.