Print
Instructor Information
Course Instructor: J.B. Sharma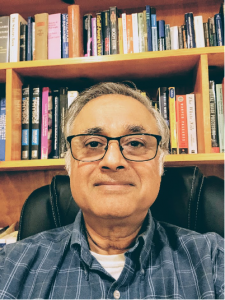 JB is a Lecturer in the Dutton e-Education Institute and will be teaching GEOG 883. JB is an emeritus faculty member in the University of North Georgia (UNG) Department of Physics and Astronomy. He also held the Eminent Scholar of Teaching and Learning Endowed Chair at UNG from 2009-19 and served as Assistant Department Head from 2012-19. JB is also affiliated with the UNG Lewis Rogers Institute for Environmental Spatial Analysis (IESA). He has a Ph.D. in Geography with a specialization in Remote Sensing and GIS from the University of Georgia. JB has an MS degree in Physics from the University of Georgia and a BS degree in Physics from Jacksonville State University.
JB has a special interest in both physics and remote sensing education. He is interested in applied remote sensing research; in particular in high spatial resolution remote sensing with data from multiple sensors, Unmanned Aerial Systems (UAS) applications, and Geographic Object-Based Image Analysis (GEOBIA) techniques. He has a special interest in geospatial problems that bridge the physical and social domains. He was awarded the Georgia Professor of the Year in 1999 by the Carnegie Foundation and an Excellence in Teaching Award by the University System of Georgia, also in 1999. He was awarded the Leidos-Estes Teaching Excellence Award by the American Society for Photogrammetry and Remote Sensing (ASPRS) in 2015. JB was elected as a Fellow of the American Association of Physics Teachers (AAPT) in 2018. He has served on the Board of Directors of AmericaView, a national remote sensing consortium from 2015 to the present.
For contact information please see the course syllabus.