Print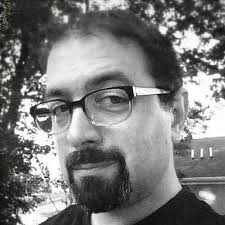 Credit: Frey Brownson
Meet the Author - Frey Brownson!
I am so excited to be here to share the collective knowledge of solar energy resource assessment and project economics related to solar energy! My name is Frey Brownson, and I am the original author of EME 810.
I harken from the Great Plains, West of the Mississippi. I am originally from North Dakota, home of dozens (which I'm told is a lot like Inner Mongolia). Actually, my hometown of Grand Forks is a university town about the same size as State College, PA, with a nearby air base, and an internationally recognized aerospace program. I greatly enjoy visual arts and design, but I began my career in science by studying the earth systems around me, in particular geology and environmental chemistry.
I trained as a multidisciplinary research scientist and earned my Ph.D. from the University of Wisconsin--Madison in Environmental Chemistry and Technology developing materials and technologies for environmental applications. So, to me, solar energy conversion systems are actually powerful environmental technologies, rather than just energy tech. In that broader sense of environmental technology, I hope to bring a unique flavor to this course that will be new to you and get you thinking.
Nobody is a native to solar energy education in the USA (at least, nobody that I've ever met yet), and that holds true even for a Penn State faculty who researches and teaches solar energy (all solar, all day, every day). In my days of undergrad and grad school, there were no programs in solar energy education (you can read about the solar gap from 1985-2005 in the textbook). I actually accrued most of my solar chops as a developing professional in materials science with industry and then academia. Later, at Penn State, I was selected as the Faculty Director for the 2009 Solar Decathlon home, Natural Fusion--which was a boon to me and the rest of the team for solar education. However, my background in environmental technology and earth systems science really helped in the process.
This should give you some glimmer of hope--you actually are learning about solar energy in a graduate course! It also goes to show that with commitment and a lot of good hard work, you can develop new skills to shape a strong and healthy lifetime career path for solar energy.
The Technical Odds and Ends
I serve Penn State as an Associate Professor of Energy & Mineral Engineering, and a courtesy faculty in the Dept. of Materials Science and Engineering. My homepage is called Advanced Photovoltaics, and my team's research addresses basic research in photovoltaic thin film materials, systems scale solar energy conversion, and analyses of meteorological and economic constraints to solar deployment.
I have recently completed the textbook that you will be using for the course: Solar Energy Conversion Systems (SECS), which was published by Elsevier -- Academic Press in 2013.