Print
In this lesson, we will focus on how geospatial perspectives and technology are used in response to emergency situations. Geospatial analysis has tremendous potential for aiding disaster response, but as you will learn, it is not easy to quickly translate geospatial data into actionable information when lives are at stake. Responders need to know where to go and how to get there, and emergency managers need to understand and react to a changing situational picture.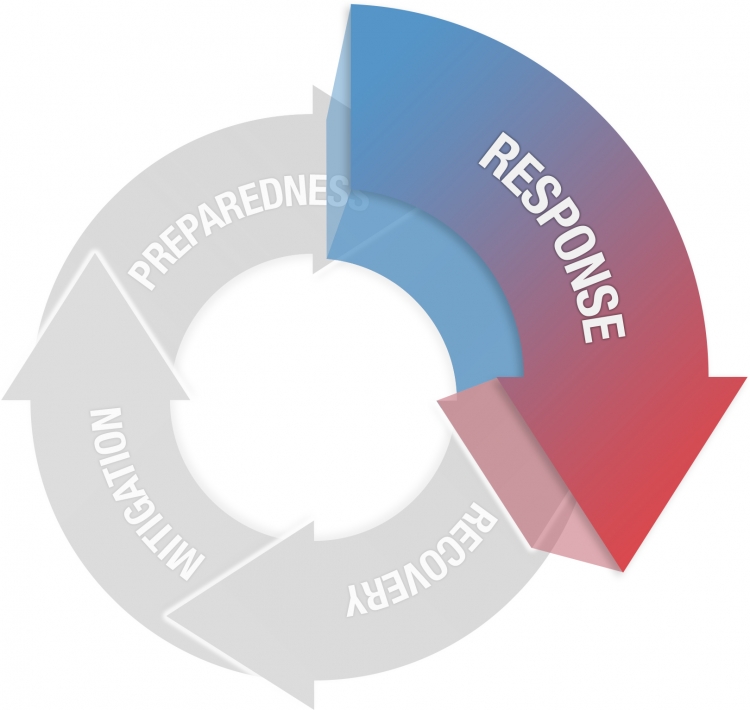 Response
Actions taken immediately before, during and after an event to alleviate suffering and prepare for recovery
Establish Situational Awareness
Evacuations and Shelters
Respond to remaining hazard
Search and Rescue
Mass Care
Logistics response
Initiate Recovery
What You Will Learn
By the successful completion of this lesson, you should be able to:
identify the roles that geospatial approaches and technologies can play in disaster response;
discuss some of the issues that geospatial analysis systems must overcome in response situations with your colleagues;
understand the implications of real-time mapping and spatial analytics;
create real-time mapping and spatial analytics dashboards.
What You Will Do
Lesson 5 is one week in length. To finish this lesson, you must complete the activities listed below.
Lesson 5 Checklist
To Read

Lesson content on emergency response and related geospatial approaches and technologies
Geographic Information Systems and Disaster Response (pp. 187-208) from Geographic Information Systems for Disaster Management.
FEMA Geospatial Coordination Call Slides – Situational awareness on two days during Hurricane Maria – Wednesday, September 20, 2017, and Sunday, September 24, 2017.
Book Chapter on Computer Networks and Emergency Management

To Do

Reading Discussion

Real-time Mapping and Spatial Analytics exercise and discussion
Term Project: Continue to make progress on the first draft which will be due the end of Lesson 6
Please refer to the Course Calendar for specific due dates.
Questions?
If you have questions about the content or lesson activities, please post them to the General Questions and Discussion forum in Canvas. While you are there, feel free to post your own responses if you, too, are able to help a classmate. If your question is of a personal nature, please email me directly through Canvas.