Print
Welcome to BA 850, Sustainability-Driven Innovation, Fall 2023
This syllabus is divided into several sections. It is essential that you read the entire syllabus as well as the material covered in the Course Orientation. Together these serve as our course "contract."
Instructor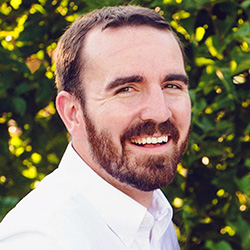 Andy James
Author and Instructor, John A. Dutton e-Education Institute, College of Earth and Mineral Sciences, The Pennsylvania State University; Vice President, Corporate Strategy, New Pig Corporation; Sustainability Council, Manufacturers Alliance for Productivity and Innovation; Industrial Advisory Board, Renewable Energy and Sustainability Systems (RESS), The Pennsylvania State University.
Email: axj153@psu.edu
Availability: I check email daily and am available for Skype, FaceTime, or phone calls on an appointment basis, 7 days a week.
"Meet the Instructor:" Andy James
Course Overview
Description: This course explores sustainability as a business opportunity for developing innovative products and services. It will focus on consumer needs related to sustainability, willingness to pay for these needs, and the innovative processes necessary to create sustainable solutions.
Prerequisites: None
Course Objectives: When you successfully complete this course, you will be prepared to:
understand and critically analyze current realities, opportunities, and structural issues in sustainability across a range of organizations;
manage and evaluate insight-driven research as a precursor to sustainability-driven innovation;
map sustainability-driven offerings in the market to evaluate the competitive landscape and find strategic opportunity;
design sustainability-centric product and service offerings around identified and tangible market needs;
create, iterate, and evaluate initial beta offerings to understand viability.
Like other courses in our online programs, BA 850 is a "paced" course. "Paced" means that the course has a start date, an end date, and a weekly schedule of activities and assignments. However, students are free to study at times most convenient to them; you never have to log in at a particular time or place. Assignment due dates are posted in a course calendar which students access in the University's online course management system, Canvas. See the "Assignments and Grading" section of this syllabus for more information.
Along with the course calendar, registered students will find online assignments, a gradebook, communications tools, and other useful features in Canvas. For more information about the course environment, see the "Canvas Activities" section of the course Orientation.
Although the class never meets face to face, you will find there are plenty of opportunities to interact with the instructor and fellow students. One of the most interesting aspects of the class is that much of our time is dedicated to driving discussion and thought in such a way that we can leverage both the material and our professional experience. See the "Communication" section of the course Orientation to review all the ways in which you can get–and stay–in touch. Whether you have a question or a comment, you can expect to receive a reply within 24 hours–often sooner.
Expectations and Rules of Engagement
I expect well-honed arguments, salient points, and aggressive collaboration and discussion. No bystanders.
On average, most students spend eight to twelve hours per week working on course assignments. Your workload may be more or less depending on your study habits and your engagement in the casework. What you receive from the course will to a great degree depend on how strongly you engage with the cases and peer discussions.
Specific learning objectives for each lesson and project are detailed within each lesson. The class schedule is published under the Calendar tab in Canvas (the course management system used for this course).
Required Course Materials
Required Textbook
Ten Types of Innovation: The Discipline of Building Breakthroughs by Larry Keeley, et al, 1st edition. (ISBN 9781118504246). It is an excellent, practical book with deep examples.
E-Book Option: An online version of this text is available at no cost as a Penn State Library E-Book. Some E-Books will only be available online, while others will be available to download in full or in part. You may choose to use the E-Book as an alternative to purchasing a physical copy of the text. You can access the E-Book by selecting the Library Resources link on the course navigation (in Canvas), and then selecting the E-Reserves link. For questions or issues, you can contact the University Libraries Reserve Help (UL-RESERVESHELP@LISTS.PSU.EDU).
Assistance with Textbooks: Penn State honors and values the socioeconomic diversity of our students. If you require assistance with the costs of textbooks for this course, contact the Office of Student Care and Advocacy, 120 Boucke Building, 863-4926. For additional needs related to socioeconomic status please visit Project Cahir.
Online Lesson Content
All materials needed for this course are presented online through Canvas. In order to access the online materials, you need to have an active Penn State Access Account user ID and password. If you have any questions about obtaining or activating your Penn State Access Account, please contact the Outreach Helpdesk.
Assignments and Grading
This course will rely on a variety of methods to assess and evaluate student learning, including:
Weekly Cases. Each week, we will cover an open case designed to reinforce and extend the week's topic. These cases are approximately two pages, single-spaced, which is not a tremendous amount of space, as we want to focus on the most important discussion points and findings of the week. I have taken this approach for two reasons: 1) because "padded papers" benefit no one, and 2) because we should generally practice concise, compelling writing styles. These papers will then be uploaded to the class discussion forum.
Weekly Case Responses. After the cases are posted to the discussion forum, you will then reply/respond/refute/extend a post of one of your colleagues, with an approximately one-page, single-spaced Case Response. Take a stand, back it up, and most of all, have fun. This course is structured to push us all with a co-learning approach, and I expect a lot of effort to be placed into the thought itself.
Final Case. The Final Case is a ten-page application of all we have learned over the semester, applied to a single company/offering of your choosing. If you notice, it is 20% of your grade, which may be considered "underweighted." I have elected to keep the final case reasonable in scope and to place the emphasis on the Weekly Cases, as they allow a far more specific approach to the content.
Citation and Reference Style: APA
For reference on the APA style and usage, see our Academic Integrity and Citation Style Guide.
A note on page count:
For the sake of the assignments, a "page" is single-spaced, Times New Roman, 12 point, 1" margins on all sides. It can be helpful to either write your draft post in Word or paste your post into Word before submission to help ensure you are meeting the criteria.
It is important that your work be submitted in the proper format to the appropriate Canvas Drop Box or Discussion Forum and by the designated due date. I strongly advise that you do not wait until the last minute to complete these assignments—give yourself time to ask questions, think things over, and chat with others. You'll learn more, do better...and be happier!
Due dates for all assignments are posted on the course calendar in Canvas.
Peer Influence Voting and "The Week In Review"
Each week, after the cases and responses are posted, you will vote (via email to me) for up to two colleagues you thought were especially compelling in their casework or responses. The overall Influence Leader at the end of the semester will receive a prize package, but more importantly, the knowledge that they not only pushed their own learning, but also the learning of their colleagues.
In The Week In Review webcast, I will highlight points made in the Cases and Responses and generally close the Lesson. In this webcast, I will also unveil the Peer Influence Voting for the week, as well as the Overall Standings. These webcasts will be posted on Wednesdays to coincide with the opening of the next Lesson.
A Note on Timing
Please note that you may post your Case and Response to the Discussion Forum at any time up to the deadline. We all have other engagements, so I would like to reinforce that flexibility. Furthermore, consider that those posting Cases earlier will likely garner more Responses from colleagues, which may benefit Influence Voting.
Grading
Assignments and Percent of Grade

| Assignment | Percent of Grade |
| --- | --- |
| Weekly Cases | 60% |
| Weekly Case Responses | 20% |
| Final Case | 20% |
I have weighted the grading in this course heavily toward the weekly case activity and discussions, as I firmly believe students receive the most benefit from this course when each engages in their own examinations of the topic, after which we all come together in spirited discussion.
Below is the grading rubric and a sample of what you can expect from the grading of weekly cases:
Source: A. James
Accessible version of Grading Rubric (opens in new tab)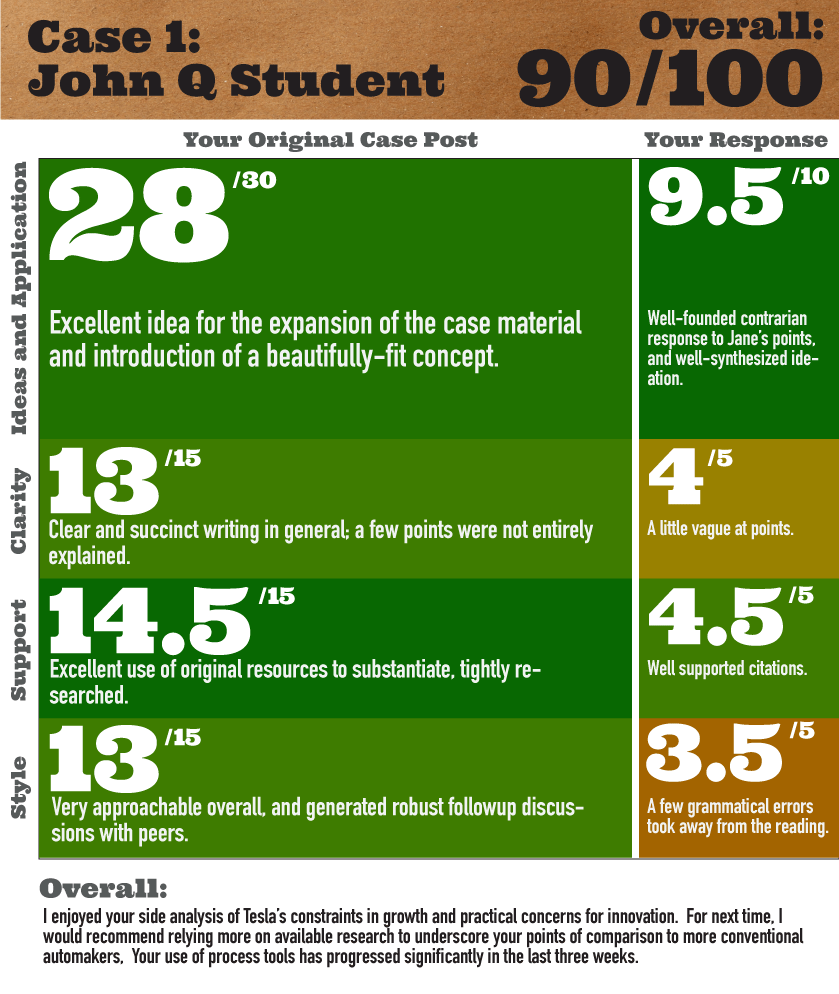 Source: A. James
Accessible version of Case 1 Figure (opens in new tab)
I will use the Canvas grade book to keep track of your grades. You can count on me to complete the grading typically within a week, depending upon the case complexity. You can see your grades in the grade book by clicking on Grades. Overall course grades will be determined as follows. Percentages refer to the proportion of all possible points earned.
Letter Grade and Corresponding Percentages

| Letter Grade | Percentages |
| --- | --- |
| A | 93 - 100 % |
| A- | 90 - 92.9 % |
| B+ | 87 - 89.9 % |
| B | 83 - 86.9 % |
| B- | 80 - 82.9% |
| C+ | 77 - 79.9 % |
| C | 70 - 76.9 % |
| D | 60 - 69.9 % |
| F | < 60 % |
| X | Unsatisfactory (student did not participate) |
Late Policy
In exceptional circumstances, you should contact me. The earlier you contact me to request a late submission, the better. Requests will be considered on a case-by-case basis. We are all busy people with other responsibilities, and I expect professionalism in your advance notice, if possible.
BA 850 Course Schedule

Printable Schedule
Below you will find a summary of the primary learning activities for this course and the associated time frames. This course is twelve weeks in length, with an orientation week preceding the official start of the course. Each lesson is one week long. See our Calendar in Canvas for specific lesson time frames and assignment due dates.
Weekly schedule: Lessons are opened each Wednesday, Weekly Cases are due by 11:59 pm Monday EST (Eastern Standard Time) and Weekly Case Responses are due by 11:59 pm EST Tuesday. On Wednesday, I will briefly review the cases and discussions and do a brief "Week in Review" Webcast where the Leaderboard for that week will be also revealed.
Weekly Schedule
Sunday
Monday
Tuesday
Wednesday
Thursday
Friday
Saturday
Lesson opens
Case due
Case Response due, Peer Voting

Lesson closes
Week in Review Webcast / Leaderboard unveiled
NOTE: See the Canvas calendar for a full semester calendar of events.
The list of topics and activities included in the course is presented below. Refer to the course website for specific reading materials recommended for each lesson.
Course Orientation
Topics

Welcome
Meet the Instructor
Technical requirements

Readings
Assignments

Post an introduction to Discussion Forum: Student Bios
Lesson 1: Realities of Sustainability - Planet
Topics

The 3Ps and Triple Bottom Line
The historical context of environmental issues
Resource scarcity
Greenhouse emissions and carbon taxes
Environmental standards and certifications
Regulatory and public influences
Corporate Sustainability Reports (CSRs)
"Planet" in the CSR
Sustainability innovation leaders - Planet

Readings

Chapters 1 and 2 (Keeley, et al.)
Documents and assets as noted/linked in the Lesson (optional)

Assignments

Case Assignment: Patagonia and REI

Case Post
Case Response
Peer Voting
Lesson 2: Realities of Sustainability - People
Topics

Stakeholder engagement
Workforce training and development
Working conditions
Compensation and benefits
Whistleblower anonymity and protection
Diversity and inclusion
"People" in the CSR
Sustainability innovation leaders - People

Readings

Chapters 3 and 4 (Keeley, et al.)
Documents and assets as noted/linked in the Lesson (optional)

Assignments

Case Assignment: Nike and Apple

Case Post
Case Response
Peer Voting
Lesson 3: Realities of Sustainability - Profit
Topics

Materiality and sustainability imperatives
Profitability and added value
Compartmentalized v. Infused sustainability
Operational efficiency
Efficiency stagnation
Regulatory risk and the hidden cost of compliance
Sustainability innovation leaders - Profit

Readings

Chapters 5 and 6 (Keeley, et al.)
Documents and assets as noted/linked in the Lesson (optional)

Assignments
Case Assignment: IKEA

Case Post
Case Response
Peer Voting
Lesson 4: Identifying Opportunities in Sustainability I
Topics

Critical analysis of public filings
The Clouds and Roots Model of Strategy
Mining GRI reports
Mining unstructured CSRs
Supplier scorecards and requirements
Non-sustainability sources

Readings

Chapters 7 and 8 (Keeley, et al.)
Documents and assets as noted/linked in the Lesson (optional)

Assignments
Case Assignment: Finding opportunity

Case Post
Case Response
Peer Voting
Lesson 5: Identifying Opportunities in Sustainability II
Topics

Value-based innovation and sustainability
Introduction to White, Gray, and Black space innovation
White space innovation
Gray space innovation
Black space innovation
Analysis of WGB spaces

Readings

Chapters 9 and 10 (Keeley, et al.)
Documents and assets as noted/linked in the Lesson (optional)

Assignments
Case Assignment: Sketching WGB spaces

Case Post
Case Response
Peer Voting
Lesson 6: Insight-Driven Innovation I
Topics

Truths of research and innovation
Introduction to methodologies
Surveys
Message/Proposition Testing
Focus groups
Depth interviews and observation

Readings

Chapters 11 and 12 (Keeley, et al.)
Documents and assets as noted/linked in the Lesson (optional)

Assignments
Case Assignment: Structuring research

Case Post
Case Response
Peer Voting
Lesson 7: Insight-Driven Innovation II
Topics

Levels of Insight
Means End Chains and Laddering
Cognitive Mapping for Innovation
Strategic paths and Map ideation
The importance of messaging

Readings

Chapters 13, 14, 15 (Keeley, et al.)
Documents and assets as noted/linked in the Lesson (optional)

Assignments
Assignment: MEC and Cognitive Mapping

Case Post
Case Response
Peer Voting
Lesson 8: The Ten Types of Innovation
Topics

Profit Model Innovation
Network Innovation
Structure Innovation
Process Innovation
Product Performance Innovation
Product System Innovation
Service Innovation
Channel Innovation
Brand Innovation
Customer Engagement

Readings

Chapters 16 and 17 (Keeley, et al.)
Documents and assets as noted/linked in the Lesson (optional)

Assignments
Assignment: Identifying the Ten Types

Case Post
Case Response
Peer Voting
Lesson 9: Organizational Context
Topics

Competencies and Advantages
Identifying competencies
Considering resources
Core competencies v. innovation competencies
Competencies on the Map

Readings

Documents and assets as noted/linked in the Lesson (optional)

Assignments
Case Assignment: Five Contexts

Case Post
Case Response
Peer Voting
Lesson 10: Testing the Offering I - Stated Preference Methods
Topics

Introduction
Expert judgments
Customer survey
Conjoint analysis
Van Westendorp meter

Readings

Documents and assets as noted/linked in the Lesson (optional)

Assignments
Final Case Prospectus
Lesson 11: Testing the Offering II - Revealed Preference Methods
Topics

The importance of live testing
Beta testing
Philosophies of Microtesting
Tactics of Microtesting
Microtesting tools
Microtesting analytics

Readings

Documents and assets as noted/linked in the Lesson (optional)

Assignments
Case Assignment: Microtesting the Offering

Case Post
Case Response
Peer Voting
Lesson 12: Honing and Evaluating the Concept
Topics

The Conversion Funnel
Statistical Significance
Iteration

Readings

Documents and assets as noted/linked in the Lesson (optional)

Assignments
Continue work on Final Case
Final Case

| | |
| --- | --- |
| Assignments | Final Case Assignment Page |
Course Policies
Technical Requirements
For this course, we recommend the minimum technical requirements outlined on the World Campus Technical Requirements page, including the requirements listed for same-time, synchronous communications. If you need technical assistance at any point during the course, please contact the IT Service Desk (for World Campus students) or Penn State's IT Help Portal (for students at all other campus locations).
Internet Connection
Access to a reliable Internet connection is required for this course. A problem with your Internet access may not be used as an excuse for late, missing, or incomplete coursework. If you experience problems with your Internet connection while working on this course, it is your responsibility to find an alternative Internet access point, such as a public library or Wi-Fi ® hotspot.
Mixed Content
This site is considered a secure web site, which means that your connection is encrypted. We do, however, link to content that isn't necessarily encrypted. This is called mixed content. By default, mixed content is blocked in Internet Explorer, Firefox, and Chrome. This may result in a blank page or a message saying that only secure content is displayed. Follow the directions on our Technical Requirements page to view the mixed content.
Equations
This course must be viewed using the latest version of Firefox, Safari, Chrome, or Edge. Internet Explorer is not supported.
If you use any other browser, or if you are not using the latest version of your browser, some pages containing equations may not render properly. In addition,
javascript must be enabled
for equations to render properly. If you have any issues with equations not rendering properly, please update your browser to the latest version or try using a different browser. If you need additional technical assistance at any point during the course, please contact the
HelpDesk
(for World Campus students) or the
IT Service Desk
 (for students at all other campus locations).
Penn State E-mail Accounts
All official communications from Penn State are sent to students' Penn State e-mail accounts. Be sure to check your Penn State account regularly, or forward your Penn State e-mail to your preferred e-mail account, so you don't miss any important information.
Academic Integrity
This course follows the procedures for academic integrity of Penn State's College of Earth and Mineral Sciences. Penn State defines academic integrity as "the pursuit of scholarly activity in an open, honest and responsible manner." Academic integrity includes "a commitment not to engage in or tolerate acts of falsification, misrepresentation, or deception." In particular, the University defines plagiarism as "the fabrication of information and citations; submitting others' work from professional journals, books, articles, and papers; submission of other students' papers, lab results or project reports and representing the work as one's own." Penalties for violations of academic integrity may include course failure. To learn more, see Penn State's Academic Integrity Training for Students. 
Course Copyright
All course materials students receive or to which students have online access are protected by copyright laws. Students may use course materials and make copies for their own use as needed, but unauthorized distribution and/or uploading of materials without the instructor's express permission is strictly prohibited. University Policy AD 40, the University Policy Recording of Classroom Activities and Note Taking Services addresses this issue. Students who engage in the unauthorized distribution of copyrighted materials may be held in violation of the University's Code of Conduct, and/or liable under Federal and State laws.
For example, uploading completed labs, homework, or other assignments to any study site constitutes a violation of this policy.
Accommodations for Students with Disabilities
Penn State welcomes students with disabilities into the University's educational programs. Every Penn State campus has an office for students with disabilities. The Office for Student Disability Resources website provides contact information for Campus Disability Coordinators at every Penn State campus. For further information, please visit the Office for Student Disability Resources website.
In order to receive consideration for reasonable accommodations, you must contact the appropriate disability services office at the campus where you are officially enrolled. You will participate in an intake interview and provide documentation. See documentation guidelines at Applying for Services from Student Disability Resources. If the documentation supports your request for reasonable accommodations, your campus's disability services office will provide you with an accommodation letter. Please share this letter with your instructors and discuss the accommodations with them as early in your courses as possible. You must follow this process for every semester that you request accommodations.
Change in Normal Campus Operations
In case of weather-related delays or other emergency campus disruptions or closures at the University, this online course will proceed as planned. Your instructor will inform you if there are any extenuating circumstances regarding content or activity due dates in the course due to these delays or closures. If you are affected by a weather-related emergency, please contact your instructor at the earliest possible time to make special arrangements.
Reporting Educational Equity Concerns
Penn State takes great pride in fostering a diverse and inclusive environment for students, faculty, and staff. Acts of intolerance, discrimination, or harassment due to age, ancestry, color, disability, gender, gender identity, national origin, race, religious belief, sexual orientation, or veteran status are not tolerated (Policy AD29 Statement on Intolerance) and can be reported through Educational Equity via Report Bias.
Counseling and Psychological Services
Many students at Penn State face personal challenges or have psychological needs that may interfere with their academic progress, social development, or emotional well-being.  The university offers a variety of confidential services to help you through difficult times, including individual and group counseling, crisis intervention, consultations, online chats, and mental health screenings.  These services are provided by staff who welcome all students and embrace a philosophy respectful of clients' cultural and religious backgrounds, and sensitive to differences in race, ability, gender identity, and sexual orientation.  Services include the following:
Counseling and Psychological Services at University Park  (CAPS): 814-863-0395
Counseling Services at Commonwealth Campuses
Penn State Crisis Line (24 hours/7 days/week): 877-229-6400
Crisis Text Line (24 hours/7 days/week): Text LIONS to 741741
Military Personnel
Veterans and currently serving military personnel and/or spouses with unique circumstances (e.g., upcoming deployments, drill/duty requirements, disabilities, VA appointments, etc.) are welcome and encouraged to communicate these, in advance if possible, to the instructor in the case that special arrangements need to be made.
Connect Online with Caution
Penn State is committed to educational access for all. Our students come from all walks of life and have diverse life experiences. As with any other online community, the lack of physical interaction in an online classroom can create a false sense of anonymity and security. While one can make new friends online, digital relationships can also be misleading. Good judgment and decision-making are critical when choosing to disclose personal information to others whom you do not know.
Attendance
This course will be conducted entirely online. There will be no set class meeting times, but you will be required to complete weekly assignments with specific due dates. Many of the assignments are open for multiple days, so it is your responsibility to complete the work early if you plan to travel or participate in national holidays, religious observances or University approved activities.
If you need to request an exception due to a personal or medical emergency, contact the instructor directly as soon as you are able. Such requests will be considered on a case-by-case basis.
Deferred Grades
If you are prevented from completing this course within the prescribed amount of time for reasons that are beyond your control, it is possible to have the grade deferred with the concurrence of the instructor, following Penn State Deferred Grade Policy 48-40. To seek a deferred grade, you must submit a written request (by e-mail or U.S. post) to the instructor describing the reason(s) for the request. Non-emergency permission for filing a deferred grade must be requested before the beginning of the final examination period.  It is up to the instructor to determine whether or not you will be permitted to receive a deferred grade. If permission is granted, you will work with the instructor to establish a communication plan and a clear schedule for completion within policy.  If, for any reason, the coursework for the deferred grade is not complete by the assigned time, a grade of "F" will be automatically entered on your transcript.
Diversity, Inclusion, and Respect
Penn State is "committed to creating an educational environment which is free from intolerance directed toward individuals or groups and strives to create and maintain an environment that fosters respect for others" as stated in Policy AD29 Statement on Intolerance. All members of this class are expected to contribute to a respectful, welcoming, and inclusive environment and to interact with civility.
For additional information, see:
Mandated Reporting Statement
Penn State's policies require me, as a faculty member, to share information about incidents of sex-based discrimination and harassment (discrimination, harassment, sexual harassment, sexual misconduct, dating violence, domestic violence, stalking, and retaliation) with Penn State's Title IX coordinator or deputy coordinators, regardless of whether the incidents are stated to me in person or shared by students as part of their coursework. For more information regarding the University's policies and procedures for responding to reports of sexual or gender-based harassment or misconduct, please visit Penn State's Office of Sexual Misconduct Prevention & Response website.
Additionally, I am required to make a report on any reasonable suspicion of child abuse in accordance with the Pennsylvania Child Protective Services Law.
---
Disclaimer
Please note that the specifics of this Course Syllabus can be changed at any time, and you will be responsible for abiding by any such changes. All changes will be communicated to you via e-mail, course announcement and/or course discussion forum.