Print
Energy is stored and is available in different forms and sources. The ~24,000 times more solar energy that is available than we need is not in a readily usable form. It needs to be concentrated.
For example, when oil (a concentrated fuel) is burned with air, the resulting gases can reach high temperatures. Solar energy, as it is, is not concentrated and cannot reach those high temperatures. Therefore, we use more concentrated energy sources. These sources are divided into two groups—renewable and nonrenewable.
Renewable Energy Sources:
Energy sources that can be replenished over and over again; they are never depleted. Some examples include hydropower, solar, wind, tidal, geothermal energy from inside the earth, biomass from plants, and nuclear fusion.
These types of energy sources are usually converted into electricity or thermal (heat) energy.
Nonrenewable Energy Sources:
Energy sources that we are using up and cannot produce in a short period of time. Some examples include fossil fuels (Petroleum Oil, Natural Gas, and Coal), Tar Sands, and Nuclear Fission.
Another nonrenewable energy source is the element uranium, whose atoms we split (through a process called nuclear fission) to create heat, and ultimately, electricity.
These types of energy sources are usually converted into electricity and mechanical energy.
We get most of our energy from these nonrenewable energy sources.
Did You Know?
They're called fossil fuels because they were formed over millions and millions of years by the action of heat from the Earth's core and pressure from rock and soil on the remains (or 'fossils') of dead plants and animals.
Fossil Fuel Distribution
Fossil fuels, non-renewable energy sources formed over a million years, are not distributed uniformly over the earth's surface. Depending on the climate conditions millions of years ago, certain parts of the land masses were favorable for organic matter to grow and thrive.
Over geological ages, these land masses moved, and certain regions are richer in fossil fuels than others. Review the information on the map below and then answer the questions below the map based on your observations.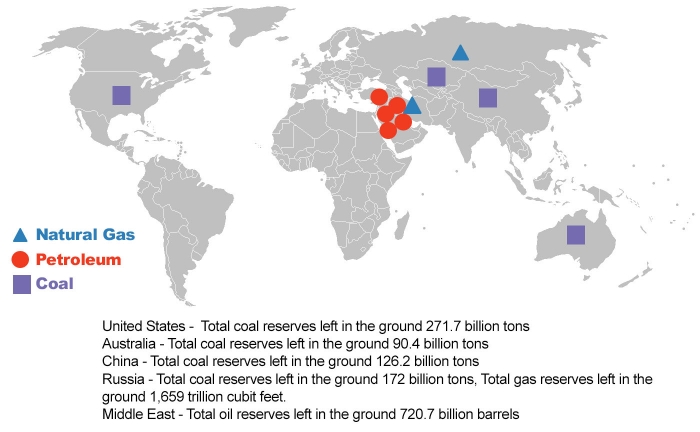 Click link to expand for a text description of the image
Global Distribution of Natural Resources
The most abundant resources for various global regions are as follows:
China is richest in coal
Australia is richest in coal
The Middle East is richest in petroleum
The United States is richest in coal
Russia is richest in natural gas
Human Use of Energy Sources
The activity below is a drag and drop. Select the items listed in the center of the image and drag them to the corresponding or matching energy type listed on the side.