Print
Meet the Authors
Colorado Mesa University
Gigi Richard
Growing up below sea level in New Orleans, Louisiana instilled in Gigi Richard an early fascination with water, weather, and good food. Hurricanes and floods were constant threats living on the Mississippi River delta close to the Gulf of Mexico, and with a Cajun heritage, growing up in a food-oriented culture, her food obsession came naturally. Following an undergraduate civil engineering degree focused on water resources from MIT in Cambridge, MA, Gigi moved to Colorado and spent a couple of years practicing as a civil engineer. After designing roads, subdivision and water, and sewer lines for a while, she realized that studying and understanding the natural environment was her passion, and continued her graduate studies focused on water and more specifically, river dynamics at CSU in Fort Collins, CO earning an MS and PhD in civil engineering. Gigi's graduate research focused on the Rio Grande in New Mexico, studying the impacts of a dam on the river. Following graduate school, she spent a year as a post-doc in New Zealand, studying human impacts on the Waiho River draining Franz Josef Glacier on the south island of New Zealand. In 2002, Gigi started teaching at Colorado Mesa University in Grand Junction, CO in the geology program where she created the Watershed Science program, co-founded the Hutchins Water Center at CMU and was the founding coordinator of the CMU/CU-Boulder Mechanical Engineering Partnership Program. Gigi's research at CMU has focused on flash flooding in ephemeral washes of the Colorado National Monument, understanding human impacts on the Yampa, Dolores and Colorado Rivers in western Colorado, and monitoring the impact of invasive vegetation removal on channel morphology of the Colorado River. Gigi is currently the Director of the Hutchins Water Center and is taking on the role of the coordinator of the new CMU/CU-Boulder Civil Engineering Partnership Program in spring 2016. In addition to her academic activities and to support her fresh food habit, Gigi spent four summers working at a Community Supported Agriculture (CSA) farm in Palisade, CO and remains an active member of the Field to Fork CSA. Gigi is also a volunteer weather reporter for the Community Collaborative Rain, Hail and Snow (CoCoRaHS) Network and enjoys the outdoors in western Colorado, often on her bicycle or skis, as well as by growing her own food (and cooking it and eating it!).

Pennsylvania State University-University Park
Heather Karsten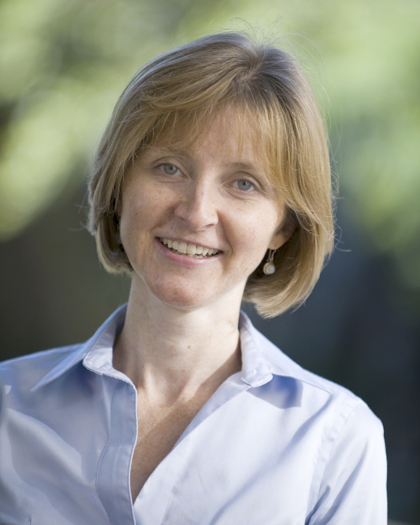 Since she can remember, Heather Karsten's favorite color has been green. A native of the suburbs of Pittsburgh, PA, Heather Karsten's interest in plants and nature was nurtured through lots of outdoor recreational activities, gardening with her mother, and spending time on her family's friends' farm. Due to her keen interest in plants and the environmental sciences, she studied Environmental Biology at Yale where she discovered the field Agroecology. Inspired to contribute to developing more ecologically-friendly agriculture, she went on to earn her MS and PhD program in Agronomy and Agroecology at Cornell University, where she was fortunate to enjoy exploring diverse agroecosystems and their food systems through a Fulbright year in New Zealand studying pasture ecology; studies of tropical agriculture and Spanish in Guatemala, Honduras, and Costa Rica; and her PhD research on a pasture-based commercial dairy farm in New York. After post-doctoral research on irrigated pasture systems in the Intermountain West stint at Utah State University, she returned to Pennsylvania to join the faculty at The Pennsylvania State University in 1998 where she teaches and conducts research in agronomy and agroecology. At Penn State, she has researched management intensive grazing systems, the influence of the grass-based diet on livestock product healthful fatty acid composition and vitamin content, and strategies to help organic farmers with whole farm nutrient management. She currently leads an interdisciplinary research team who are evaluating innovative conservation dairy cropping systems designed to conserve soil, nutrients, and energy; protect water quality, and reduce pesticide use with funding from the USDA's Sustainable Agriculture Research and Education program. For more information see Department of Plant Science and Research. And although she continues to enjoy traveling to explore other agroecosystems and sampling diverse foods, in the beautiful ridge and valley region of central Pennsylvania, Heather enjoys both the natural ecosystems and agroecosystems through hiking, biking, gardening, visiting the farmers market, and eating fresh and diverse food with her family and friends.
Steve Vanek
Steven Vanek: as an indication of the twists and turns that can lead one to contemplate food systems, I pursued physics in my undergraduate program at Cornell University, and then, through a series of volunteer and teaching experiences with rural development organizations in the developing world, I attended graduate school first in Horticulture for an MS and then a PhD in soil science. I've conducted basic research on the processes that allow soils to feed plants and supply food systems, but much of my work has been on understanding agriculture at an applied level and in the way it contributes to global food systems, from case studies of organic farms in the Northeast United States to collaborations with nutritionists in studying Bolivian smallholder farming households. I currently collaborate with a Peruvian organization that seeks better options for maintaining soil fertility with forage crops that can also feed livestock in the Andes of South America. Over the last two years, I have been pursuing a post-doctoral research post in the Geography lab of Karl Zimmerer, where we study relationships between agrobiodiversity, soil management, and geographic factors of tropical mountain regions. In my time at Penn State, we have been able to try out some of the content of this course in a seminar course last spring. I'm very happy for the opportunity to form part of the multifaceted team that has authored the course, and to be a Penn State instructor for this innovative approach to fostering your learning about food and sustainability. Last but not least, I love food in all its varied glory, from the Czech and Italian recipes of my family to homemade kimchi, bread, and barbecue that I've attempted over the years. I appreciate pretty much any restaurant that can serve decent portions.