Print
A number of "ingredients" (concepts) have been used in the development of the Structured Geospatial Analysis Method "stew." It is difficult to understand how to apply the method without understanding the ingredients and their associated qualities. The following is a brief discussion of each ingredient for your general reference:
critical thinking
spatial thinking
understanding spatial fallacies
geospatial reasoning
analytic methods
geospatial analytic methods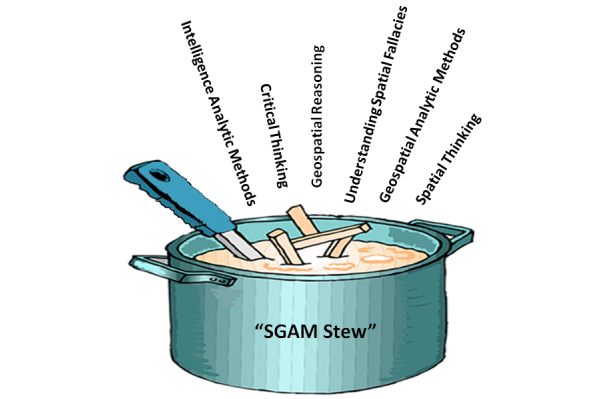 Recipe for SGAM Stew
Ingredients
1 tablespoon of critical thinking
1 1/2 pounds intelligence analytic methods
1/2 cup geospatial analytic methods
1/2 cup sliced understanding spatial fallacies
3 cups spatial thinking
1 cup geospatial reasoning
salt and pepper, to taste
Preparation:
In a large saucepan brown the intelligence analytic method; add the geospatial analytic method and sauté for 3 to 5 minutes longer. Add reasoning and spatial thinking; bring to a boil. Reduce heat to low, cover, and simmer for 1 to 1 1/2 hours. Add geospatial reasoning; simmer for about 30 to 40 minutes longer, or until tender. Add drained critical thinking; continue cooking for 5 to 10 minutes.
In a small bowl or cup, combine additional spatial thinking and geospatial reasoning with cold water until smooth. Add the mixture to the simmering broth, a little at a time, until stew is thickened. Taste and add salt and pepper. Serve with hot buttered presentations.