Print
8.3. Solar Thermal Electric Power Generation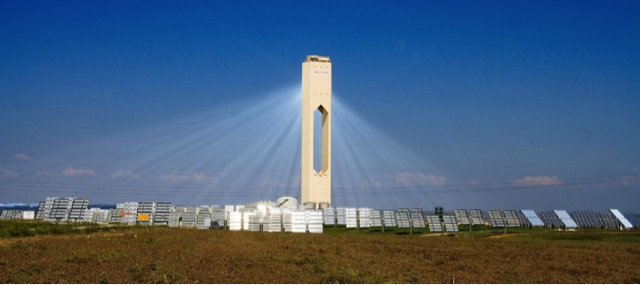 Solar thermal technologies are designed to convert the incident solar radiation into usable heat. The process of solar heat conversion implies using energy collectors - the specially designed mirrors, lenses, heat exchangers, which would concentrate the radiant energy from the sun and transfer it to a carrier fluid. The fluid passes through the sunlight collector and becomes very hot. Typical heat carrier fluids are water/steam, oil, or molten salt. Then the fluid is transferred to the heat engine, which converts the heat to electricity.
Please watch the following video, which provides an illustration of this technology.
Video: Energy 101: Concentrating Solar Power (2:16)
There are several different kinds of solar collectors, which are described below. These collectors are only functional with the direct beam sunlight and would also benefit from sun tracking - the technology that keeps the reflectors at an optimal angle to the sun.
Flat plate collectors
Flat plate collector is the simplest technology of this kind, which is typically used for reaching temperatures usually no more than 100 degrees above ambient.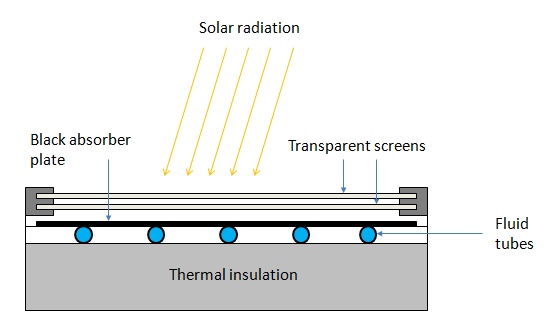 Credit: Mark Fedkin, modified after Duffie and Beckman, 2013
Concentrating collectors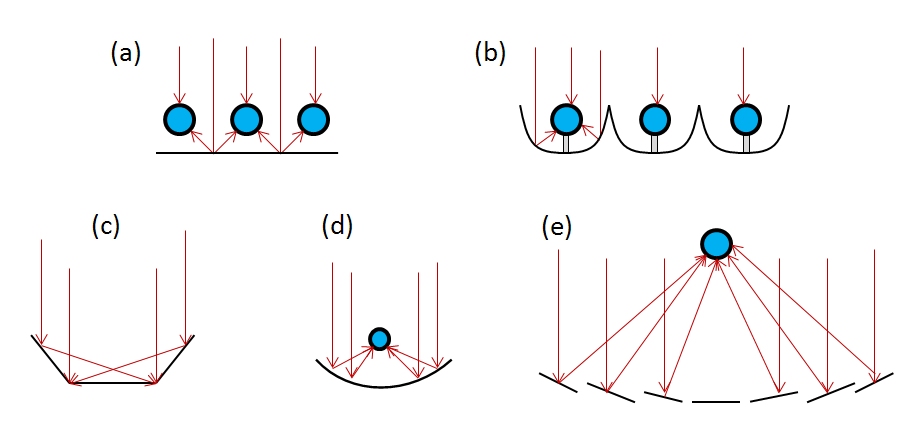 Credit: Mark Fedkin - modified after Duffie and Beckman, 2013
The above collectors are combined to a bigger energy conversion system. The larger scale solar thermal systems have higher efficiency than small systems.
The utility scale solar thermal systems include the following designs:
linear reflectors (heating temperatures ~280 oC);
parabolic trough (heating temperatures ~400 oC);
dish / engine systems (heating temperatures ~650 oC);
solar tower (heating temperatures ~>1000 oC).
Please refer to the following reading to learn more details about the solar thermal technologies.
Reading Assignment:
Solar Thermal Power Plants. Technology Fundamentals, Renewable Energy World, 06/2003, pp. 109-113.
This article explains the fundamentals of CSP well, but it already became obsolete in terms of technology commercialization. For example, it mentions that there are no commercial solar tower plants, but actually there are now. Here, I include the list of operating Solar Thermal Power Stations available on Wikipedia page, which indicates the capacity of the plants, their location, and technology used.