Print
Following are several analytic techniques that can be used to produce geospatial intelligence, considering the nature of intelligence and the grounding of the previously described theories.
Crime Mapping
Crime mapping is the process of using a geographic information system to conduct spatial analysis of crime problems and other police-related issues. It facilitates visual and statistical analyses of crime, allows linkages based on common variables, and helps to communicate results of analysis. (Boba, R. 2005. Crime Analysis and Crime Mapping. Thousand Oaks, CA: Sage.)
Police data includes: criminal incidents, arrests, calls for service, and traffic crashes and incidents. To see how an agency has incorporated crime mapping, go to the Philadelphia Police Department's Crime Maps & Stats site at: Crime Mapper.
Geographic Distribution Analysis
Geographic distribution analysis examines the occurrence of events over a geographic area to determine what can be concluded about the activity.  To complete a geographic distribution analysis, data on the locations of activities are collected and plotted on a map. Then, the information is reviewed to create a summary of what is depicted and from which to draw conclusions as to what the information means. (Peterson, M. B. 1994. Applications in Criminal Analysis. Westport, CT: Greenwood)
The following is an interactive website from the Washintgon Post depicting a distribution analysis of homicides in the Washington DC region: Tracking D.C. -area homicides.
Geographic Flow Chart
The map in Figure 1 depicts a geographic flow chart which shows movement of activities from one location to another. To complete this analysis, an analyst would summarize the information and draw conclusions about the activity to provide to a decision-maker.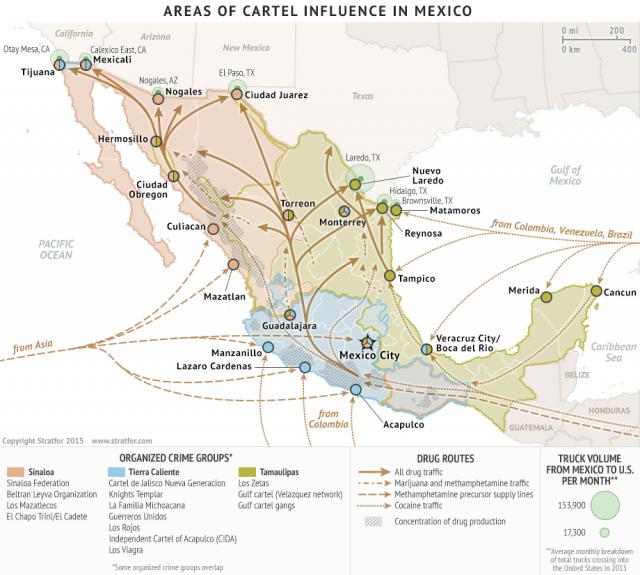 Spatial Analysis
Spatial analysis explores relationships within and between data in space and provides the ability to define characteristics of the data as they relate to other information. (Steinberg, S. L. & Steinberg, S. J. 2015. GIS Research Methods. Redlands, CA: Esri Press) In the criminal justice field, spatial analysis creates a snapshot of crime incidents and related factors within a geographic area. Looking for patterns is one aspect of spatial analysis.
Patterns can be found in:
Locations
Distances
Direction
Hot spots
Other Applications of GIS&T and GEOINT in Criminal Investigations and Law Enforcement