Print
In this section, you will understand the photogrammetric process and the different steps the product goes through in order to develop an ortho photo or digital elevation model.
Figure 7.1 illustrates the different steps of processing that imagery from a UAS is subject to in order to produce a mapping product such as an ortho photo or digital elevation model.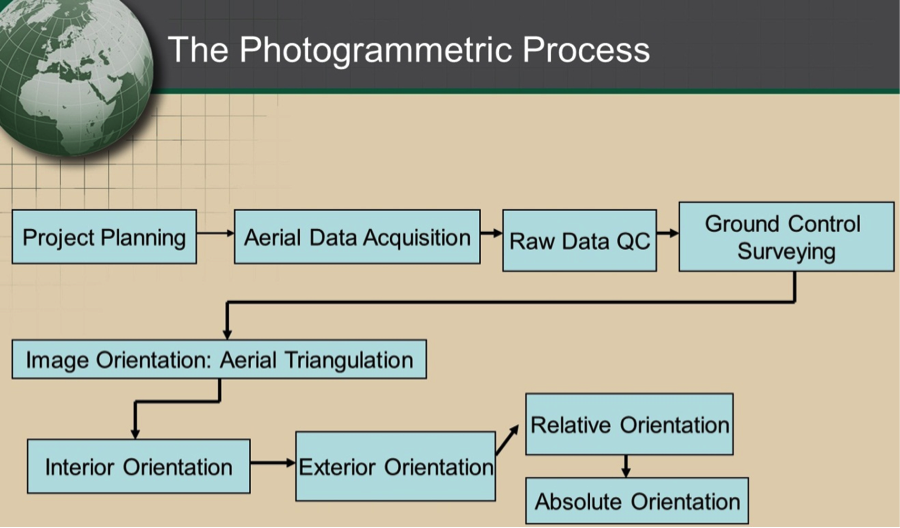 As we learned in Lesson 4, the process starts with the mission planning process. Once all the parameters and requirements are defined for the mission, a flight plan is developed and aerial imagery is acquired according to the project specifications. The resulting imagery will be reviewed to assure the expected quality. Following the image QC, the field work will be conducted to survey the necessary ground controls. The ground controls survey can be conducted either before the imagery acquisition, or after it is completed.
Once the imagery acquisition and the ground control survey are completed, work can begin on the process of aerial triangulation. Aerial triangulation, as it will be described in section 7.2, is performed to determine the position and the orientation of the camera at the moment of exposure of each image. It includes a few processing concepts, such as interior and exterior orientations, relative orientation, and absolute orientation. Aerial triangulation is achieved through processing software that is based on rigorous mathematical models based on least squares. Once the aerial triangulation is completed, the imagery is ready to go through other processing steps such as ortho rectification and digital elevation modeling.
To Read
Chapter 1 of Elements of Photogrammetry with Applications in GIS, 4th edition.