Print
Esri is best known for the ArcGIS suite of software that has proliferated the spatial analysis world since the 1980s (Esri). Esri launched ArcGIS Online in 2012, which has continued to expand its capabilities and make spatial analysis more collaborative, easy to use, and easier to disseminate. This comes with some positives and negatives; however, it is beyond the scope of this class to discuss those nuances.
This course will utilize ArcGIS Online and ArcGIS StoryMaps as a mechanism for interrogating and understanding issues relating to cultural geography and intelligence analysis, as well as for disseminating and conveying your results and findings.
ArcGIS Online has several components for interrogating and conveying spatial information. ArcGIS Online's basic features allow you to create and share maps and create web applications from those maps. Your first exercise, on the next page of this lesson, will have you create and share your first web map.
As a Penn State student in this class, you have access to an ArcGIS Online account, which you will use to complete several of the assignments for this course .
Here are the steps to access your ArcGIS Online account:
Use the following link to access Penn State's ArcGIS Online Organization
Log in with your PSU username and password

If you don't see the Penn State login page, you might have to click the "Penn State WebAccess" link.
Deliverable:
You must submit a screen capture of your Penn State ArcGIS Online home page (worth 5 points) to the Lesson 1 ArcGIS Online dropbox in Canvas. The screen capture should be similar to the image below and must include your name and student ID. Instructions for submitting the screen capture can be found on the Lesson 1 ArcGIS Login page in the Lesson 1 Module in Canvas.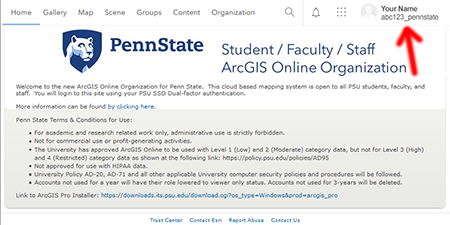 Note: If you do not successfully complete the ArcGIS login, your instructor will not be able to give you access to the files you will need to complete the Lesson 1 mapping exercise (45 points).
Please check the Canvas Syllabus or Calendar for specific time frames and due dates.
One key item to remember for future projects:
The ArcGIS Online sharing features are key to your success. The default sharing settings are to keep your work "private," so that nobody else can see your maps while you are working on them. When you are getting ready to turn in your work, especially complex work that may include multiple maps, please ensure that the sharing settings for all of your content is set to 'Organization'.
Getting Started with ArcGIS Online:
Use the link to preview Esri's Get started with ArcGIS Online lesson.
Notes about the Getting started with ArcGIS Online lesson:
StoryMaps
One additional capability within ArcGIS Online are the StoryMaps. StoryMaps allow users to convey their content in a story format, integrating many of the components ArcGIS Online has to offer.
Use the link to preview Esri's Get started with ArcGIS StoryMaps lesson.
Notes about the Get started with ArcGIS StoryMaps lesson:

Lesson duration: 30 minutes
Cost: Free
As a Penn State student, you already have access to Penn State's ArcGIS Online Organization.
Gaining familiarity with the technology you will be using to convey your information is important, but it is equally important to recognize the power one has when one is conveying and disseminating information. Choosing what content to convey and which mechanisms to use are integral to ensuring that you are presenting your information effectively for the greatest number of readers possible. The next training module explores storytelling in ArcGIS Online:
Use the link to preview Esri's Telling Stories with GIS Maps lesson.
Notes about Telling Stories with GIS Maps:

Lesson duration: 1 hour
Cost: Free
When Launching the course, you may select 'Access Anonymously.'
We will not be tracking any training records.
Other potential resources: