Print
Sharing Maps
Particularly given the rise of web-based mapping, maps are readily shared across the web – occasionally even going viral. Many blogs and websites are host to many maps, though the most efficient way to share maps with many users is through social media. Social media platforms like Twitter are an easy way to share both interactive and static maps, as well as links to external sites that permit more than a 140-character explanation of your work.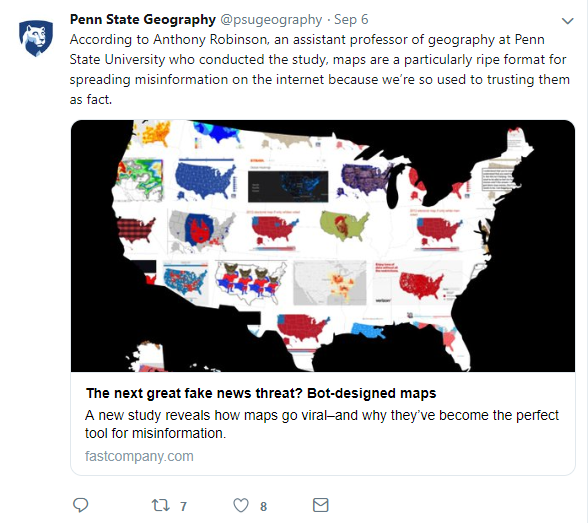 Credit: Penn State Geography @psugeography.
Not following anyone on twitter yet? @psugeography and @PennStateGIS are good places to start!
Maps can serve many purposes – from communicating ideas to exploring data to generate new insights. For any purpose, however, maps must be read and used. Social media has its faults, but it is an excellent way to get design inspiration and to share your own work.
Student Reflection
Have you ever used Twitter or other social media sites to share or learn about maps? It can be a fun way to stay up-to-date on current mapping trends, and to gain and share new ideas. Cartographer Kenneth Field shared this list of cartographers and (geo)visualization experts on Twitter in his recent book, Cartography. (Field 2018). If you're interested in learning more about (the most) current trends in cartography, you may find it a helpful place to start. ESRI.com Cartography Sources and Resources
Recommended Reading
Caquard, Sébastien. 2014. "Cartography II: Collective Cartographies in the Social Media Era." Progress in Human Geography 38 (1): 141–150. doi:10.1177/0309132513514005.
Robinson, Anthony C. 2018. "Elements of Viral Cartography." Cartography and Geographic Information Science. Taylor & Francis: 1–18. doi:10.1080/15230406.2018.1484304.