Print
Uploading the Video to YouTube
The final steps of this walkthrough will require that you have a YouTube account and channel. That doesn't mean that the 360° videos produced in this course will be publicly available for everyone. It is possible to use your channel only to share these with particular people, like everyone in this class. If you do not have a YouTube account/channel yet, please follow the Create an account on YouTube instructions to create these.
You should now be on the main page for your YouTube channel. Click on the "Upload" link at the top to upload a new video. Set the field to determine who can watch the movie to "Private" for now. When you later want to share a video with the class, you can instead set this to "Unlisted" and share the link to the video. Unlisted means that everyone with the link can watch the video but it won't be visible to anyone else as part of search results on YouTube. Now, drag the video file myfirstunityproject360.mp4 from the Window Explorer on to the upload icon. The upload will start immediately. After the upload is completed, YouTube will start processing the file. After this has finished as well, you can click "Done".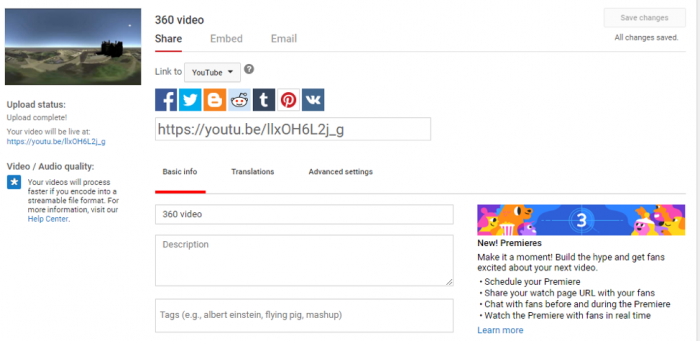 Credit: YouTube
The video should now be listed in the YouTube Studio under the videos tab.
Clicking on it should take you to a page as shown below, where you can play your video, or open its link in a different tab.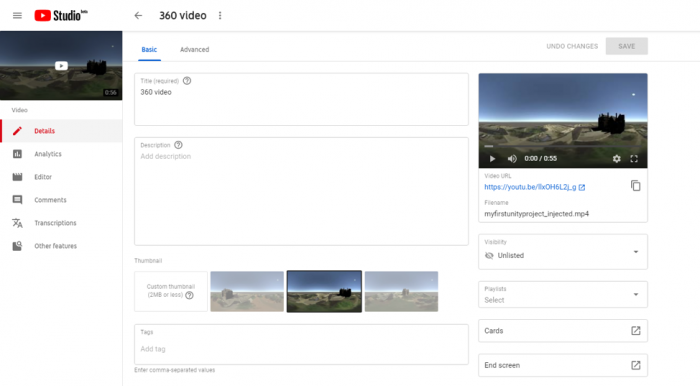 Credit: YouTube
You should now be able to watch this video on YouTube like any other video. You should, in addition, be able to look around during the camera flight either by dragging with the left mouse button pressed or by using the arrows in the top left corner of the video. By clicking the Settings icon at the bottom, you may be able to increase the resolution at which the video is displayed unless it is already displayed at the highest available resolution.
Credit: YouTube
If you play this video on your phone, you will get the option to see it in VR mode when you switch to full screen. If you select that option, you can put your phone in a CardBoard and enjoy your first VR creation.
You can check out other VR videos on YouTube at YouTube Virtual Reality.
Note: Make sure your YouTube app is up to date!