Print
Vulnerability's Three Dimensions Introduction
Let's break down the concept of vulnerability to a coastal hazard into its components.
What Exactly is Vulnerability?
In terms of social science and natural hazards, vulnerability can be thought of as a three-dimensional construct.
The three dimensions of vulnerability we will explore are exposure, sensitivity, and adaptive capacity.
Exposure is the degree to which people and the things they value could be affected or "touched" by coastal hazards.
Sensitivity is the degree to which they could be harmed by that exposure.
Adaptive Capacity is the degree to which the community could mitigate the potential for harm by taking action to reduce exposure or sensitivity. This can also be thought of as a measure of resilience. See below.
Take a few minutes to watch at least the first 4-5 minutes of this short video focusing on the immediate aftermath of Hurricane Katrina in New Orleans and coastal Mississippi.
Video: Hurricane Katrina Survivor Clung to Trees as House Fell Apart: Part 2 (8:32)
Knowledge Check Point
People and Things they Value
What is meant by the expression "people and things they value"?
This expression not only refers directly to people's lives, livelihoods, and things of economic value, but also to places and to cultural, spiritual, and personal values. Also included are critical physical infrastructures such as police, emergency, and health services buildings, communication and transportation networks, public utilities, and schools, and daycare centers. It also refers to social infrastructures such as extended families, neighborhood watch groups, fraternal organizations, and more. The expression even includes such social factors as economic growth rates and economic vitality.
A community may be highly vulnerable to a low impact coastal hazard because of high sensitivity or low adaptive capacity – for example, a densely populated, impoverished neighborhood built on a low-lying shoreline could be easily inundated with a minimal flood from storm surge or tsunami and, due to the challenges imposed by poverty, they have great difficulty recovering from this event.
Another community can have a lower vulnerability to even high-impact coastal hazards because of low sensitivity or high adaptive capacity – for example, a wealthy tourist destination built to withstand flooding from storm surge may suffer a temporary setback when hit by a major hurricane but would be more likely to have the resources to rebuild than a low-income neighborhood would.
Therefore, coastal hazards can result in highly variable impacts because of these variations in vulnerability in time and space.
Disadvantaged groups of people are inherently more vulnerable to coastal hazards than others. The poor, the very old or very young, the sick, and the physically or mentally challenged are often vulnerable. Those lower educational attainment, or non-native speakers, are also often more vulnerable than native language-speaking people with higher levels of education. In the U.S., communities of color in coastal settings are often highly vulnerable, for example, this was true in New Orleans during Katrina and Puerto Rico during Maria. Vulnerable people may fit into more than one group. For example, the most vulnerable of a community could possibly be the minority, elderly, non-native speaking women.
Risk
What is Risk? Risk is the result of interaction between the components of the hazard and the vulnerability of the place that is impacted. Residents of a particular coastal community may weigh the risks of staying there versus relocating, or a person considering purchasing a house in a coastal community would definitely need to think about the risk to the property and his or her family and possessions. As we considered in our first exercise in Module 1, insurance companies account for all components of risk when determining insurance coverage. As the risk of devastating hurricanes has increased in the last decade, premiums have risen drastically in places such as South Florida. Below is a simple diagram summarizing the relationships between vulnerability, hazards, and risk.
Risk examples are obviously not restricted to coastal hazards. The descriptions above can be applied to other risks, such as serious illness during the COVID-19 epidemic. The risks of getting severely ill or dying vary greatly among different groups in a community, so that the elderly, those with underlying health conditions, and those living in group settings are at greater risk of severe illness from a COVID-19 infection than those who do not fit those demographics. Like other hazards, the disease has disproportionally affected minorities who tend to be poor and have more limited access to quality health care, so are more likely to suffer untreated underlying health conditions like high blood pressure and diabetes.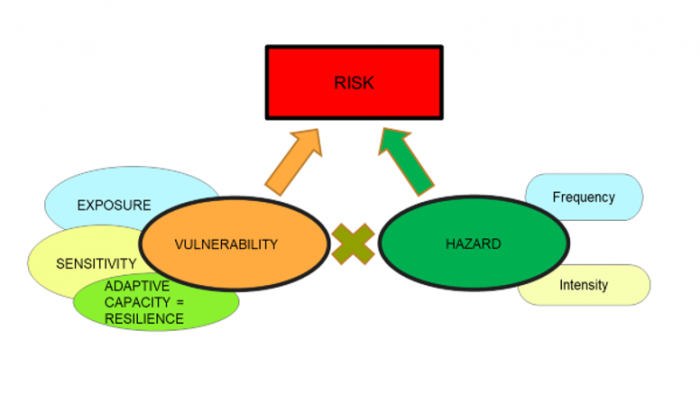 Credit: Dinah Maygarden
So, the question of why one place is more vulnerable to coastal hazards (or other types of hazards) relative to another does not have a simple answer. We must appreciate how the local frequency and intensity of these hazards interact with a diverse set of coastal processes, landforms, infrastructure, and social systems to harm people and things they value.
The question is important to policymakers because if governments and other coastal decision-makers are to make sound decisions to reduce the risk of all members of coastal communities to coastal hazards and prioritize spending to protect their most vulnerable people, places, and property, then they must understand where damage and suffering are likely to be greatest.
Resilience and Adaptive Capacity
The concept of resilience is important for understanding the adaptive capacity dimension of vulnerability to coastal hazards. The resilience of a community is its ability to use available resources to recover and grow from adverse situations, just as a resilient person can more easily bounce back from a setback than a less resilient person. Resilient communities can learn from past experiences and use that knowledge when confronting future problems. Systems with high adaptive capacity are therefore resilient and able to make the necessary changes to deal with coastal hazards. Systems with low adaptive capacity are much less resilient and much more vulnerable to coastal hazards. Later in the module, we will explore several examples of how communities with low adaptive capacity and poor resilience have coped with coastal hazards and how they have learned from these terrible experiences and are working to increase levels of resilience.
First, we will dig deeper into Vulnerability.